Everglades Boats "Built for Beyond" with safety and quality and an unrivaled ride, all from an award-winning boat company.
https://www.evergladesboats.com/
Everglades boats offer a variety of high-quality fishing and pleasure boats in setups that include center console boats, dual console boats, and bay boats.
Known for its unmistakable hull ride with a safe and seaworthy ride, the Everglades line is a favorite among fishermen and boaters who are looking for a reliable offshore contender for excursions both near and far from shore.
These amazing watercraft are built for the purpose of putting fisherman on the fish no matter what the conditions and the line of newest Everglades serve their anglers with pride and style on the waterways here in South Florida and beyond.
We regularly see Everglades boats on the water here in South Florida.
It is always a pleasure to get to film these unmistakable hulls as they slice through the water at our local  Boca Raton inlet.
Enjoy these Everglades Boats at the Boca Raton Inlet in South Florida. Let us know in the comments below what type of boat you have now or if an Everglades is in your future!
Enjoy the video and be sure to follow our YouTube Channel for more videos of the action on the water in South Florida.
Looking for other fun stuff? Check out our Gifts for Boat Owners, Boat Grill Reviews, 7 Superior Anchor Chain Solutions, 9 Fishing Gaff Hook options, or our Haulover Inlet Guide!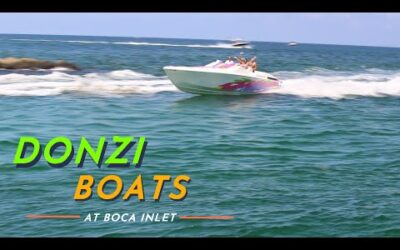 Donzi PowerboatsIf you've been on the water for any length of time, you've probably heard the name Donzi.  For over five decades, the Donzi Marine brand has been making quality...

Start your Custom Yacht Shirt order today!
Complete your order on our website to get your custom yacht gear started. Have our team convert a photograph of your yacht and stern art into digital art for use in your custom printing.

Receive a Private Amazon.com link for your yacht's gear.
We'll email you a link to purchase your custom yacht gear on-demand with secure checkout and fulfillment provided by Amazon.com.

Get your yacht gear delivered to your dock with free shipping on-demand!
Order your custom apparel again and again with no minimum orders or additional setup fees.