Frequently Asked Questions
What do you mean by no minimum orders?
Unlike normal screen printing productions, we do not require minimum orders of each product type for your custom yacht apparel. Order any number of your custom gear, from 1 t-shirt to 1,000 popsockets, easily and on-demand.
How many products do I receive per order?
Your order includes optional access to all of the products that we currently offer here at Custom Yacht Shirts. Simply choose the products that you want during the checkout process and you will receive private product links for the item-by-item ordering of each product you want completely on demand.
Where can I see the colors of apparel that you offer?
For live examples of colors and styles included in each of our products, please have a look at our Custom Yacht Products page and click on the example Amazon.com link for the product in question to see all color options.
Do you provide front and back printing?
Absolutely. In typical orders that require front and back printing, we use a small front pocket print, with a replicated large design on the back of the t-shirt. Printing on front and back increases the price of each of our products by $5.00 per item. For custom orders, please make note in the checkout process, or simply contact us for personalized assistance.
How long do my links last?
Your private product URLs will last a total of sixty days without use. A new 60 day period is extended to all listing every time they are used. But don't worry, if you've had an order with us in the past and want to re-order, simply shoot us an email and we will put your chosen product back up for your use.
What's the maximum file size I can attach to my order?
Our checkout process will allow for a total of 10MB for your uploads. If you're having trouble, simply email us and we'll assist with your order personally.
Why are there two different prices to get started with you?
In order to prepare your custom gear for on-demand printing, we require high-resolution digital art to begin the setup of your products for online ordering on Amazon.com. You can provide us with the existing digital art of your yacht, or our team can convert a simple photograph of your yacht into a custom boat line drawing for use in your products. If you do not have the existing digital art of your yacht, you will need to select the option to have our team create the digital line art of your yacht from your provided phtograph.
I'm having a problem submitting my files to you...can you help?
Absolutely! If you have any problems uploading your files to us in our checkout process, please contact us today on our website, or call 561-203-5756
What type of photograph do you need of my yacht?
If you will be using our service to convert your yacht photograph to digital art, we will need a side-view or angled-front view of your yacht. Preferably, please provide images without people or additional clutter on your boat. The photo you provide will be the basis of your order and the art we create will be based around the art provided by you in the ordering process.
Do you offer Free Shipping? What about Returns?
At Custom Yacht Shirts, your order is completely processed and fulfilled via e-commerce giant Amazon.com. Use your existing Prime™ account for Free Shipping and Returns on orders of any of your custom yacht gear.
How many days it takes to print and ship?
All fulfillment is provided by Amazon.com. Your unique ordering pages will outline when you can expect your custom yacht gear to arrive. Typical time to delivery is 1 week from the time of ordering on Amazon.com.
What file types do you accept?
We currently accept the following file types: PDF, PNG, JPG, EPS, & PSD
How long does it take to convert my photo to digital art?
If you're having us create digital art of your yacht, please expect roughly 7-10 days in production prior to receiving your private product URLs.
Do you do custom prints?
Yes, we are happy to assist with custom projects. Please contact us with any questions. 
Can we have a custom background for popsockets or phone cases?
Absolutely! Simply contact us after your order is complete and we will assist you with a custom background to fit the unique personality of your yacht for those products.
What resolution does my existing artwork need to be?
If you're using your existing digital yacht art, we will need a minimum high resolution of 300 DPI in your submitted art files.
What color format do my art or photos need to be?
We can work with RGB or CMYK color formats. 
I would like to use the art in my own project in the future? Do you provide me with a copy of the digital artwork?
Yes, each order includes delivery of a high-resolution digital version of your completed and approved boat line artwork via email. 
Have questions that aren't answered here?
No problem!
Simply contact us and a member of our team will guide you through the Custom Yacht Shirt process. 
Save money, time and headache on your custom yacht gear today!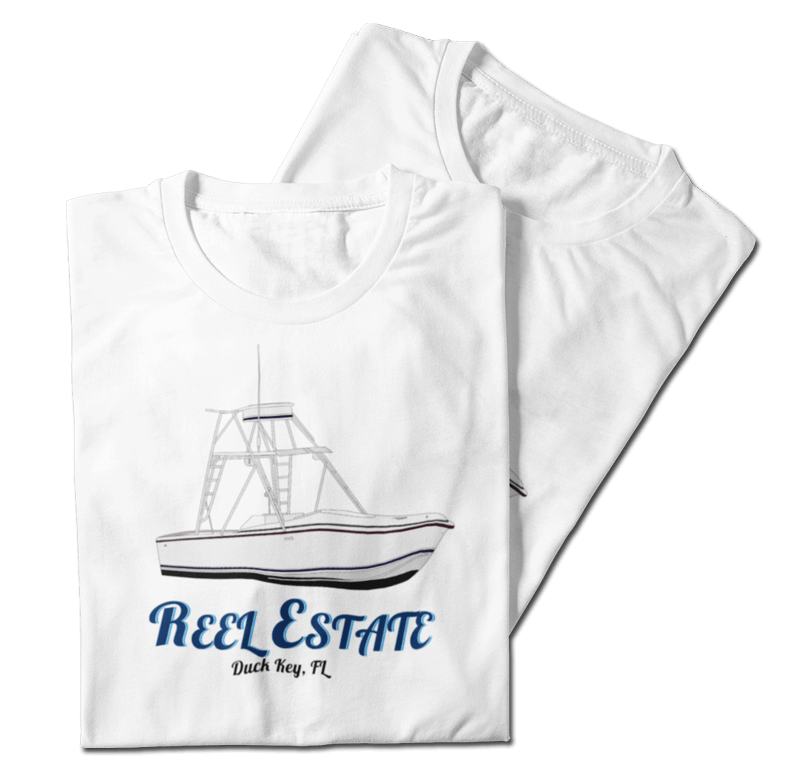 Start your Custom Yacht Shirt order today!
Complete your order on our website to get your custom yacht gear started. Have our team convert a photograph of your yacht and stern art into digital art for use in your custom printing.

Receive a Private Amazon.com link for your yacht's gear.
We'll email you a link to purchase your custom yacht gear on-demand with secure checkout and fulfillment provided by Amazon.com.

Get your yacht gear delivered to your dock with free shipping on-demand!
Order your custom apparel again and again with no minimum orders or additional setup fees.