Custom Yacht Gear Simplified
Our Simple Three-Step Custom Yacht Shirts Process
Step 1: Start an Order & Upload a Photo of your Yacht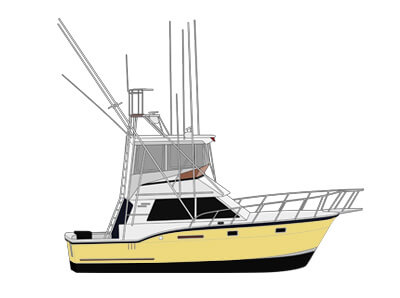 Step 2: Our team converts your yacht photo to digital art and creates your private Amazon URL
Step 3: Order your Custom Yacht Apparel with Free Shipping on Amazon.com!
Why CustomYachtShirts.com?
No minimum orders
Skip the minimum orders and complicated printing fees. Order one shirt or 1,000 shirts all for the same low price. 
Custom Gear On-demand
No need to buy and hold an inventory of your custom gear. When you need new apparel, simply order on-demand. 
No Additional Printing Fees
Simplify your custom yacht gear with no additional screen printing fees or separate screen preparation charges. 
Wide variety of quality custom products
The Perfect Yachting Gift
Looking for the perfect gifts for boat owners? Need an idea for that person in your life who is in love with their time on the water? What's better than custom gear for their salty lifestyle?
As simple as uploading a photo of your boat!
 Need help converting a photo of your boat into digital art? Just upload your photo in our cart and we'll do the rest!
Free USA Shipping & Returns!
Order your Custom Yacht Gear with your existing Amazon Prime™ account for Free Shipping & Returns!
International Shipping Options
T-shirts and gear are now available in the United Kingdom, Germany, Spain, Italy and more!  Contact us today to set up a custom order.
Converted Line Art
Original Photo
Don't have Digital Art of your Yacht? No Problem!
Let our team convert an image of your yacht into a digital line vector for use in digital, on-demand printing. Or, use digital art that you've had created in the past of your yacht for no additional fee.
Mouse over the original photo of this 42′ Grand Banks to see a converted vector line art drawing of this yacht.
Custom Yacht Gear Simplified
Listen…
We know your secret…
We know you love your boat. Just stating a fact here…
No matter how big it may be, the freedom of the days on the water is your escape from the norm.  
Now, picture this…
You're looking for a print company to create some custom gear for your new toy, but all you find is $1,000.00 minimum orders and complicated printing and shipping processes.
But what if you could get a wide variety of custom gear for your boat, completely on-demand at a fraction of the price???
At Custom Yacht Shirts, we create custom yacht gear for your lifestyle on the water; easy and on-demand.
Here's how we've simplified custom yacht gear:
You provide/upload to us one of the following:

If you are submitting a photo of your boat, we create Digital Line Artwork

 from your photographs for custom T-Shirt printing.

Next, we create a digital private link (URL) for you to purchase your T-shirts and gear on Amazon.com.

Use the power of Amazon.com and go directly to your private link to order your gear anytime on-demand with no minimum orders, at everyday low prices in a wide variety of men, women and kids styles and sizes!
The Custom Yacht Shirt Difference

On-Demand Printing with No Minimums
Get a new piece of your custom yacht apparel anytime from your private Amazon.com URL. Enjoy Free Shipping and Returns with your Prime™ account.

Multiple Products in Various Colors and Styles
Every order here at Custom Yacht Shirts includes 9 unique products available for purchase featuring your custom yacht design. Best of all, enjoy multiple styles and sizes from kids to XXXL at no additional cost.

Get it Delivered to Your Dock by Amazon.com
Once your order is complete, we'll send you a link to your products on private Amazon URLs. From there you can order (and re-order) your favorite gear from within your existing Amazon.com account.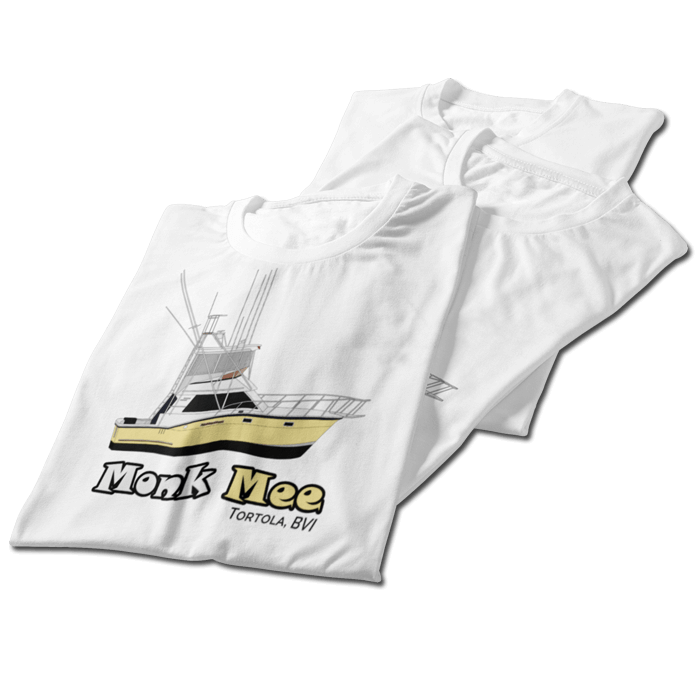 Your Custom Yacht Apparel
Our diverse on-demand product line for yachties
Regular & Slim Fit Tshirts in Mens, Womens and Kids sizes
Enjoy both slim-fit and regular-fit t-shirts in men's, women's, and children styles in sizes from Youth 3 – XXXL with no additional fees.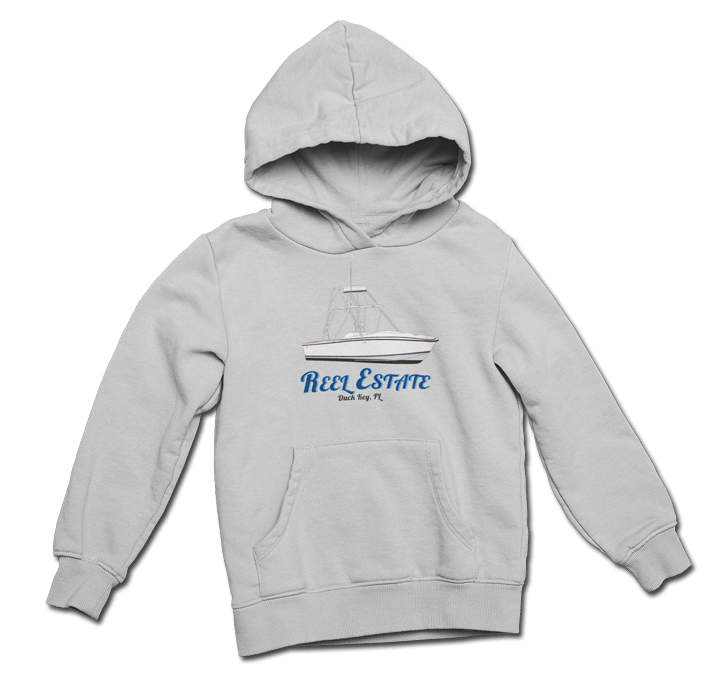 Sweatshirts & Hoodies
Looking for something a little warmer for those cooler mornings out on the water? Our sweatshirts and hoodies are the perfect prescription for your cool weather ocean gear.
V-neck & Tank tops
For warmer weather, our V-necks and Tank Tops are perfect for sunny days on the water.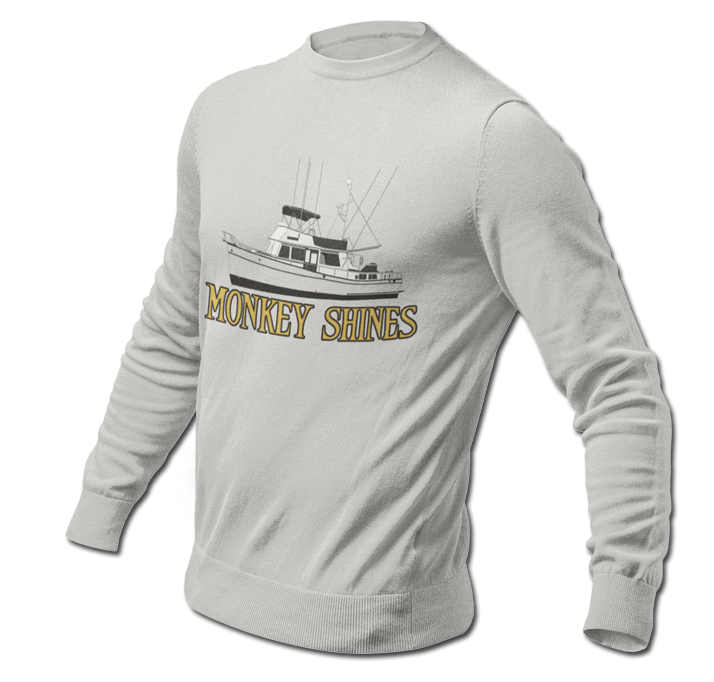 Longsleeves
Our unisex longsleeves shirts are perfect for those early mornings when you're headed out to your favorite spot to try to tighten those lines. 
Happy Yacht Shirt Fans
What other Yacht Owners have to say about Custom Yacht Shirts
Runnin' Hard & FastI spotted this Cabo Sportsfisherman runnin' hard & fast way offshore, I never thought he would continue his pace as he entered the Boca Raton Inlet. He did not slow down at all and he laid that big boat over on its side as he cranked that...