9 Fishing Gaff Hook Options for any Angler
When a purchase is made through our links, we may earn a commission from Amazon, West Marine and other online businesses. You can learn about our content and affiliate policies on this page.
Why do you need a quality fishing gaff hook?
Think about this scenario for a moment…
The boat is all gassed up.
You're up early and the weather is pristine. Calm winds…oil slick calm water…
You head offshore with a tank full of live bait, all your gear tricked out and ready for that monster fish you've been dreaming about.
After all morning of trolling, you spot some birds working off in the distance.
You and your crew get the lines in quickly and make a run for the birds.
Within range, you pull back on the throttle and everyone works feverishly to get the lines back in the water and set…
As you pass through the frantic birds, you hear it!
That familiar whine of your reel humming as you get a strike on your outside line…
"Fish on!", you yell at the top of your lungs, as someone in your cockpit grabs the rod and gets ready for the fight.
As the fight goes on you see a majestic bull dolphin break the surface shaking its head wildly trying to throw your hook.
You know that if you can just land this fish, it will make everyone's day.
After a struggle, your angler gets the fish close to the boat, someone grabs your old gaff.
You know the one.
PVC pipe with duct tape holding it together.
The dull hook weathered from years of abuse in the harsh elements on your boat.
With the big bull tired and ready to give up, it gets close enough to gaff.
You get ready, reach down with your gaff, hit it perfectly behind the head….
And then…suddenly…your gaff breaks.
The years of tireless service in the salt and sun give way as that big fish gives one last struggle against your hook with enough force to break your gaff and throw the hook in its mouth.
You watch in horror as the head of your gaff sinks into the water and your trophy fish returns to the deep from which it came.
Now ask yourself…
Wouldn't your day have turned out a bit differently if you had just invested in a new, quality fishing gaff hook to help land your catch?
Shouldn't your big day on the water be backed up by a fishing accessory that you can trust when the chips are down?
A fishing gaff hook is a critical piece of equipment for any serious angler.
It can separate the men from the boys back on the dock after a long day on the ocean.
And with all the options available to anglers for convenience and ease of use on the water, isn't it time you got a new gaff hook?
Explore our list of potential gaff hooks in the below list for some quality, effective options for gaff hooks that you can find online.
You'll be glad you grabbed one the next time your 20 miles offshore and you hear that reel sing.
The Classic Gaff Hook
AFTCO Gold Gaff Hook – 5 Feet x 4 Inch or 6-foot x 5 inch
If you're looking for the trusted brand used by thousands of anglers over the years you can't go wrong with the original AFTCO classic gold gaff hook.
This aluminum tapered-tip gaff allows for quick maneuverability through the water while the corrosion-resistant construction supports long-term usage.
This 5-foot gaff hook comes with two durable non-slip grips, exactly what's needed when you're looking to hold on to your prized fish.
Created with quality materials and craftsmanship, this AFTCO brand hook has been helping anglers land top prize fish for decades on the water.
Truly the classic gaff option.
Advantages:
AFTCO Quality
Durable non-slip grips
Quality materials & construction
Disadvantages:
Best Fiberglass Gaff Hook Option
AFTCO Fiberglass Gaff
Wrapped handle with 6-foot handle x 3-inch hook.
If you're looking for the same AFTCO quality but don't want the traditional gold aluminum style, this AFTCO fiberglass option is perfect for you.
This six-foot gaff hook provides quality AFTCO construction using thick-walled, super-strong fiberglass.
The hand-wrapped trim provides a sturdy and durable grip for your fishing adventures while the super sharp stainless steel hook provides reliable performance when needed most.
AFTCO's exclusive technology utilizes a "wedge-lock" process that secures the hook into the e-glass handles for superior strength on the water.
Advantages:
Light Weight
Handle Supports long and short gripping
Floats
Disadvantages:
Limited size options available
Carbon Fiber Gaff Hook Option
Promar GFE-543 Elite Series Carbon Fiber Gaff – 4 Foot x 3 inch
The Promar Elite Series Gaff Hook provides a superior solution for your sportfishing.
This lightweight and durable gaff features strong carbon fiber construction with a tapered design that provides good maneuverability through the water for landing your trophy fish.
The butt cap included in this design protects your boat against unintended scratches and damage to your cockpit in times of high-paced action with a fish on the line.
Advantages:
Lightweight & Strong
Hand-wrapped Grips
Boat-friendly butt cap
Disadvantages:
Limited sizing options available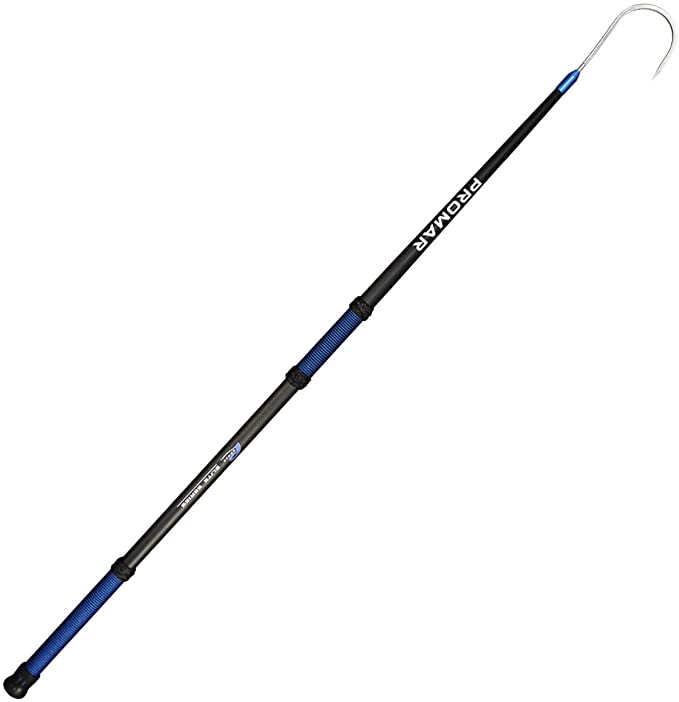 Offset Gaff Hook Option
Bubba offset stainless steel gaff.
The Bubba offset stainless steel gaff is a great option for anglers looking for a carbon-fiber gaff hook that provides maximum control.
The offset stainless steel hook provides an increased balance point that gives anglers extra lift when bringing your catch back into your boat.
Featuring a carbon fiber shaft and textured non-slip grips, the Bubba offset fishing gaff hook is a great option for anglers looking to get the most out of their fishing performance gear.
Best of all, the Bubba brand gaff comes in four sizes to help you choose the best gaff for your style of fishing, including seven-foot gaff options.
Advantages:
Quality Construction & Performance
Offset hook for balanced performance
Carbon fiber shaft
4 sizing options including 5 foot and 7 foot versions
Disadvantages:
Slightly heavier than other brands
Best Telescopic Gaff Option
SANLIKE Telescopic Gaff with Stainless Steel Hook
The SANLIKE Telescopic Gaff is a great solution for anglers who want an easy-to-transport gaff hook option without sacrificing too much on performance.
Manufactured with reinforced aircraft-grade aluminum and an ultra-sharp stainless steel hook, this gaff hook option is lightweight and durable.
With two different sizes offered, the SANLIKE expands to either 55″ or 47″ depending on the model.
A great option for anglers who are looking to conserve space onboard, or who need a gaff hook that can travel easily.
Advantages:
Value for cost
Telescopic for additional length
Lanyard for wrist included
Lightweight construction
Disadvantages:
Some reports of questionable product longevity and quality
Classic Fiberglass Gaff
EatMyTackle Classic Hooked Gaff.
The EatMyTackle 4′ x 8″ classic gaff is a fiberglass gaff hook perfect for anglers looking for a more traditional hook.
Featuring comfortable padded EVA foam grips, this 5″ gaff hook has a yellow fiberglass design and stainless steel hook.
It also comes with a hook protector to keep hands away from the sharpened stainless steel hook while at the dock or stored away onboard.
Weighing in at 1 pound 5 ounces, this hook provides a good blend of comfort and performance for any angler.
Advantages:
Solid Fiberglass Construction
EVA Foam padded grips
5″ Stainless Steel Hook
Disadvantages:
One length option available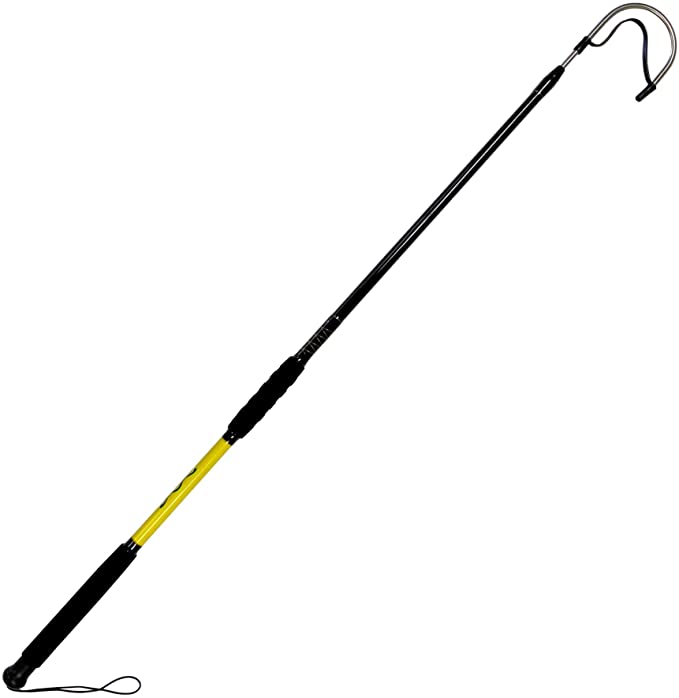 Best Natural Bamboo Gaff
Kill Fish Hand Made Natural Calcutta Gaff Hook
The Kill Fish natural bamboo gaff comes in sizes from 3ft to 8ft long and features a natural bamboo handle.
This powerful gaff has a heat-treated stainless steel hook that will not rust or break, and non-slip grips that are hand-wrapped for optimal grip when going after the fish at the side of your boat.
The shaft of this gaff is made with super durable 100% Indian Calcutta Bamboo that is extremely durable.
And best of all, the gaff hook floats, making for easy retrieval if lost overboard as the result of a missed gaffing.
The natural bamboo gaff from Kill Fish has a 3″ hook which is very sharp and corrosion-resistant.
Advantages:
Quality construction using natural components
Non-slip hand-wrapped grips
Heat-treated stainless steel hook
It floats!
Disadvantages:
May not fit in traditional rod holders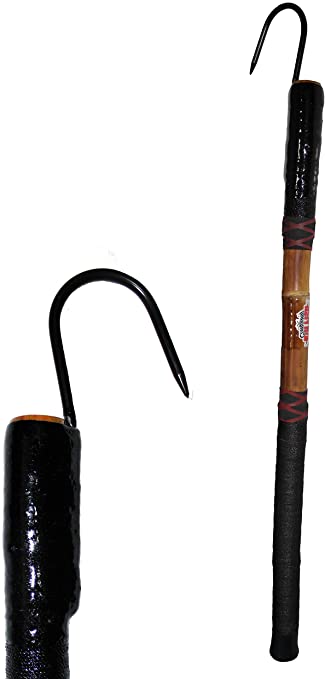 Best Portable Gaff Hook Option
Bubba 3 Foot Gaff with offset stainless steel hook.
The Bubba brand 3-foot portable gaff is an awesome little tool that the most avid angler can take with them anywhere.
At three feet long with a 3″ hook length, this powerful little gaff is perfect for dealing with in close quarters.
Featuring a patented Bubba brand non-slip handle that stays in your hand even in wet conditions, this durable gaff will be your favorite go-to tool in your fishing arsenal.
With an offset hook made of durable high-strength stainless steel, and carbon fiber shaft for lightweight strength and comfort, this little gaff hook packs a punch for any fisherman.
Advantages:
Durable, quality construction
Non-slip grips
Offset stainless steel hook
Disadvantages:
Best Handheld Telescope Gaff
Kufa Sports Telescope Hand Gaff
The KUFA sports telescopic handheld gaff is the perfect little tool for a fisherman looking for an expandable gaff hook that is a portable, handheld solution onboard.
Expanding from lengths from 30″ to 46″, this portable gaff features a 6″ x 3.5″ stainless steel hook.
The aluminum handle features a non-slip grip and lanyard for easy wrist wrapping.
A great solution for boats with limited space!
Advantages:
Good expandable length
Aluminum construction
Lanyard and non-slip grip
Disadvantages:
Best Gaff Hook Protector
Sea Striker Stainless Steel Gaff Protector
The biggest downside to any gaff hook is the potential safety hazard that it creates for guests aboard a boat.
No matter where a gaff hook is stored, having an open stainless steel hook near your guests, especially young ones, can be troubling for any qualified captain.
The solution is a gaff hook protector, and this stainless steel protector provides peace of mind for captains with quality protection for the tip of your gaffs.
Featuring a lightweight construction, this pliable stainless steel gaff hook protector won't rust or corrode in the elements and keeps your sharp gaff hooks out of the way of guests.
Best of all, when the action is ready, the Sea Striker protector moves away while staying on the lower part of your hook.
Protect your guests with this hook protector today!
Fishing Gaff Hook Buying Guide
Buying the right gaff hook really comes down to your style of fishing.
Are you primarily a lake or inshore fisherman?
Or do you regularly head out into the open ocean and offshore in search of reef fish and pelagic fish species?
When you go fishing, is it primarily just you, or do you have a whole crew that tags along to help you land fish?
Other considerations, like the size of your boat, your tackle and other similar issues can also help you select the best gaff hook for your needs.
Some of the most important considerations for selecting your most effective gaff hook include:
The fish you are targeting – What species are you headed after when you head out on your boat. Are we talking about good size flag yellowtail, or are you a bluefin tuna fisherman in the Northeast? Knowing what type of fish you intend on targeting can help you choose the best gaff hook for your unique needs.
The size of the gaff hook itself – Gaff hooks come in different sizes. Does your fishing lend best to a 3″ hook, 4″, or something even bigger. If you're part of a sportfishing team that targets big gamefish, a regular 4″ hook might be way too small for the fish you are targeting.
The length of the gaff hook – What size gaff hook is best for the fish you are targeting? If you are hunting for big pelagic species, having a longer hook will come in handy when you're in blue water. If you're going after smaller species, a hand held or portable gaff might fit the bill perfectly. 
The size of your boat – How big is your boat? Do you have ample space to store a large gaff hook? Or would you be better off with a small or portable option? Deciding on the best gaff hook for your fishing needs will often be dictated by the overall size of your boat. 
Where you will store your gaff – Will your gaff be stored with your rods and reels? In a bunkered compartment? In your engine room? Knowing where your boat can handle the storage of a gaff hook is imperative to choosing the best option for your life on the water!
Fishing Gaff Hook Wrap-up
As you can see, having an effective gaff hook onboard can be critical to any angler's success on the water. 
Choosing a gaff hook that compliments your fishing goals can not only help you land that trophy fish, but make fishing a little easier for you and your angling guests!
Don't wait until you have that big bull dolphin right near the boat to question the integrity of your gaff hook. 
Grab a new one today and be sure you have the gear onboard to help you best fit your saltwater lifestyle!
Did you like this article? Did it help your search? Leave us a comment below and join the conversation!
Or have a look at some of our other marine guides including Gifts for Boat Owners, or informative posts like our Boat Grill Review, Anchor Chain Solutions or our guide to Haulover Inlet!
Do you own a boat? Get custom artwork & gear!
For the boater who is proud of their sea-going vessel, custom boat gear is the perfect solution to show off their pride and joy anywhere.
At Custom Yacht Shirts, we use a photo of your boat to create line art boat drawings that are perfect for use on a variety of customized gear.
We feature t-shirts, long sleeves, hoodies, tank tops, pop sockets, phone cases, and much more that make the perfect custom gift for any boat owner.
Best of all, once the art preparation process is complete, all of your custom boat gear is available for on-demand ordering on private Amazon.com product pages.
Order 1-1000 of your custom products easily and simply with your existing Amazon account featuring free returns and free shipping with a Prime account.
The perfect gifts for boat owners!
What are you waiting for???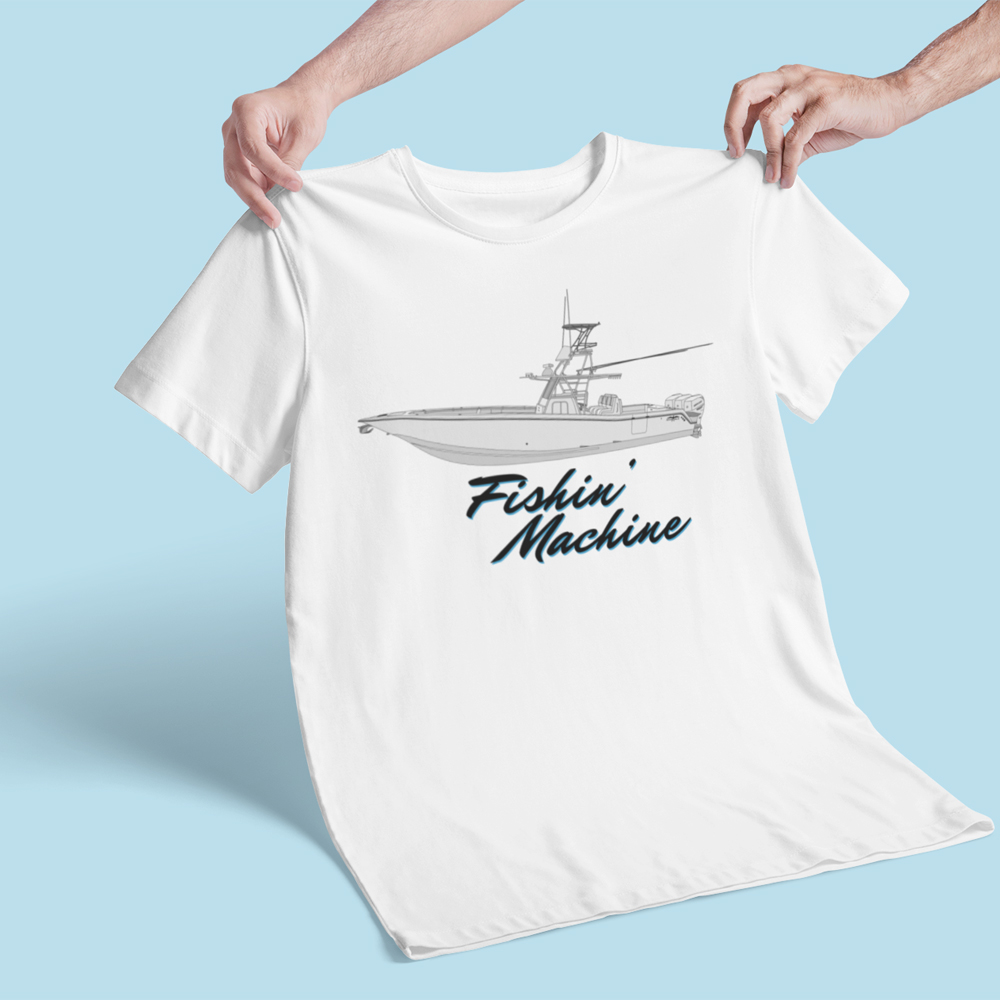 South Florida Boat Videos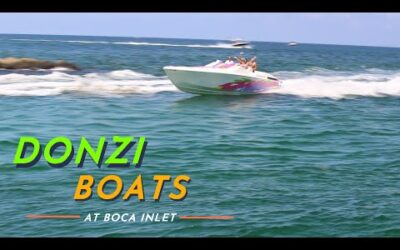 Donzi PowerboatsIf you've been on the water for any length of time, you've probably heard the name Donzi.  For over five decades, the Donzi Marine brand has been making quality...

Start your Custom Yacht Shirt order today!
Complete your order on our website to get your custom yacht gear started. Have our team convert a photograph of your yacht and stern art into digital art for use in your custom printing.

Receive a Private Amazon.com link for your yacht's gear.
We'll email you a link to purchase your custom yacht gear on-demand with secure checkout and fulfillment provided by Amazon.com.

Get your yacht gear delivered to your dock with free shipping on-demand!
Order your custom apparel again and again with no minimum orders or additional setup fees.