7 Quality Boat Grills for your Cookout on the Water
When a purchase is made through our links, we may earn a commission from Amazon, West Marine and other online businesses. You can learn about our content and affiliate policies on this page.
Looking for a high-quality boat grill for your portable cookout on the water?
Ready to grill in style on the open ocean?
What's better than a sunny day on the water with the smell of fresh burgers and hotdogs on the grill?
In our book, not much ranks higher than kicking back and celebrating a gorgeous day on the boat than a cookout of your fresh catch to share with your guests.
Of course, cooking out on the water requires one necessary tool, a boat grill…
And since most boats, especially smaller ones, don't come stocked standard with an outdoor grill, it's up to boaters to find the best option for cooking out on the water.
Since we love the grill for boats that we have found and used in the past, it seemed only right to recommend a few options for boaters searching for quality portable boat grill options.
The following list outlines seven of the top selections for your portable boat grill solutions for your boat. 
Explore below to find the perfect option to suit your boat, and lifestyle on the water, or find the perfect gifts for boat owners in your life!
Best All-around Boat Grill
MAGMA Marine Kettle Gas Grill with Adjustable Control Valve
This 100% stainless steel design marine gas grill comes in two different sizes of 15″ and 17″, providing a customizable experience on your boat.
Featuring highly efficient radiant plate heat distribution and convection heating technology, this powerful boat grill provides even, hot temperatures while minimizing fuel usage.
The Magma Marine kettle boat grill uses a patented swiveling venturi tube, which allows boaters to adjust the control valve reducing the possibility of any blowout on-board.
Best of all, this marine grill provides a weatherproof design that allows boaters to cook with confidence in even high wind conditions thanks to the design of the wind baffle.
Additional highlights of this premium marine grill include a lid that won't slam shut during use, the ability to change propane tanks even during usage, a handle that remains cool thanks to air-cooled supports, and multiple mounting options.
Truly the all-around performer for your boat grill solutions.
Some of the features of this quality boat grill include:
"Stay Cool" Handle
Uses both Radiant & Convection Cooking
Lid can act as a windshield when lighting the grill
100% Stainless Steel Construction
Waterproof Ignition System
Drawbacks:
Mounting Options Sold Separately
15″ model can be tough to fit food for larger groups
Best Premium Boat Grill
Magma Products, Connoisseur Series Gas Grill
Ready for a premier portable grilling solution on the water?
The Magma Connoisseur grill provides best-in-class marine grilling options that offer a safe and efficient cooking performance while at sea that is usually reserved for large outdoor grills.
This 100% stainless steel boat grill provides a high-performance cooking solution that is tested for even heat distribution offering top quality grilling performance for your on-the-go or marine cookout.
A great option for portable grilling because of the fold-away legs, this MAGMA marine model is also compatible with optional mounting options that provide safe and effective grilling while on-board your boat.
The grilling area in this connoisseur series grill is 9″ x 18″, or 162 square inches to help handle all of your grilling needs.
Some of the features of this quality boat grill include::
Easy Fold Away Legs for quick setup
Easy access for cleaning
A smooth edge design that removes all sharp edges
Easy mounting and transport with full-length handle
A lockable, balanced lid that secures all components
Multiple on-board mount options including rod holder and pedestal
Drawbacks:
Mounting options are sold separately
Stainless Steel handle can get hot
Electric Start with Temperature Gauge
Bunker up Fishing – Boat Grill with Rod Holder Mount
Looking for a quality stainless steel marine grill that comes ready to mount in any 2″ rod holder out of the box?
The Bunker Up Fishing boat grill is a great option for any boater looking for performance and easy grilling with an integrated temperature gauge.
The boat grill comes equipped with an electric start that easily lights in various weather conditions, as well as a built-in thermostat to help you stay on top of your grilling at quick glance.
Best of all, the included rod holder mount is removable, allowing users to utilize the fold-out legs for use onshore, at the beach or on the dock.
The Bunker Up Fishing Boat Grill features 225 square inches of grill surface area, making it a machine to pump out a good amount of food for all of your guests.
Some of the features of this quality boat grill include:
Comes with Rod Mount
All stainless steel construction
Adjustable bracket for easy cooking options
Removable grease tray
Integrated thermometer for easy understanding of internal temperatures
Converts to tabletop usage for on-shore grilling
Electric start capability
Drawbacks
Additional Delivery Charges
Rod mount only fits 2″ rod holder
Excellent Portability Option
NOMADIQ Portable Propane Gas Boat Grill
Looking for an easily portable option for your onboard grilling?
The NOMADIQ portable grill features a fold-out design that maximizes grilling space with quick and easy ability to close up for travel after use.
Weighing in at only 12 pounds, the sleek design of the NOMADIQ grill offers a truly portable solution for your at-sea grilling.
This mobile boat grill is perfect for grilling on the back deck, but unfortunately does not mount to rail or rod mounts, limiting boating applications.
The sleek and portable design, dependable electronic ignition system, non-stick cooking grates and individually controlled stainless steel burners help make this portable system a great option for boaters with a comfortable seating and table area.
Some of the features of this quality boat grill include:
Easy fold design for quick grill access
Reliable electric ignition system
Over 200 Square Inches of Grill Space
Non-stick cooking surfaces
All stainless steel burners
Removable Drip Trays
Drawbacks:
No rail or rod mount capability
Not made of marine-grade stainless steel
Best option for the Pontoon Boater
Cuisinart Grill with Arnall's Stainless Grill Bracket
The next option for your boat grill solutions is the Cuisinart Grill which has been specially modified for boating use with the use of Arnall's Stainless Grill Bracket Set.
This option mounts directly to 1.25″ open boat railing, specifically made for pontoon boats.
The feet of this grill have been modified with the Arnall Stainless Steel bracket set, designed to be attached to 1.25″ square railing.
The super-simple installation and removal process allows pontoon boaters to easily get set up for grilling at the drop of a dime.
The Cuisinart Grill features a generous 145 square inch grilling surface, great for the 17-pound grill.
Some of the features of this quality boat grill include:
Pre-installed brackets setup out of the box with the Grill
145 Square inches of grilling space
Simple on and off installation of brackets on open square railings
Stainless steel burners and drip tray
Easy install and removal for storage
Drawbacks:
Designed specifically for 1.25″ square railings
Not compatible with other mounts without customization
Best Budget Stainless Steel Model
Kuuma Stainless Steel Mountable Gas Grill
Need a premium marine-grade stainless steel grill option without the premium price?
The Kuuma Stow N' Go 125 offers a quality solution that features 300 series marine-grade stainless steel construction.
This portable grill comes fully assembled out of the box with fold-away legs for tabletop applications.
The grill can be easily mounted to rail, rod holder or pedestal, with optional equipment from Kuuma.
Some of the features of this quality boat grill include:
 125 Square inches of cooking surface
Compact size for space-saving on-board
300 series marine-grade stainless steel  construction
9000 BTU
Drawbacks:
Mounting options sold separately
Best Electric Option
Weber Electric Grill
Want to grill on-board but don't want to deal with propane?
The Weber Electric Grill provides boaters with a quality table-top electric grill that features quality grilling performance without the use of gas.
This space-saving and portable table-top electric grill provides a powerful option that plugs into your boat's electrical power or shore power for ease of use.
The ergonomic design provides easy transport for grilling on your aft deck, while the non-stick construction offers quick and easy clean-up.
Some of the features of this quality boat grill include:
Fully assembled
6-foot grounded cord
Aluminum lid and body
Drawbacks:
No mounting options for your boat
Requires electric power source
Best Fast Setup
Kuuma Quick Release Boat Rail Grill Mount
Looking for a rail mount system that you can set up fairly quickly when it's time to grill?
The Kuuma Quick Release provides aluminum and stainless steel construction of a mounting system that allows boaters to make setting up and removing the grill after using a breeze.
This system fits boat rails that are 7/8″ to 1-1/4″ and the simple design minimizes the chances of losing equipment over the boat during setup and removal.
While built for Kuuma grills, this mount does fit some Magma grill models so check your grill for compatibility.
Best Rod Holder Mount
Magma LeveLock All-angle Adjustable Rod Holder Mount
Looking for an easy solution for mounting that take advantage of what is stock equipment on many boats?
The rod holder mount allows boaters to take advantage of their onboard grilling while keeping the boat grill elevated above the boat in a convenient fashion.
Designed for use with Magma brand rectangular grills, the 1-1/2″ diameter tubing adjusts to fit in most cross-pin fishing rod holders and the heat-treated stainless steel provides efficient mounting.
The adjustable mount surface fits to any specific angle so that you can accommodate your grill in the most effective position.
Best Pedestal Mount
Magma Products Double Locking Stowable Pedestal Mount
Have a bit more space onboard and want a more stable, or permanent solution for your grill mount?
The Magma Pedestal Mount provides the strength and security to hold your grill with ease on backdecks, swim platforms, aft bridges and more.
The double-locking push button provides a quick and easy setup and release for the grill on your pedestal while the aluminum construction provides a stable base for your grill.
This product is created for Magma Grills so any other application would need to be confirmed with the manufacturer.
On-hand Boat Fire Safety
First Alert Marine Fire Extinguisher
Boats don't exactly lend well to activities with fire.
That's why if you are planning on cooking out on your boat in any capacity, you should be sure you have a quality fire extinguisher that has been recently manufactured.
The first alert Marine Fire Extinguisher features a commercial-grade metal valve and trigger and works against a variety of flammable types.
It's also Coast Guard approved and easily mounts to your boat in a convenient location near your grill with bracket and strap.
Protect your boat and your guests with safety first aboard your vessel.
Marine Grilling Safety
What mixes worse than oil and water?
Fire onboard a boat!
As any seasoned boater knows, keeping a boat fire-free is one of the most critical aspects of being a qualified captain on the water, and a major reason to make sure you have a comprehensive boat first aid kit onboard.
That's why any Captain who plans on grilling on-board needs to pay close attention to safety precautions in order to minimize any risk of fire to boat guests and the boat itself.
Some of the top things to keep in mind to minimize the risk of any fire risks while grilling include:
Mount your grill on your railing, rod holder or pedestal mount when possible so that grill doesn't contact the boat surface
Pay close attention to weather conditions, especially wind, to minimize any fire escaping your grill setup
Do not leave your grill unattended during use at any time
Keep the grill out of heavily trafficked areas of your boat to minimize guest contact to your grill
Keep the grill lid closed when not actively managing your food
Extinguish all fire upon completion of grilling
Do not use your grill in any capacity while your boat is in transit
Always follow all instructions of your grill for proper, safe usage
Clean all equipment and mounted areas after use
Have a fire extinguisher present or close-by during any onboard grilling
How to choose the best boat grill for your saltwater lifestyle
Choosing the best boat grill for your boating lifestyle can be a bit complicated.
Do you want a propane option?
Electric?
All Stainless Steel?
Knowing what to choose from the options available to boaters can get a bit overwhelming for the average boater.
In order to maximize the optimal selection for your boat grill, here are a few ideas that you may want to consider as a recreational boater and part-time grillmaster:
The size of your boat – What type of boat do you plan on grilling out on? Do you have a pontoon boat or are you rocking a 75-foot trawler with ample space in your aft deck? Having any grill on a boat less than about 25 feet can be overwhelming for you as the operator and your guests. Planning a standalone grill on a multi-million dollar yacht is probably overkill while cooking could be done in your galley. Taking into account the size of your boat will give you a better idea of what to plan for your grilling needs.
What type of boat you have – Do you plan on grilling on your sailboat? Center console? Convertible Sportsfish? Trawler? Pontoon? The type of boat that you have and plan to use for your cookouts is a critical component in selecting the right grill for your boat. Your individual setup will ultimately help to steer you in the direction of what may be the best fit choice for your onboard BBQs! Look around your boat (or you probably already know your spot, who's kidding who here!) and get a feel for where would be the best spot for your grill that is out of the way, away from guests and provides you as Captain the easiest access. From there, get a feel for how best you could mount a boat grill in this area to minimize heat exposure to any part of your vessel. Take note of spots on your boat that have protection from wind, away from entrances, or in an area that provides exclusive access for the person in charge of any cooking.
What your boat is made of – If you instantly thought or knew the answer is exposed wood, you may want to reconsider onboard grilling with open flames. Cooking out on a classic wood boat is a recipe for disaster on the open water. Our recommendation would be to stay away from BBQs on the water and wait until you are back on land. If your boat is fiberglass or other more modern materials, you still need to take extreme caution when planning for any grill. This is especially true if your boat is a sailboat with precious rigging that needs to be accounted for onboard.
Mounting Options – Where do you plan on using your grill? Do you have a table that will accommodate a grill standalone? Will you be mounting the grill to a railing? If so, what type of railing is it that will be used? Do you have rod holders that could facilitate an easy mounting option? Understanding how your boat grill could be mounted, and what options for mounting are available for your grill, will help you make a more informed decision.
Ventilation – How does the wind react in the area of your boat where you are planning to use your marine grill? Does it circle around or create a Venturi effect? How the wind and breeze interact with the style, size, and layout of your vessel creates very different effects on boat grills. Knowing how your vessel reacts to wind can help you better predict the best marine grill for your style on the water. 
Budget – A marine grill system, especially with the cost of an effective mounting system, can be expensive for any level boater. Your budget for your marine cooking needs will likely determine many of the variables considered when shopping for a grill for your boat. Be honest with yourself as you begin the hunt for your new grill setup. Even budget-conscious setups can be great options if set up effectively to fit your vessel's unique personality, space and functionality.
Locations you plan on grilling  – Where do you plan on using your onboard grill? Is this something reserved for your day at the sandbar or are you a liveaboard who needs a full-time or even part-time grill solution? If this is one of your primary cooking sources, chances are you will be more prone to go with a higher-quality setup. Do you plan on grilling under the stars alone, or is this something that may be used nearer to other boats? Can you even use it near other vessels at your home port? All of these types of questions can help you better determine the best setup for your grill.
Grill construction materials – As this list has shown, boat grills come in a variety of different materials that boaters can choose from. While most of the top-end marine grills are made of stainless steel (similar to anchor chain), it is important to note that grills come in other materials that may better suit your specific grilling needs. Make sure that you buy something that is set up to run your system for the long term aboard your boat!
Where you keep your boat – As mentioned above, does your home port even allow for onboard grilling? Many marinas have a strict no-grill policy. And for good reason. Make sure you know exactly what the terms are for grilling at the location that you call home in the water. Also be sure to check out for other local regulations in your State, Province or Country with respect to grilling onboard. 
Final Thoughts on Boat Grills
As you can see, selecting a marine grill for your ocean-going vessel can be a bit of a complicated process!
But as we've outlined, equipping your boat with a quality marine grill can be an absolute game-changer for you and your guests. 
The good news is that there are tons of great options for your boat grilling needs available in the marketplace today!
Finding the perfect grill can come down to the unique style of your lifestyle on the water and the boat that you plan to use for your marine cookouts.
Keep in mind that enhancing your boating adventures goes beyond just grilling. Consider investing in the best boat fenders for added protection, selecting top-notch boat flooring for comfort and aesthetics, and outfitting your vessel with the best marine stereo for the perfect soundtrack to your day.
And for those who love to infuse their boating excursions with a sense of fun, explore an array of fun boat accessories and maybe even chuckle at some funny boat names.
Your boat is your escape to making magical moments with friends and family, and the right gear can make those moments even more special.
So, as you sizzle up a feast on your boat grill, may your days on the water be filled with joy, safety, and the delightful aroma of a cookout well done.
Wishing you the best for delicious meals on the water!
Did you like this article? Did it help your search? Leave us a comment below and join the conversation!
Or have a look at some of our other marine guides including Gifts for Boat Owners, 9 Gaff Hook Options for Anglers, or informative posts like our guide to Haulover Inlet!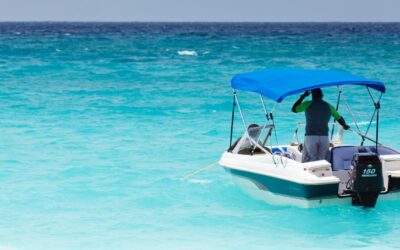 Bimini Top for Boat: UV Protection on the Water When a purchase is made through our links, we may earn a commission from Amazon, West Marine and other online businesses. You can...

Start your Custom Yacht Shirt order today!
Complete your order on our website to get your custom yacht gear started. Have our team convert a photograph of your yacht and stern art into digital art for use in your custom printing.

Receive a Private Amazon.com link for your yacht's gear.
We'll email you a link to purchase your custom yacht gear on-demand with secure checkout and fulfillment provided by Amazon.com.

Get your yacht gear delivered to your dock with free shipping on-demand!
Order your custom apparel again and again with no minimum orders or additional setup fees.