Scout Boats at Boca Raton Inlet
Scout Boats is a leading manufacturer of luxury and high-quality recreational fishing and pleasure boating vessels. 
With a commitment to building a strong, high-integrity boat building company, the Scout Boats brand is known for the high-quality construction and attention to detail found in each of their builds. 
Scout boats come from humble beginnings, with its founder Steve Potts saving up his money from working in the boating industry to get the Scout Boat brand rolling. 
After Hurricane Huge leveled the barn that was being used for construction in the late 80's, the Scout brand started to explode, becoming known for the immaculate attention to detail in all of their boat builds. 
Today, the Scout boat brand is a leader in the world of high-quality sportfishing boats, growing since 2009 at a rate of almost 25% annually. 
If you are looking for a boat that shines with respect to quality, the Scout boat brand may be just what you're looking for in a boatbuilder today. 
At Boca Raton inlet we see a wide variety of Scout boats traversing the inlet here in South Florida. 
Everyone we see is unique and special in some way. 
We hope you enjoy this video of Scout boats!
Have you owned a Scout?
Let us know in the comments!
Enjoy the video and be sure to follow our YouTube Channel for more videos of the action on the water in South Florida.
Looking for other fun stuff? Check out our Gifts for Boat Owners, Boat Grill Reviews, 7 Superior Anchor Chain Solutions, 9 Fishing Gaff Hook options, or our Haulover Inlet Guide!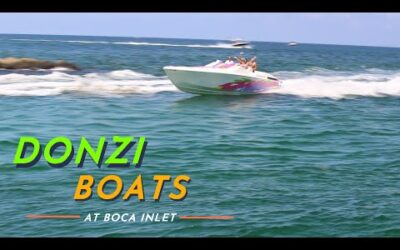 Donzi PowerboatsIf you've been on the water for any length of time, you've probably heard the name Donzi.  For over five decades, the Donzi Marine brand has been making quality...

Start your Custom Yacht Shirt order today!
Complete your order on our website to get your custom yacht gear started. Have our team convert a photograph of your yacht and stern art into digital art for use in your custom printing.

Receive a Private Amazon.com link for your yacht's gear.
We'll email you a link to purchase your custom yacht gear on-demand with secure checkout and fulfillment provided by Amazon.com.

Get your yacht gear delivered to your dock with free shipping on-demand!
Order your custom apparel again and again with no minimum orders or additional setup fees.