Simplified Custom Yacht Apparel
Custom Boat Shirts: How it Works
We make getting your custom yachting apparel easier than ever.
Our revolutionary process takes your simple photograph and creates digital boat line artwork that can be used on a variety of products all available on-demand on your own private Amazon.com URLs.
Have our team convert a photo of your boat to high-quality digital line art for use in digital online printing!
Once your yacht art is approved and ready for printing, we'll shoot you over a high-resolution digital copy of your completed artwork and will set up private Amazon.com URLs that you can use to purchase your custom yacht gear absolutely on-demand!
With no minimum orders!
Simply follow the steps below to choose your personalized gear to represent your yacht.
Custom Yacht Gear Simplified
How it Works: Our Simple Three-Step Process
Step 1: Start an Order & Upload a Photo of your Boat & your Boat name/Stern Art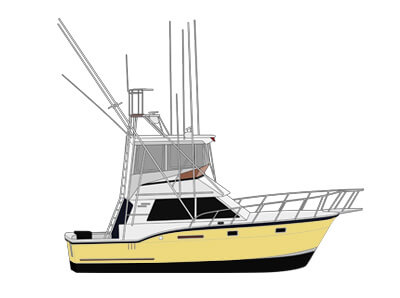 Step 2: Our team converts your yacht photo to digital line artwork and sends you a proof for approval
Step 3: We send you a high-resolution digital version of your completed artwork & set up a private Amazon.com store for on-demand purchasing of your custom boat gear!
Save money on your Custom Yacht Gear
With our on-demand print solution, you get your yacht on the apparel of your choice for far cheaper than traditional screen printing. Skip the screen fees and minimum orders and start showing off your new gear on the hook, or in harbor!
Save Time
With traditional screen printing, turnaround times for custom gear can lag into weeks, especially if you consider art preparation times, screen development, and high shipping costs to deliver your products. With Custom Yacht Shirts, you could have as many shirts as you need, delivered by Amazon.com, before you leave the dock!
Free Shipping with Prime™ Powered by Amazon
Order and pay for your custom on-demand yacht gear on the trusted e-commerce website Amazon.com and get Free Shipping with Prime™!
 From Concept to Delivery at your Dock
Skip the never-ending fees associated with traditional screen-printing.
What you get with your Order at Custom Yacht Shirts:
Creation of Digital Line Artwork from your selected Boat Photo & Stern Art Photo
Our graphic designers use your submitted boat photos to create high-quality custom digital line artwork that is ready for use in your custom merchandise.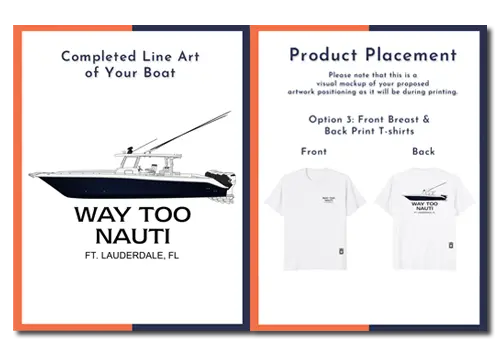 Art proof & merchandise mockups + delivery of a high-resolution version of your completed digital boat line artwork
Our team provides you with a detailed proof for your approval featuring your completed boat line artwork & mockups of your design on t-shirts. Once approved, we send you a high-resolution digital version of your completed boat line artwork.
Setup of on-demand, no-minimum purchasing of your custom gear on a per-item basis at Amazon.com using your completed boat line artwork
Your approved custom boat line artwork is used to set up on-demand apparel & gear ordering with free shipping and returns on Amazon.com with an existing Prime™ account.