Sail with Confidence: The Best Boat Compass for Every Captain
When a purchase is made through our links, we may earn a commission from Amazon, West Marine and other online businesses. You can learn about our content and affiliate policies on this page.
The Boat Compass – Guiding You Safely Home
Navigating the open water is an absolutely thrilling adventure…
One that is made easier than ever with the advent of today's modern marine technology like advanced GPS, chartplotter systems, and more.
However, there's one piece of default equipment that is easily overshadowed by today's modern technology…
The Boat Compass!
A compass is a timeless instrument that has guided seafarers for centuries on the water.
Today, the marine compass continues to lead captains safely home as a standard and critical piece of marine equipment.
This is especially so in times when modern technology fails, or on boats that are too small to include larger and more advanced marine electronics.
The compass still serves as a critically important piece of marine technology for boat captains, both professional and recreational.
While the compass industry is dominated by names like Richie compasses, it can be difficult for boaters to choose the best-fit compass for their marine adventures.
With all of the options available, we've put together this guide to the best boat compasses to help our boaters choose from some of the top options available online to boaters today.
In our quest to conquer the seas, we all share one timeless companion, an instrument as ancient as exploration itself – the boat compass. It's the North Star that guides us through every nautical challenge, the silent guardian of our maritime aspirations.
So, hoist the anchor as we embark on a voyage to uncover the ultimate boat compass for every captain.
From the saltiest of sailors to the eager newcomers itching to feel the thrill of the wind in their hair, we're about to unveil the technology that empowers us to chart our course with the certainty that only true mariners can fathom.
Join us on this odyssey into the world of marine compasses and discover the key to sailing with unshakable confidence, ready to embrace the boundless possibilities of the open water.
First up, a quick glance at our top picks in the world of boat compasses!
Top Overall Bracket Mounted Compass
TurnOnSport Illuminated Boat Compass
The first boat compass on our list is our top pick for the best overall bracket/dash-mounted compass from the TurnOnSport compass brand.
Designed for boaters and available in three nautical color options including black, light blue and white, this convenient little compass fits the bill for most boaters looking for a reliable and easy-to-install boat compass.
At 4.3″ x 2.4″ and featuring an adjustable bracket that can be modified for optimal reading angle, this compass helps boaters read navigational directions clearly and easily.
Manufactured from high-quality ABS plastic, this compass provides durable and dependable use in extreme conditions familiar to boating.
The adjustable bracket allows for an easy mounting solution for almost all boaters with two mounting options that include an EVA foam sticker or screw mount.
Two power cords on this compass can optionally be connected to your boat's power source to provide incandescent light for efficient nighttime navigation.
A great cost-conscious option for boaters looking for a durable and reliable quick-mount boat compass for their nautical adventures.
Other Top Bracket Mounted Boat Compasses
Ritchie Navigation Explorer Compass
Top Features:
2 3-4″ Easy to Read Direct Reading Dial
Internal Green Night Illumination
Adjustable & Removable Bracket
Ritchie 5-year Assurance Guarantee
Geloo Illuminated Marine Compass
Top Features:
5.39″ x 3.66″ Black or Blue Options Available
Easy to install with removable bracket
LED Illumination display
Adjustable mounting bracket
Waterproof & Corrosion resistant
Top Overall Flush Mount Compass
Ritchie Navigation F-50 Explorer
Next up on our list is our pick for the best flush mount boat compass.
The Ritchie Navigation F-50 Explorer Compass provides industry-leading navigation in a completely flush-mounted boat compass system.
Featuring a 2 3/4″ easy-to-read direct reading dial with internal green night illumination, this flush-mounted compass provides accurate and easy readings in day or night conditions.
Designed with scientifically matched sapphire jewel and hardened steel pivot dial movement, this compass provides boaters with a reliable system for manual navigation.
Manufactured by trusted nautical brand Ritchie, this boat compass features a 5-year assurance warranty that boaters can rely on for extended usage.
Great performance for serious boaters looking for a flush mount compass onboard their vessels.
Other Top Flush Mounted Boat Compasses
Ritchie Explorer Flush Mount F-50 in White
Top Features:
Same model as reviewed above but offered in white instead of the black color highlighted above
Ritchie 5-year Assurance Guarantee
Ritchie 3″ Voyager Marine Compass
Top Features:
3″ Power Damp Flat Dial
Intevac Green Night Illumination
Sapphire Jewel & Hardened Steel Pivot Dial
Ritchie 5-year Assurance Guarantee
Top Overall Surface Mount Compass
Ritchie S-53 Navigation Explorer Compass
Looking for a reliable compass that easily surface mounts on convenient locations on your boat?
The Ritchie S-53 Explorer Compass is another reliable and high-quality boat compass solution for boaters looking for a trustworthy navigational compass for their nautical adventures.
Featuring a 2 3/4″ direct-reading dial and a low-profile design, this easily mounted option is a stellar solution for boaters.
Built-in compensators easily adjust for deviation in your course via scientifically matched sapphire jewel and hardened steel pivot dial movements.
Like other Ritchie models, this compass is 100% repairable and comes with Ritchie's 5-year assurance guarantee.
A great boat compass option that provides easy mounting on flat surfaces of your boat.
This model is featured in black.
Other Top Surface Mounted Boat Compasses
Ritchie S-53 Explorer Surface Mount in Blue
Top Features:
Same model as reviewed above but offered in blue instead of the black color highlighted above
Ritchie 5-year Assurance Guarantee
Ritchie S-53 Explorer Surface Mount in White
Top Features:
Same model as reviewed above but offered in white instead of the black color highlighted above
Ritchie 5-year Assurance Guarantee
Top Overall Dash Mount Compass
Ritchie V-57.2 Explorer Dash Mount
Next up on our list of top boat compasses is our top pick for in-line dash-mounted compass setups.
With another selection from trusted compass brand Ritchie, this inline dash-mounted compass is a perfect fit for any boater looking to mount their new compass in an existing instrument panel.
Featuring a 2 3/4″ direct-read dial and built-in NiteVu lighting, this powerful little compass offers all of the technological advances available with Ritchie compasses in a compact and easy-to-install panel compass.
Easily mounted in 3″ instrument holes, this navigational aid allows for adjustable viewing of up to 30 degrees and is offered in either traditional black or white versions.
The high-temperature construction and 100% repairable nature of Ritchie marine compass products, coupled with a 5-year assurance guarantee, make this option a prime choice for boaters looking for a more specialized mounting option for their vessel.
Another great selection from Ritchie compasses.
Top Overall Emergency Handheld Compass
COSTIN Multifunctional Handheld Compass
Looking for an emergency handheld backup compass to support you on your oceanic adventures?
The COSTIN multifunctional compass provides a reliable and durable solution for boaters who want to keep a reliable backup compass on hand for emergency situations on the water.
Made from high-strength engineering metal and featuring a luminous magnet arrow, this compass provides accurate navigational readings in both day and night conditions.
The IP54 waterproof grade and solid metal construction provide great performance in extreme weather conditions, perfect for boaters.
A built-in bubble level helps to improve the compass' accuracy while decreasing errors, helping to provide reliable navigational readings.
A terrific option for boaters looking for a reliable handheld compass solution.
Types of Boat Compasses
As we've outlined in our top boat compass picks above, compasses come in a variety of shapes, sizes and mounting options for boaters. 
To provide you with a little more background on each type, the following section breaks down what you can expect when choosing the right compass for your watercraft. 
Flush mount – A flush mount compass is installed directly into an existing hole or cutout on your boat. The compass literally drops into place, providing a clean and streamlined look that is both professional and highly aesthetic. With a flush mount compass, the compass lies flush against your boat's surface, providing a more integrated feel for boaters. 
Surface mount – A surface mount compass looks to mimic the streamlined design of a flush mount compass on vessels where installing a cutout simply isn't possible for one reason or another. Surface mount compasses sit on top of a section on your boat and can be held down with brackets, fasteners or glues. They are extremely easy to install and provide a quality mounting option for boats that can't or don't facilitate an easy solution for existing instrument cutouts. 
Bracket/Dash Mount – Dash mount compasses are built to be mounted on a boat's dashboard or console, which provides easy and effective viewing for boat captains. Often times they are offered with a bracket setup the allows for an adjustable viewing angle. They are popular options on smaller powerboats and help to provide a clear reading of navigational headings without having to compromise on space or more challenging installation options. 
Instrument Dash Mount – Instrument dash-mounted boat compasses are installed and integrated into existing instrument panels on a boat to help save space onboard. They are often mounted directly next to other instruments for easy, all-in-one access to critical maritime functions. 
Illuminated Compasses – Illuminated compasses are pretty straightforward and obvious. They provide effective nighttime illumination that allows boaters to take accurate navigational readings in day, night, and low light conditions at sea. While most compasses now come with some sort of option for nighttime readings, it is important to consider this feature if you are running any type of nighttime operation as a recreational boater.  
Bulkhead Mount – A bulkhead mount compass is installed on a vertical surface or bulkhead, hence the name. Often these compasses are installed in a boat cabin or helm area and are traditionally very popular on recreational sailing vessels where accurate navigational readings are necessary even in times when a sailboat is on heel.  
How Does a Boat Compass Work?
A compass is a critical navigational tool that works using Earth's magnetic field. 
At a basic perspective, it helps determine direction by pointing to Earth's magnetic North Pole. 
Some of the ways the a compass works include:
Earth's Magnetic Field: Our beautiful planet Earth acts as one giant magnet with its magnetic field extending from the North to the South pole. The magnetic field interacts with the magnetized needle which is a primary component of a boat compass. 
Magnetized Needle: Made of a lightweight material like steel or aluminum, the primary component of any boat compass is a magnetized needle. This magnetized needle is mounted or balanced on a pivot point that allows it to rotate and turn freely. 
Aligns with Magnetic North: Once the magnetized needle is free-floating, it automatically aligns itself with Earth's magnetic field, helping to point to magnetic north and south poles. 
Reading the compass: To accurately read a compass, you simply observe the direction in which the "north" end of the magnetized needle is pointing. This provides you with a reference to magnetic North, which can in turn help you determine your relative heading in relation to the magnetic north. 
Accurate readings: In reading a compass it is important to note that there is a difference between magnetic north and true or geographic north. This is where declination is critical with compasses, as declination adjustments can help you correct for differences to help obtain a true north reading. Similarly, magnetic disturbances can take place in compasses, which can affect the accuracy of readings. For more precise readings, it is essential to make sure that your compass is properly calibrated.  
Boat Compass Buying Guide & Important Considerations
Having a reliable boat compass can make all the difference to boaters on the water.
Not only do they help lead you home on the right course, but they provide critical peace of mind to help back up many of today's modern technology onboard boats including chart plotters and GPS.
While purchasing your next boat compass is pretty easy to do with all of the options online today, there are a number of factors that you may need to consider in order to choose the best-fit model for your unique boating life.
Some of these important considerations include:
Boat Size & Type:
How big is your boat?
Are you navigating a 70-foot motorsailer or choosing a compass for a 13-foot Boston Whaler?
Larger vessels require totally different compass requirements than smaller boats, so it is important to select a boat compass that is specially suited to your boat's unique design, shape and size.
Mounting Location & Size:
One of the most critical components of choosing a new boat compass comes down to the mounting option you need to best fit your boat.
We have covered this in the section above, but it's critical to know how your new compass will best be mounted to your boat for both accurate readings and easy viewing.
Any mounting location should be planned to help provide clear visibility with convenient viewing for anyone at the helm.
Navigational Needs:
How will you be using your compass onboard your boat?
Are you choosing a new compass for offshore use? Lakes and rivers? Or coastal cruising?
Knowing how you intend to use your new boat compass will help to point you in the right direction in terms of your chosen boating environment.
Illumination Capabilities:
Do you plan on navigating in nighttime or low-light conditions?
If so, choosing a boat compass that provides a solution for illumination of your navigational readings is critical.
Built-in LED lighting is a great solution for boaters who want to make sure that navigational readings can be made easily, quickly, and accurately in any lighting conditions on the water
Global Balancing:
If you are one of those rare boaters who are planning for extensive voyages across the hemispheres, then choosing a boat compass that has a built-in global balancing feature is a must-have.
Global balancing provides consistent accuracy for boaters in an extended capacity that can be absolutely critical for extended long range crusing.
Clear Compass Card & Dial:
Any compass should be easily visible and readable to help provide accurate navigational readings.
Before purchasing your new boat compass be sure to make sure that the compass card and dial are clearly visible and include a high-contrast design to help make your navigational readings a breeze.
Gimballed Mounting:
Next up on our list of important considerations is the feature of gimballed mounting options that allow compasses to stay accurate and level even in extreme weather and rough sea conditions.
You want to be able to have an accurate navigational reading even when your boat is tilting, so choosing a boat compass that is built with a gimballed mounting can be critical for boaters.
Adjustable Deviation:
Different magnetic disturbances can influence precise readings in your boat compasses.
Be sure to choose a boat compass that allows you to fine-tune deviations in the compass readings to account for different magnetic disturbances.
Compass Size & Visibility:
Next up on the list of critical factors in choosing a new boat compass comes down to the size and overall visibility of a boat compass.
Making sure to choose a compass that is appropriately sized to fit both your mounting style and boat size can make all the difference in terms of choosing a best-fit option for your boating needs.  
Compensators & Correctors:
Some more advanced compasses can include compensators to help account for changes in the Earth's magnetic field. 
Choosing an option that includes compensators and correctors is especially helpful in long-range cruising and more advanced navigation needs for more professional boaters and Captains. 
Cost and Warranty:
Next up on our buying guide for the best boat compasses is the consideration of cost and warranty.
While obvious, it is critical to choose a system that fits your budget while providing the necessary features and functions to keep you safe on the water.
Similarly, since this is a critical piece of technology on your boat look out for products that include a no-questions-asked warranty so that you can have the peace of mind needed while on the water.
Installation:
Who will be installing your new boat compass? 
Do you have the skills to take care of a DIY installation on your boat compass or will you need help from a boating industry professional to help you make sure that your compass is installed correctly for accurate and reliable navigational readings? 
Knowing what to expect when installing your new compass can make all the difference when it comes to choosing the best boat compass for your needs on the water. 
By carefully considering these factors and features, you can select the boat compass that best suits your needs, enhancing your navigation and ensuring safe and enjoyable boating experiences.
Whether you're cruising coastal waters or embarking on offshore adventures, a dependable compass is your trusted guide on the water.
Final Thoughts on choosing a Boat Compass
As a boater, having reliable navigation equipment is essential no matter what your experience level on the water.
An accurate and reliable boat compass is the cornerstone of your onboard navigation.
And even if you have all the most advanced technological navigation aids onboard your vessel, a manual compass is your backup to safe navigation at sea.
It is the essential tool that never needs a battery, onshore signal or other connectivity to provide you with accurate and reliable navigational guidance.
As captains, you understand the significance of precision and the need to be prepared for any eventuality while out on the water.
A comprehensive suite of navigational tools is essential, and in this journey to enhance your maritime experiences, you've already explored essential items like waterproof bags for boating, marine VHF radios for communication, boat first aid kits for safety, and a multitude of boat accessories to cater to every need.
A best-fit boat compass, whether flush mounted, surface mounted, or any other suitable type, stands as your ally in charting the course and ensuring your crew's safety.
While it may appear as a simple instrument, its significance cannot be overstated, especially when combined with the other vital elements in your maritime toolkit.
So, as you set sail on your maritime adventures, may your boat compass serve as a symbol of your confidence and preparedness.
With the right compass, the right equipment, and the right mindset, you can navigate the seas with confidence, knowing that you are well-equipped to face whatever challenges and wonders the open waters may bring. Safe sailing, captains!
Let us know down below in the comments if our guide helped your search for a new boat compass!
—
Did you like this article? Did it help your search to find the perfect type of boat? Leave us a comment below and join the conversation!
Or have a look at some of our other marine guides including Gifts for Boat Owners, or informative posts like our Boat Grill Review, Anchor Chain Solutions, choosing the Best Fishing Hats, Selecting the Best Marine Stereo, or our guide to Haulover Inlet!
Do you own a boat? Turn your photo into custom boat artwork and gear!
For the boater who is proud of their sea-going vessel, custom boat gear is the perfect solution to show off their pride and joy anywhere.
At Custom Yacht Shirts, we use a photo of your boat to create custom boat art drawings that are perfect for use on a variety of customized gear.
We feature t-shirts, long sleeves, hoodies, tank tops, pop sockets, phone cases, and much more that make the perfect custom gift for any boat owner.
Best of all, once the art preparation process is complete, all of your custom boat gear is available for on-demand ordering on private Amazon.com product pages.
Order 1-1000 of your custom products easily and simply with your existing Amazon account featuring free returns and free shipping with a Prime account.
The perfect gifts for boat owners!
What are you waiting for???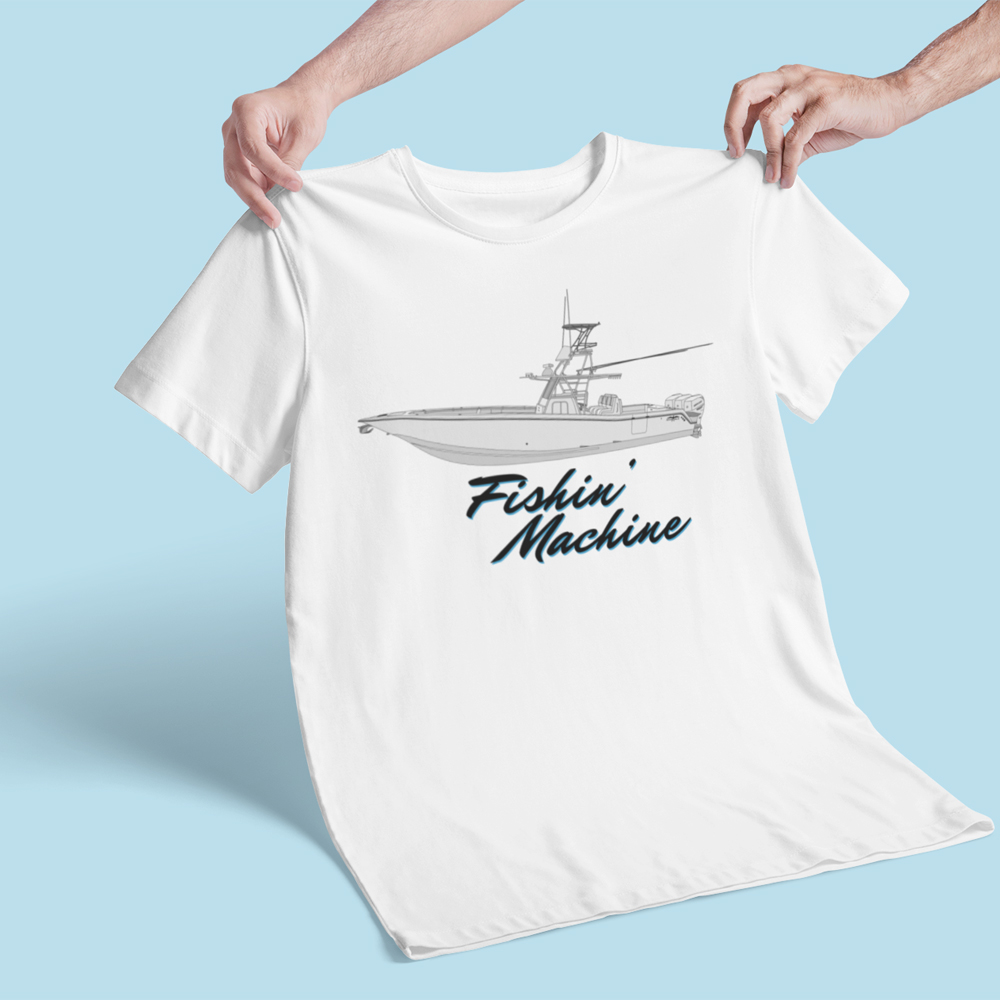 22 Must-Have Boat Accessories When a purchase is made through our links, we may earn a commission from Amazon, West Marine and other online businesses. You can learn about our...

Start your Custom Yacht Shirt order today!
Complete your order on our website to get your custom yacht gear started. Have our team convert a photograph of your yacht and stern art into digital art for use in your custom printing.

Receive a Private Amazon.com link for your yacht's gear.
We'll email you a link to purchase your custom yacht gear on-demand with secure checkout and fulfillment provided by Amazon.com.

Get your yacht gear delivered to your dock with free shipping on-demand!
Order your custom apparel again and again with no minimum orders or additional setup fees.