Intrepid Boats are one of the leading manufacturers of custom-built sportfishing boats on the market. 
Every Intrepid is custom built to the exacting specifications of the owners of these unique watercraft. 
As a custom boat builder, the Intrepid Boats brand constantly chases innovation and new technology to bring the latest and greatest to their owners. 
From custom paint colors and technology, to world-class service and versatility, Intrepid boats bring the best to boat owners around the world.
 Intrepid boats stepped hulls deliver a smooth, dry ride with unmatched maneuverability. 
Here at Boca Raton inlet, we see Intrepid boats regularly and are always impressed with the craftsmanship and uniqueness of each vessel. 
Obviously loved among their owners, the Intrepid brand is a powerhouse of boat building in the South Florida community. 
Have you owned an Intrepid?
Let us know in the comments!
Enjoy the video and be sure to follow our YouTube Channel for more videos of the action on the water in South Florida.
Looking for other fun stuff? Check out our Gifts for Boat Owners, Boat Grill Reviews, 7 Superior Anchor Chain Solutions, 9 Fishing Gaff Hook options, or our Haulover Inlet Guide!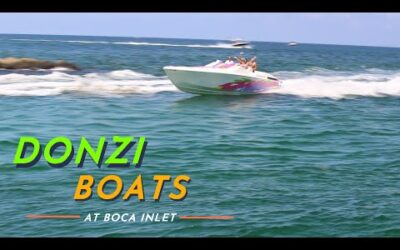 Donzi PowerboatsIf you've been on the water for any length of time, you've probably heard the name Donzi.  For over five decades, the Donzi Marine brand has been making quality...

Start your Custom Yacht Shirt order today!
Complete your order on our website to get your custom yacht gear started. Have our team convert a photograph of your yacht and stern art into digital art for use in your custom printing.

Receive a Private Amazon.com link for your yacht's gear.
We'll email you a link to purchase your custom yacht gear on-demand with secure checkout and fulfillment provided by Amazon.com.

Get your yacht gear delivered to your dock with free shipping on-demand!
Order your custom apparel again and again with no minimum orders or additional setup fees.