7 Superior Anchor Chain Solutions for your Boat
When a purchase is made through our links, we may earn a commission from Amazon, West Marine and other online businesses. You can learn about our content and affiliate policies on this page.
So why does an effective anchor chain matter?
Picture this…
You're headed to the sandbar with friends but you only have an anchor with rope on it. Can you trust your boat to that setup when you're off exploring the flats?
Or maybe you're hooked up on the reef getting ready to fish in a swift current with only 3 feet of chain on your anchor setup?
Wouldn't you feel better knowing that your boat is laying on a solid amount of chain to help keep your anchor in place on the ocean floor?
An effective anchor chain can help provide a more secure and reliable anchoring solution as part of a quality anchor setup aboard vessels of all shapes and sizes.
In combination with an anchor and quality anchor line, your anchor chain can be the difference in both your experience and safety on the water, allowing you to comfortably experience your onboard boat grill or fishing trip in style!
We have taken a few minutes to research some convenient anchor chain options available to boaters online in the products below.
Explore the anchor chain solutions for information on how the following products can help you enjoy a better boating experience on the water.
And if you have other recommendations, please submit them in the comments!
Best Galvanized Lead
SEACHOICE Galvanized Lead Chain
The first on our list for an online anchor chain is the SEACHOICE Galvanized Lead chain. This grade 30 chain comes in two sizes, 1/4 inch x 4 feet and 5/16 inch x 5 feet.
It features a break strength of 7,500 pounds and includes two 5/16″ galvanized shackles.
Some of the features of this quality chain include:
Two convenient sizes to choose from in galvanized lead
Contributes to better holding power and resistance
Drawbacks:
No longer options currently available
Ideal for:
Small skiffs and runabout to small center console
Best Overall Entry-level Stainless steel Anchor Chain
Better Boat Stainless Steel Chain
The overall best entry-level chain is the Better Boat Stainless Steel Chain. At five feet long, and chain that is 5/16″, this premium grade stainless steel anchor chain is constructed from 316 stainless steel.
It comes with two 2 x 3/8″ stainless steel shackles to connect your anchor and rope safely and with ease.
This is a great compliment to any anchor setup that's looking for a long-lasting and durable anchor chain that won't rust or corrode, perfect for marine conditions.
This product comes in two featured lengths and sizes, 4ft X 1/4″ and 5ft X 5/16″.
Some of the features of this quality chain include:
7450 Pound Break Strength
Shackles Included
Stainless Steel
Durable and Long Lasting
Drawbacks:
Only two lengths are available
Short for larger/heavier vessels
Quality 10-foot anchor chain
US Stainless – 10′ X 5-16″ Stainless Steel
The first in our list of 10-foot anchor chains, the US Stainless 10′, 5/16″ Stainless steel chain provides additional length in the 5/16″ size 316 stainless steel links.
US Stainless also makes a 1/2″ chain variety at a similar size of 10′ in length, as well as a 15-foot variation. See below for both options.
Each size features strong marine grade 316 stainless steel is a durable solution for marine applications.
Some of the features of this quality chain include:
Marine Grade 316 Stainless Steel
All stainless steel construction
2, 3/8″ Shackles Included
7120 Pound Breaking Load
Drawbacks
Not approved for Windlass use
Coated Anchor Chain Option
Greenfield Coated Chain
The Greenfield 5/16″ x 5′ chain provides the correct setting position for a stronger hold for your anchor.
With a highly elastic PVC coating, this coated chain stretches and bends to allow a performance hold for your anchoring.
Recommended only for boats up to 1,370 pounds in maximum wind conditions of 30 knots, this should be attached to your anchor and associated anchor rope with stainless steel shackles, which are not included.
Some of the features of this quality chain include:
Coating supports the correct setting position
Elastic PVS Coating
Supports weights up to 1,370 Pounds
Drawbacks:
Not Flexible
PVC Coating can crack with long-term usage
Best 6′ Anchor Chain Option
US Stainless – 6-foot 316 Stainless
Looking for a 6′ stainless steel anchor chain option?
The US Stainless 6′ 316 Stainless Steel anchor chain features 5/16″ links with 3/8″ stainless steel shackles.
Built with marine-grade 316 stainless steel, this corrosion-resistant stainless chain provides excellent durability for boating applications.
Featuring a 7120-pound chain-breaking load and 9460 shackle-breaking load, this powerful chain option gives boaters a bit more chain length with best-in-class stainless steel protection.
Some of the features of this quality chain include:
Corrosion Resistant Stainless Steel

7120 Pounds breaking load

Includes 2 – 3/8″ shackles
Drawbacks:
Not specifically Windlass compatible
Best 1/2″ Stainless Anchor Chain
US Stainless – 1/2″ 10-foot Stainless Chain
Looking for a more heavy-duty option for your anchoring solutions?
If you're a bigger boat or used to anchoring in challenging conditions, upgrading to a ten-foot, 1/2″ stainless steel anchor chain can provide you with the extra durability you are searching for with your boating anchor setup.
This marine-grade 316 stainless steel 1/2″ link chain is corrosion resistant and super durable in even the harshest marine conditions.
With two included shackles, this chain features a breaking load of 26,0000 pounds and a shackle breaking load of 14,300 pounds.
The ten-foot length provides additional weight to help your anchor settle and stay in even rough marine conditions.
Some of the features of this quality chain include:
Long lasting 316 Stainless Steel

Includes 2 shackles

Chain breaking load of 26,000 pounds
Drawbacks: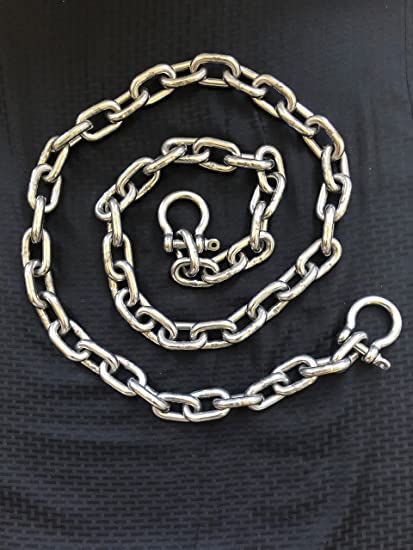 Best Windlass Chain Option
US Stainless – 1/4″, 15-foot Windlass Chain
Need an anchor chain option for your windlass?
The US Stainless Stainless Steel Windlass 1/4″ anchor chain features 15′ of 315 marine grade stainless steel chain, fitting many modern windlasses.
This stainless chain provides rust and corrosion prevention that is perfect for long service use in marine conditions.
Two 5/16″ shackles are included with this chain setup that is G4 stainless chain featuring 7*21.5*24.4 (DIA*IL*OW) for use in marine windlasses.
Some of the features of this quality chain include:
Fits many modern windlasses

Short Link Windlass Chain
Corrosion and rust resistant
 Anchor Chain Buying Guide
Selecting the correct anchor for your unique boating applications is critical to your safe anchoring on the water.
The right choice for your anchor chain depends entirely on your specific boat, conditions you boat in and your experience as a captain on the water.
The options that we have recommended above are great for entry-level boaters. However, boaters with bigger yachts or specialized marine applications may need a custom solution for proper and safe anchoring applications.
To better understand how you can select the best anchor chain for your boat, explore some of the factors below for more information.
Factors to consider include:
Weight of your boat – The weight of your vessel is of primary consideration when selecting a proper anchor chain. While small skiffs, runabout and center consoles can get away with less chain while still experiencing an effective anchoring solution, heavier boats will need longer and heavier chain to help keep an anchor in place, especially in rougher seas.
Boating conditions – How do you use your boat? Are you a lake boater or a recreational boater that stays within inshore waterways? Do you head out to fish on deeper reefs off the Florida Keys? Do you anchor up in depths over 100 feet? Understanding how you use your boat can help you make a more informed decision with respect to the best anchor chain to use with your overall anchor setup.
Wind, Weather & Currents – What type of conditions do you rely on your anchor setup to stay put? Do you generally boat in calm waters, lakes or isolated bodies of water? Or are you a saltwater angler who is exposed to rapidly changing marine conditions on the ocean? Having an anchor chain that compliments your anchor and your anchor rope to provide a safe and reliable anchoring system will prove invaluable on your time on the water.
Type of anchor you use – Another factor to consider when purchasing your anchor chain deals with what type of anchor you use in your anchoring setup. Different anchors provide different levels of hold in different conditions and bottom contours. Having an anchor chain that correctly compliments your chosen anchor setup can help you maximize your hold in a variety of conditions for a more reliable anchoring setup.
 Conditions where you anchor – Do you primarily anchor up on sandbars? Or are you laying up around active reefs and rocky bottoms? Having a quality anchor chain helps to protect your anchor rope as it acts as a lead into your anchor. This provides protection against coral (which you shouldn't be anchoring on in the first place!), rocks, and wrecks that you may be using to target your fishing and diving adventures. Knowing what type of bottoms you regularly anchor up on will help you choose a chain to target that style of boating.
Anchor Chain Wrap-Up
Your anchor chain is just one link (pun intended!) in your overall anchoring setup.
Every boater needs to consider quality options for each part of an anchoring setup including a quality marine anchor, chain and durable rope.
Selecting the right anchor chain for your boat and boating lifestyle is critical to providing a reliable experience when on the hook.
The worst thing is to think you're hooked up on your favorite fishing spot only to slip because of an inadequate anchor chain that allows put too much pressure on your anchor and causes you to move off your desired location.
Remember that if you are a larger vessel or need to satisfy specific marine conditions, the recommendations above may not fit your needs.
We hope that the preceding online solutions for quality anchor chains have helped you on your boating journey.
If you have any other options that you like, let us know about them in the comments below!
Did you like this article? Did it help your search? Leave us a comment below and join the conversation!
Or have a look at some of our other marine guides including Gifts for Boat Owners, 7 quality boat grills, 9 Gaff Hook Options for Anglers, or informative posts like our guide to Haulover Inlet!
South Florida Boat Videos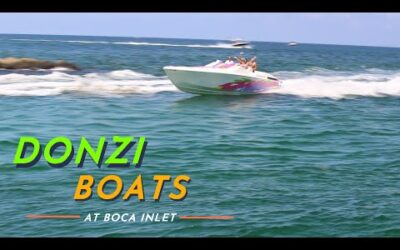 Donzi PowerboatsIf you've been on the water for any length of time, you've probably heard the name Donzi.  For over five decades, the Donzi Marine brand has been making quality...

Start your Custom Yacht Shirt order today!
Complete your order on our website to get your custom yacht gear started. Have our team convert a photograph of your yacht and stern art into digital art for use in your custom printing.

Receive a Private Amazon.com link for your yacht's gear.
We'll email you a link to purchase your custom yacht gear on-demand with secure checkout and fulfillment provided by Amazon.com.

Get your yacht gear delivered to your dock with free shipping on-demand!
Order your custom apparel again and again with no minimum orders or additional setup fees.