Types of Fishing Reels: The Angler's Handbook
When a purchase is made through our links, we may earn a commission from Amazon, West Marine and other online businesses. You can learn about our content and affiliate policies on this page.
Types of Fishing Reels for your Unique Fishing Style
What's your go-to fishing reel??
With so many varied styles targeting so many different fish species, fishing is something truly unique to the angler and their experience level.
In the world of angling, your choice of equipment to match the right conditions is just as critical as the selection of your bait.
As lifelong fishermen (our founder was exploring Boca Ciega Bay with rod and reel at 8 years old in 1958), we know firsthand how choosing the right type of fishing reel can make all the difference in the results of your fishing day.
Whether you're looking to hook a behemoth pelagic species offshore or drifting the flats in search of the ghostly bonefish, the selection of your fishing reel is second to none in the world of angling.
But with so many options available to fishermen it's easy to get overwhelmed when choosing the best type of fishing reel for your fishing style.
That's why today we're breaking down the major types of fishing reels to help you familiarize yourself with some of the best options for you.
We've also presented a number of top picks available to anglers online in our top picks below.
So join us as we dive into the different types of fishing reels available to fishing enthusiasts in today's market!
Explore each Type of Fishing Reels with this Quick Navigation
Spinning Reels
First up in our breakdown of the most popular types of fishing reels is the widely-used and versatile spinning reel.
A popular choice for anglers around the world, the spinning reel is easily recognizable for anyone who has ever gone in search of fish.
The design of the spinning reel includes a fixed, open spool that rotates around the fishing line. The bail arm of the reel can be opened and closed with a flip to provide control of the line itself.
Spinning reels are one of the most versatile fishing reel types and are easily adaptable to most fishing conditions and situations.
The user-friendly design of a spinning reel makes it a great choice for both beginner and experienced anglers, especially with respect to the process of casting.
Spinning reels have a drag system that allows the angler to directly control the resistance level for a catch on the other end of the line.
Another critical feature of spinning reels is the ability to easily manage your line to minimize tangles and twists. This helps anglers release the line from the spool without any resistance, helping for more effective placement of baits and lures.
The ease of casting with a spinning reel allows for more accurate and longer distance casts that help to make this option a great choice for any angler.
Spinning reels come in a variety of sizes, from ultralight models for smaller fish species to more heavy-duty models that are equipped to fight heavier saltwater fish.
Because of its versatility, the spinning reel is well-suited and commonly used for both freshwater and saltwater angling, being a favorite choice for reef fishing and offshore enthusiasts.
One of the more popular and usable types of fishing reels available to anglers on the market today.
Popular Spinning Reel Options for Anglers
PENN Battle Spinning Reel
Top Features:
Durable performance with a pleasing design
Smooth, Efficient Gears
Carbon Fiber Drag System
Quality Reel for the Price Point
Top Features:
IPX5 Sealed Aluminum Reel Spool
Gear Ratio of 6.2:1
6 Total Bearings
Carbon Fiber Drag System
Superline Spool for Braid-Ready Line
Baitcasting Reels
The next type of fishing reel on our list is the popular baitcasting reel.
And if you're looking for precision and control, the baitcasting reel might just be at the top of your list.
Unlike spinning reels, baitcasting reels mount on the top portion of your fishing rod, providing more control for the angler.
However, the free spooling reel can become easily tangled into what's popularly known as a "bird's nest" if not carefully managed.
When casting a baitcaster, you press down on a button to release the line, and then use your thumb to control the speed of the line as it sails toward your casting target.
With practice, the baitcaster allows anglers to place lures with greater accuracy, even in tight spaces where traditional reels can't.
Some of the top features of baitcasting reels include:
Drag System – Allows for precision resistance when a fish hits your line.
Braking System – Controls the speed of the outgoing fishing line when casting, which can help to reduce potential tangles and bird's nests.
Line Guide – Efficiently re-spools your line back onto your reel by moving fluidly back and forth as you reel in your line.
Spool sizing – Influences how much fishing line you can hold on your reel.
While providing more control and efficiency, the baitcasting reel takes some experience to master and may not be the best choice for new anglers.
Popular Baitcasting Reel Options for Anglers
KastKing Royale Legend II Baitcasting Reel
Top Features:
New Compact Design
Faster Gear Ratios
Stronger Construction
Dynamic Magnetic Braking System
Piscifun Alijoz Baitcaster Fishing Reel
Top Features:
Magnetic Braking System
Double Shaft supported line guide
Aluminum CNC Body & Handle
Lightweight and Smooth Operation
Spincasting Reels
Looking for a great option for new anglers?
The spincasting reel, also known as a close-face reel, is a particularly user-friendly style of a fishing reel that is a popular choice for beginning or casual anglers. 
Spincast reels feature a closed face (or nose cone) that helps to protect the fishing line to lessen tangles. This feature makes it easier for kids and beginning anglers to get into fishing.
They have a push-button cast system that is easy for anglers to control. The push-button casting works as an angler pushes and holds down the button during the casting process and releases it to let the line run free in the direction of the cast.
The spincast is the choice for kids and new anglers as they provide a very easy learning curve, are affordable and require very low maintenance when compared to other reel types.
However, the spincast comes with a few disadvantages that any angler should be aware of, which include issues like less durability, limited line capacity, reduced casting distance and accuracy and less control.
 While not a great choice if you're off in search of a billfish, the spincast reel is a great option if you're introducing your kids to the magic of angling and want a simple and effective piece of equipment to lessen headaches and user-error.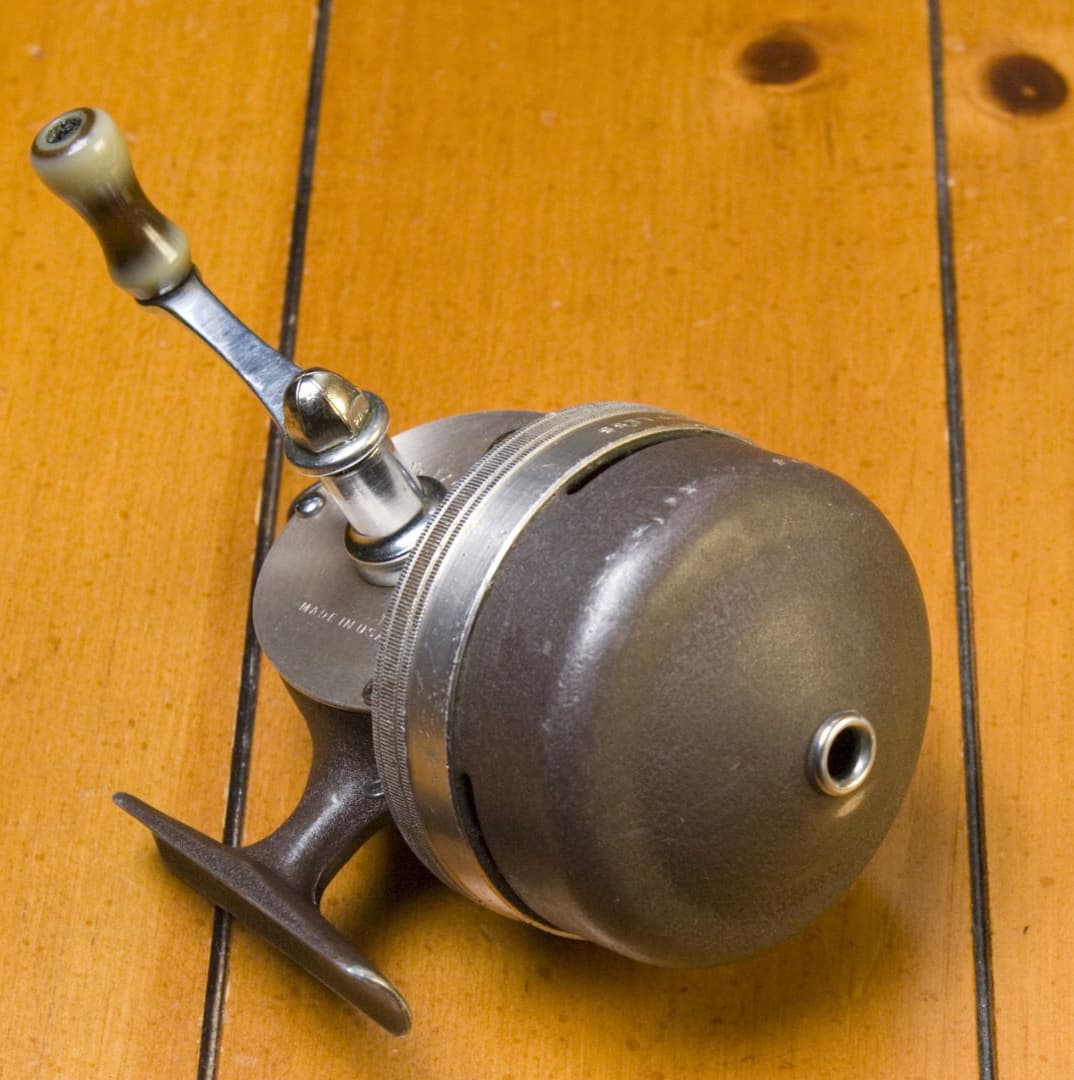 Popular Spincasting Reel Options for Anglers
KastKing Brutus Spincast Fishing Reel
Top Features:
High Performance Line Pickup
4.0:1 Gear Ratio
Smooth & Durable Performance
Reversible Handle
Pre-spooled with Monofilament Line
Pflueger President Spincast Reel
Top Features:
Smooth Performance
Aluminum Frame and Cone
3.1:1 Gear Ratio
6lb Max Drag
Soft-touch Rubber Handle
Conventional & Trolling Reels
Heading out to blue water in search of pelagic species?
The conventional fishing reel, also known as the overhead reel and in many cases a trolling reel, is the most popular choice of anglers pursuing larger fish species in need of a durable solution for their fishing equipment.
The conventional reel, popularized by the Penn International series, sits atop the fishing rod and allows the line to peel directly off the spool, reducing line twisting and tangling.
Conventional reels are usually built for overall strength and durability with construction materials capable of withstanding the high-stress demands of saltwater fishing adventures.
The top-mounted design provides fishermen with greater stability and power when reeling in larger fish species, while the more precision drag systems make it easier to fine-tune drag adjustments for resistance on the line.
These fishing reels feature a much larger line capacity that is perfect for deep-sea fishing excursions.
The advantages of a conventional fishing reel include increased power for the angler, versatility of fishing line types they can handle, and durability to perform under rough conditions on the open ocean.
On the other hand, the conventional fishing reel is much more complex than other reel types and has a learning curve to understand and work with ease. These reels are also heavier, which can strain beginning anglers and typically include a higher price tag, presenting a barrier of entry for many anglers.
Conventional reels are the perfect option for anglers who demand durable gear in search of larger fish species where strength and line capacity are critical to success.
They're the top choice for serious anglers targeting big game fish or when trolling offshore, but usually are a little overkill for amateur or beginning anglers.
In summary, while all trolling reels are conventional reels, not all conventional reels may be ideal for trolling. When purchasing a reel for trolling, it's important to consider the specific features that will make it suitable for the marine environment and the particular demands of trolling.
Popular Conventional & Trolling Reel Options for Anglers
Penn International VI Fishing Reel
Top Features:
Machined and Anodized Aluminum Body
Stainless Steel Gears
Dura-Drag System
Versa-strike adjustable strike stop
PENN International Lever Drag Reel
Top Features:
Machined and Anodized Aluminum Body 
Stainless Steel gears
Quick Shift II 2-Speed System
Dura-Drag System
Versa Strike adjustable strike stop
Fly Reels
Are you a fly fisherman? Or maybe you want to be?
The fly reel is a specialized piece of critical equipment in a fly fisherman's arsenal.
This unique fishing reel is designed to hold fly line and backing while supporting the unique casting and fishing style that is used in the course of fly fishing operation.
Fly reels feature a simplistic design style, with early fly gear being nothing more than line storage.
Today, modern fly reels feature more sophisticated features that include drag systems and advanced construction techniques.
Fly reels are built with different arbor sizes, which relates to the diameter of the reel's axle. These arbors vary in size and influence and impact all aspects of the reel's performance including line pickup, drag pressure and line memory.
Modern fly reels feature advanced drag systems that apply friction to the reel spool to prevent it from unspooling too quickly. Two types of drag systems are dominant in the fly reel world, with click-and-pawl and disc drags being the main sources of resistance in fly reel construction.
Most fly reels are built today from machined aluminum, and while other construction materials are used, machined aluminum reels dominate the market because of their durability, especially in saltwater fly fishing environments.
As a critical piece of equipment in the world of fly fishing, high-quality fly reels can be highly expensive and are often built to target a specific set of fishing conditions or select species, making them far less versatile than other reel types.
Choosing the best fly reel depends on a number of factors including the species and environment you are targeting, your experience level and personal preferences in the world of fly fishing equipment.  
Popular Fly Reel Options for Anglers
MaximumCatch ECO Large Arbor Fly Reel
Top Features:
Durable Aluminum Construction
Large Arbor Design
Rugged Disc Drag
One-year Warranty
Piscifun Sword Fly Fishing Reel
Top Features:
Precision Machined Aluminum 
Carbon & Stainless Steel Disc Drag 
Hard Anodized Surface
Reducing Line Memory
Three-year Warranty
Centerpin Reels
Heading out for a drift fishing expedition?
Centerpin reels while very simple in their operation, provide a very specific function in the world of angling.
Popular in the world of freshwater fishing, particularly in the Pacific Northwest, these specialized reels are highly regarded for their ability to present baits in an extremely natural manner.
The free-spinning spool of a centerpin reel sits on a central axle or pin which helps to offer an almost frictionless rotation of the reel, which is perfect for freshwater drift fishing.
High-quality bearings are used in centerpin reels to allow for a completely free-spinning spool, allowing for drag-free drifts in freshwater rivers and streams.
Unlike other types of reels that we have presented, the centerpin reel doesn't have a drag system and instead works with pressure applied to the line by a fisherman manually.
The top advantage of centerpin reels is their natural presentation of baits and lures in a near-natural state. They also allow freshwater anglers with significant line capacity that other types of fishing reels simply can't match.
However, there is a learning curve required to operate a centerpin reel efficiently without dealing with the tangling of the line. Additionally, as a specialized tool, they are limited in their versatility and high-quality centerpin reels with a smooth and balanced spin can be pricey.
If you're on the hunt for salmon, trout, steelhead and other popular freshwater fish this type of fishing reel might be top on your list, not so much if you're headed out to the hump for pelagic fish!
Popular Centerpin Reel Options for Anglers
MaximumCatch Center Pin Float Fishing Reel
Top Features:
Ultimate Weapon for float Fishing
Machine Cut Aluminum
Adjustable Tension Knob
Two-Year Warrnaty
Saion Center Pin Float Reel
Top Features:
Machined Aluminum Construction
2 Ball Bearings
On and Off Rachet
Great starter center pin reel
Electric Reels
Need help reeling in your next deep sea catch?
Electric fishing reels are a specialized type of fishing equipment that is designed to assist with the physical strain of bringing in lone lines during deep-sea fishing expeditions.
They are an invaluable tool for fishermen who are looking for help with deep-dropping and deep-ocean fishing.
Electric reels combine modern electronics with traditional reel systems that, when activated, take over the operations of bringing the line back onto the spool.
Usually built with variable speed controls, these heavy-duty fishing reels are built to handle heavy gear and heavier fish!
Most electric reels include some sort of depth counter that provides information on how much line is out.
In conclusion, electric reels serve a very specific purpose within the fishing community.
They cater to anglers who require the deep-water capability and ease of use that these reels provide.
They can make the difference between a regular trip and an outstanding catch for those fishing in extreme conditions or those with physical limitations that make manual reeling difficult.
Popular Electric Reel Options for Anglers
Daiwa Tanacom1000 Fishing Reel
Top Features:
LCD Display
Automatic Stop and jigging
Variable Speed- power level control
Line Coutner & Depth Memory
Daiwa Seaborg 500MJ-AT Electric Reel
Top Features:
Clutch with Auto-Stop Function
Heat Dissipating and Durable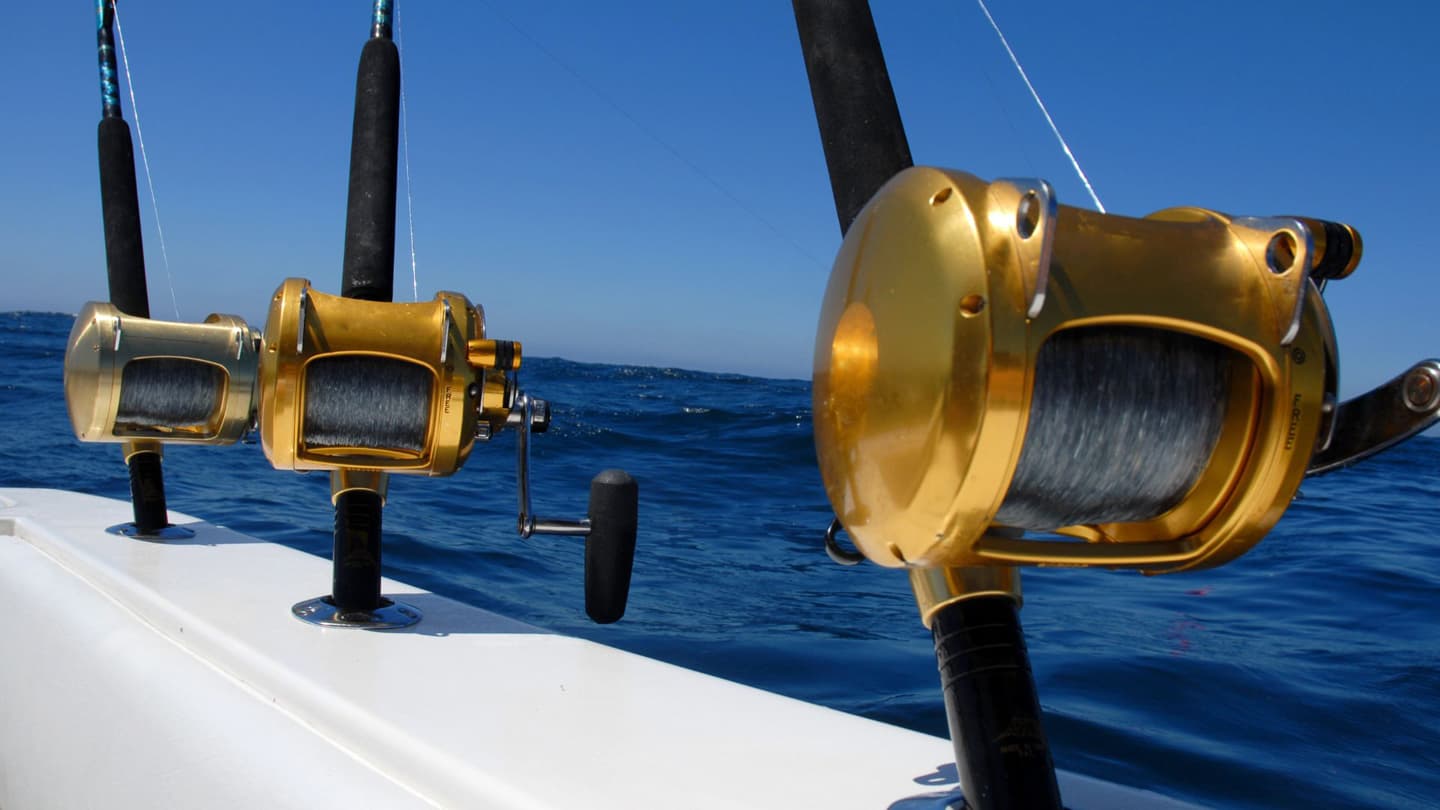 How Can You Choose the Best Type of Fishing Reel?
Choosing the best types of fishing reels for your fishing life can be difficult given all the different types of fishing reels available on the market today. 
Making the right selection for you involves consideration of a number of factors.
Reviewing some of these ideas before buying your next piece of equipment can help you get a fishing reel that is perfect for your fishing adventures.  
Understand your Type of Fishing
The first thing to consider when choosing a new fishing reel comes down to what type of fishing you will be doing with your new gear.
This includes considering:
Freshwater or Saltwater fishing: Saltwater environments are much more harsh than their freshwater counterparts. Knowing which environment your new gear will be used in can help you choose construction materials that can hold up to the elements.
Boat, Shore or Beach: Where will you be fishing? Off your boat? Off the dock? Determining where you will be conducting your angling adventures can help you better understand your fishing style, leading you to a better-suited choice for your fishing reel.
Fish species and size: Are you targeting bonefish or bluefin tuna? Knowing what species you intend to catch can help you determine and choose a fishing reel that is better suited to your fishing style.
Determine your Fishing Technique
How do you plan to target your fish?
Will you be casting off a dock? Trolling offshore?
Understanding how you will be getting your bait or lure into your fish's mouth can help you more accurately define the type of reel you need.
For example:
If you plan on casting: Spinning or Baitcasting reels provide robust features and functionality for more control and precision in your casting.
If you plan on trolling: Conventional or trolling reels provide specialized equipment and features to help you land that pelagic or deep-sea species.
If you plan on flats and backcountry fishing: Fly reels provide a smooth drag and more effective line management to help target bonefish, permit tarpon and other exciting species.
Your Skill Level
As with anything in life, your overall skill level can help you easily determine the best-fit equipment for your fishing adventures.
For beginners, choosing a spincast or simple spinning reels provides more user-friendly options that allow you to get into angling and explore your new passion.
Conversely, more intermediate and advanced fishermen would steer towards more sophisticated equipment that includes baitcasting reels, trolling reels and other more specialized equipment for specific fishing functionality.
Fishing Reel Features, Functions and Specifications
The next thing to consider when choosing your new fishing reel includes issues related to the performance and functionality of your equipment.
This includes considerations like:
Drag Systems: An adjustable drag is critical for fighting and landing fish. Be sure that your new equipment is created to target your needs with respect to the adjustability and function of the drag system in your reel.
Ease of use: Consider how easy the reel is not only to use but also to maintain, especially if you are starting your journey as an angler.
Material Construction: Choose a reel that is built to last so that you can enjoy your angling adventures for many days to come. Graphite reels are lighter and corrosion-resistant, while aluminum reels are durable and strong for long-term use. Choose a reel that matches not only your style of fishing but also the environments you plan on exploring in search of your treasured catch.  
Gear Ratio: A fishing reel's gear ratio refers to how fast the bail rotates around the spool as you turn the handle. Different gear ratios lend themselves to different and unique setups depending on fishing locations, environments and more. 
Reel Size: The size of your reel directly correlates to how much line you can put on the reel. This is critical for any angler as you select a new reel so that you match your reel size to the type of fish you are hunting. Larger fishing lines that target larger fish take more room on the spool so considering this can be critical for any angler. 
Other important Fishing Reel Considerations
While not specific functions of your new reel, there are other considerations that anglers may find important before selecting a new reel. 
This includes considerations like:
Ease of use: Consider how easy the reel is not only to use but also to maintain, especially if you are starting your journey as an angler.
Price: Reels can be pricey. Especially reels that are made for specialty operations like fly reels and quality trolling reels. Considering your price point before shopping can help you find the best quality reel for your budget. 
Maintenance: Over the long term every fishing reel requires maintenance to keep it working in ship shape. Always consider the ease of maintenance, how easy to may be to get additional parts, and if the reel is user-friendly to repair or maintain yourself. 
Final Thoughts on Types of Fishing Reels
As we come to a close on this exploration of some of the most popular types of fishing reels, we hope that this information has helped to shed a little more light on the different specialized reels available to anglers. 
As an angler, choosing the right fishing reel can make all the difference in whether or not you land that treasured catch on your day on the water. 
With all of the various types of fishing reels available to anglers today knowing what to look out for when you're in the market for a new fishing reel can help you make not only an informed decision but one that will steer you to a high-quality option for your fishing arsenal.  
But the true art of fishing is in the complement of the catch, where your trusty reel pairs with the sharpest fishing pliers, the most durable fishing hats, the most thoughtful gifts for fishermen, and the strongest fishing gaff hooks for those big-fight moments.
It's about matching the whisper-quiet drag of your fly reel with the right-brimmed hat that keeps the glare off your eyes, so you never miss a beat. It's in the weight of your gaff hook, ready at the boat's edge, just as a prized catch surfaces. And when it comes time to gift the angler in your life, consider enhancing their reel experience with accessories that echo their love for the sport.
We hope that you found this information on the different types of fishing reels valuable!
Let us know down below in the comments if our guide helped your search!
—
Did you like this article? Did it help your search to find the perfect type of boat? Leave us a comment below and join the conversation!
Or have a look at some of our other marine guides including Gifts for Boat Owners, or informative posts like our Boat Grill Review, Anchor Chain Solutions, choosing the Best Fishing Hats, Selecting the Best Marine Stereo, or our guide to Haulover Inlet!
Do you own a boat? Turn your photo into custom boat artwork and gear!
For the boater who is proud of their sea-going vessel, custom boat gear is the perfect solution to show off their pride and joy anywhere.
At Custom Yacht Shirts, we use a photo of your boat to create custom boat art drawings that are perfect for use on a variety of customized gear.
We feature t-shirts, long sleeves, hoodies, tank tops, pop sockets, phone cases, and much more that make the perfect custom gift for any boat owner.
Best of all, once the art preparation process is complete, all of your custom boat gear is available for on-demand ordering on private Amazon.com product pages.
Order 1-1000 of your custom products easily and simply with your existing Amazon account featuring free returns and free shipping with a Prime account.
The perfect gifts for boat owners!
What are you waiting for???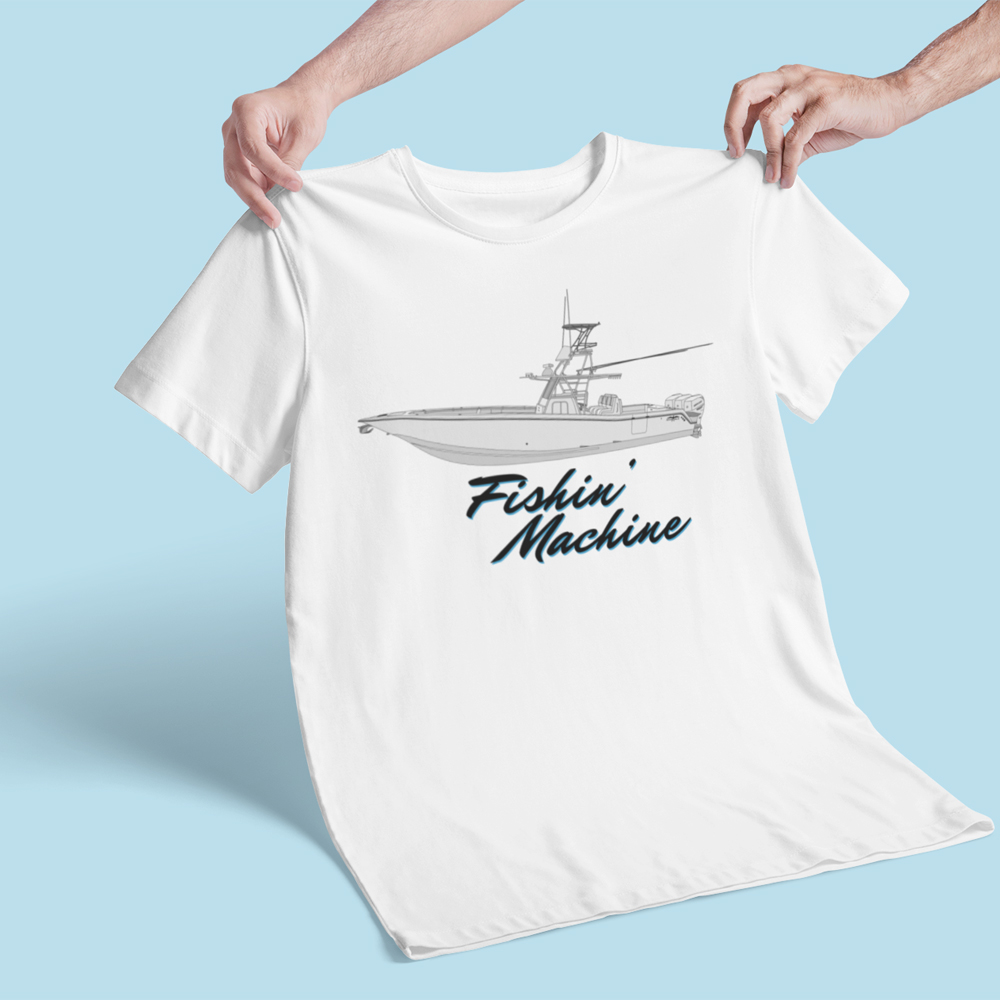 22 Must-Have Boat Accessories When a purchase is made through our links, we may earn a commission from Amazon, West Marine and other online businesses. You can learn about our...

Start your Custom Yacht Shirt order today!
Complete your order on our website to get your custom yacht gear started. Have our team convert a photograph of your yacht and stern art into digital art for use in your custom printing.

Receive a Private Amazon.com link for your yacht's gear.
We'll email you a link to purchase your custom yacht gear on-demand with secure checkout and fulfillment provided by Amazon.com.

Get your yacht gear delivered to your dock with free shipping on-demand!
Order your custom apparel again and again with no minimum orders or additional setup fees.