Best Marine Speakers: Make Waves with Boat Speakers for any Budget
When a purchase is made through our links, we may earn a commission from Amazon, West Marine and other online businesses. You can learn about our content and affiliate policies on this page.
You like music, right?
As boaters, we can probably all agree that music can set the tone for any adventure on the water…
Unfortunately, only the best marine speakers are built to last in the harsh marine environments that are present in marine conditions.
It's just a reality that the wind, salt spray, and humid conditions can do a number on traditional speakers.
All of the elements on the water can easily disrupt sound quality or even damage the hardware of traditional speakers.
That's why it is critical that boaters only shop for the best marine speakers that are built to survive the elements on the water while still delivering a quality audio experience for you and your guests.
But with so many quality boat speakers on the market today it can be a tough task to choose the right ones to meet your needs and more importantly, your budget.
That's why we've created this list of the best marine speakers for you to review when choosing the next speakers for your boat.
We've looked into a diverse array of factors when considering this list that included sound quality, weatherproofing, installation, durability, and of course budget.
Whether you're looking for a premium entertainment-level speaker to pump your music out over the waves, or simply need a cost-conscious option to help set the tone for your immediate guests, our list will help you digest some of the best options for your marine speakers.
So get ready to make waves with your boat speakers with our top picks below, and be sure to explore our marine speaker buying guide below our list for a deeper look at factors to consider when purchasing your next boat speakers.
And if you need guidance on the best marine stereo system to complement your new speakers, be sure to check out our recent article!
Pyle 6.5 Inch Dual Marine Speakers – 2 Way Waterproof and Weather Resistant – 150 Watt Power
The first option on our list of best marine speakers is the Pyle 6.5″ Dual Marine Waterproof Speakers.
This option is definitely the best choice out there for boaters looking for a great combination of quality sound and budget consciousness.
Starting around $25, these Pyle Marine Speakers are completely waterproof, providing great durability for marine applications even under heavy water splashes.
The power output on these speakers is 150-watt peak, and they have a frequency response of 80Hz – 18Khz with 4 Ohms impedance.
The speakers themselves are made from a weather-resistant Polypropylene cone with cloth for a durable design.
Designed with a low profile, these 6.5″ speakers flush mount nicely with a classic white style.
Unfortunately, as with any budget option, there have been reports of longer-term quality issues with these speakers specifically related to the white fading with direct UV exposure, non-marine grade installation screws and other potential issues.
A great option for cost-conscious boaters.
Advantages:
Waterproof
Low Profile
Quality sound for the price point
Disadvantages:
Less Powerful
Provided screws are not marine grade
White can fade in direct sun exposure
Plastic Waves can crack over time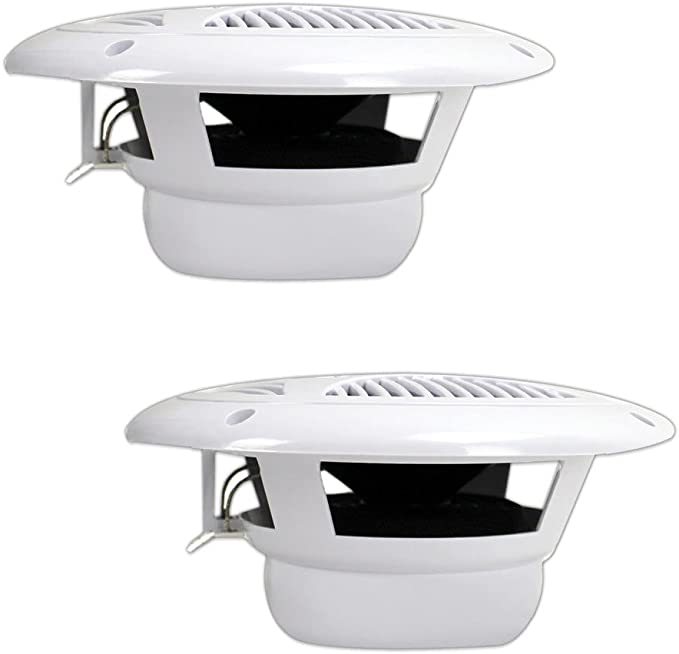 Rockford Fosgate M2-8HB Color Optix 8" 2-Way Coaxial Multicolor LED Lighted Marine Speakers with Horn Tweeters
Next up on our list of the best marine speakers is the best premium option of waterproof marine speakers. 
The Rockford Fosgate M2-8HB has a number of premium features and epic sound quality that is loud enough to drown out the sound of your outboards as they roar. 
These powerful 1200 Watt max boat speakers feature an integrated 1″ high-efficiency horn tweeter and Color Optix that will help to light your way home from your journey offshore. 
The IP67 certification provides a reliable waterproof design that is perfect for use in marine applications. 
The set comes complete with both standard and stainless steel grille inserts and a full 2-year warranty from Rockford Fosgate.  
Advantages:
Epic, Powerful Sound Quality
Color Optix light-up features
1200 Watts Max
2-year Warranty
IP67 Waterproof Certification
Standard & Stainless Steel Inserts
Disadvantages: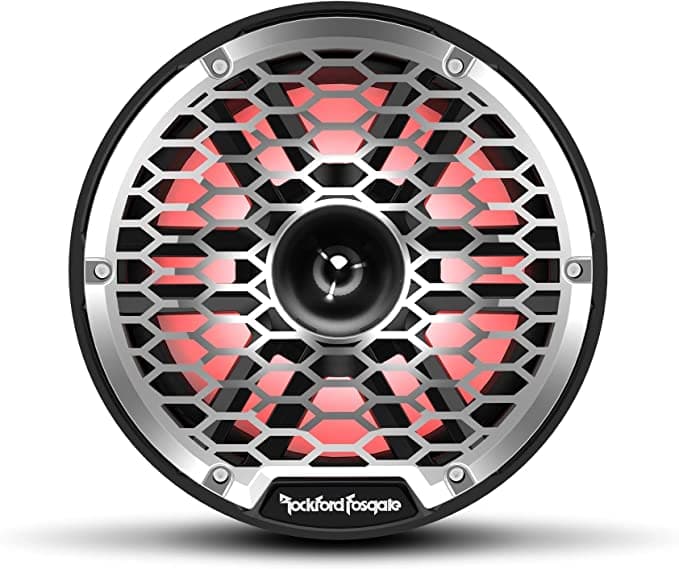 Best Easily Mounted Option
Herdio 4 Inch Heavy Duty Waterproof Boat Marine Speakers – Surface Mounted
Next up are the Herdio 4″ surface-mounted weatherproof speakers. 
These weatherproof little speakers are a great option for boaters looking for a speaker option that is easy to mount on flat surface sections of their vessels. 
They feature 100 watts max output with a 1″ PEI Dome Tweeter. 
The IP66-certified construction provides a solid option for marine applications and the smaller 4″ size allows for easy installation options in tight spaces. 
A solid option for boaters looking for a standalone mountable boat speaker that doesn't break the bank in terms of cost and installation. 
Advantages:
Easily surface-mounted
IP66 Certification
Easy Installation
Disadvantages:
Less Powerful than some other options at 4″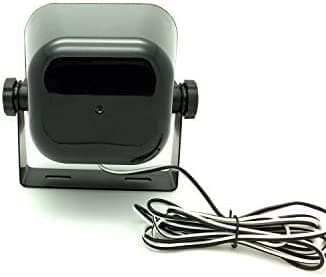 Kenwood KFC-1653MRW 6.5″ 2-Way Marine Speakers Pair
Our next featured boat speakers are the Kenwood KFC-1653MRW Marine Speakers. 
These durable speakers are a great overall option for boaters looking for a combination of quality marine construction, good sound quality, and great look and style. 
At 6.5″ these more standard-sized boat speakers are designed to bring a more balanced power and precision to the audio system on your boat. 
At 150 watts peak, these waterproof marine speakers sound great whether you're on the go, or chilling at your slip back at the marina. 
Designed to withstand harsh marine environments, they feature black UV-resistant grilles, stainless steel hardware and composite speaker baskets. 
They also have a great overall look and feel mounted in white. 
Advantages:
Waterproof
1″ Balanced Dome Tweeter
150 Watts Max
Disadvantages:
Reports of UV Fading
Elemental Damage depending on placement in boat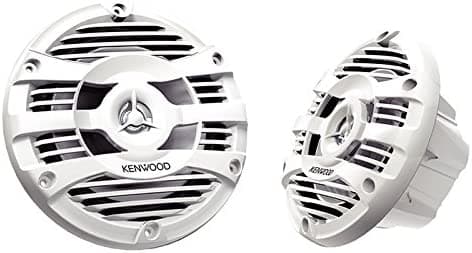 Pyle 6.5 Inch Dual Marine Speakers – 2 Way Waterproof and Weather Resistant with 200 Watt Power
The second Pyle marine speaker on our list, this option features a 200-watt maximum output giving more power to boaters. 
Designed to resist heavy water splashes, this waterproof speaker is a great option for cost-conscious boaters looking for balanced sound at a fraction of the price of premium speaker options. 
The low profile design of these standard size 6.5″ speakers are a great option for boaters looking for a clean and streamlined style for installation on new or older vessels. 
As with the other Pyle speaker on our list, there are reports from boaters that the white can fade in direct UV light exposure so choosing your mounting locations are critical. 
Advantages:
200 Watts Power
Completely Waterproof
Low Profile Design
6.5″ Standard Size
Disadvantages:
Reports of White fading in Direct UV Exposure
BOSS Audio Systems 6.5″ MR6W 180 Watt Per Pair Weatherproof Marine Speakers
The next marine speaker on our list comes from BOSS audio systems.
These weatherproof marine speakers are an excellent cost-conscious option for boaters looking for a classic white pair of speakers that provides loud and clear audio through the elements. 
 At 180 Watts maximum power with 80Hz to 20 kHz frequency response, these speakers provide boaters with a good-looking pair of speakers to help pump the vibes through the air. 
As a more budget-friendly option, these speakers are great for boaters looking for an easily replaceable speaker choice to replace old and weathered speaker sets. 
Reviews relate that they are relatively easy to install and provide a great bang for the buck. 
Advantages:
180 Watts Maximum
Weatherproof
Polypropylene Woofer Cone
Sold in Pairs
Disadvantages:
Not Waterproof
Less resistance to harsh weather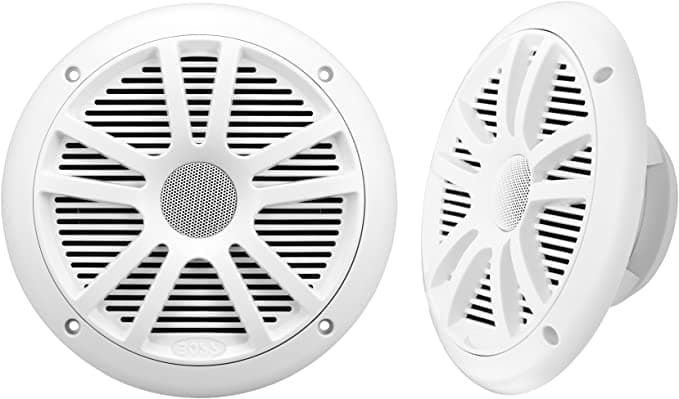 wet sounds | REVO 8-SWW | High Output Component Style 8″ Marine Coaxial Speaker with RGB Backlighting
Our next marine stereo system is another more premium speaker option from wet sounds. 
These 8″ Marine speakers are a powerful option that provides bold and big sound for use in marine applications. 
As the brand name infers, these speakers are constructed with boaters in mind, using powerful technology that helps them survive in harsher marine environments. 
They also feature LED lighting that provides a number of colors that will look awesome behind your choice of 8 grille options. 
While definitely more expensive than some of the other speaker options on our list, these quality speakers provide a higher quality sound and a number of premium features. 
Advantages:
Variable Color RGB LED Lighting
Titanium Tweeter
300 Watt Peak
Disadvantages:
Pyle Marine Speakers – 5.25 Inch 2 Way Waterproof and Weather Resistant Outdoor Audio Stereo Sound System with LED Lights
Next up on our list of marine speakers is another option from Pyle.
These speakers are a little smaller than many of the other options in our list at 5.25 inches. 
With 180 Watts maximum power and a low profile slim style design, these stylish smaller speakers are built with rugged marine grade construction that is perfect for the harsher marine environments found on boats. 
This model also comes with a built-in LED light system that adds a fun dynamic to any outing on the water. 
Best of all these speakers come highly rated and are more reasonable in cost than other options on our list, making them a great choice for boaters looking for a stylish speaker option without breaking the bank. 
Advantages:
LED Lights 
Weatherproof
180 Watt Max
Low Profile Design
Disadvantages:
Pyle PLUTV41BK 2-Way Dual Waterproof, 4 Inch 800 Watt Marine Grade Wakeboard Tower Speakers System
The final option on our list of best marine speakers is another option from Pyle, this time a tower-mounted option.
With a sleek design that is perfect for anyone looking to mount to an existing structure or tower on your boat, these waterproof/weatherproof speakers are great for marine applications.
These speakers are stored in a protective heavy-duty molded cabinet and are designed to be mounted on a support bar, frame, or tower.
Advantages:
Compact with Heavy-duty construction
800 Watt Max
Universal Mount Bracket
Disadvantages:
Sound Quality
May not fit natively on all mounting applications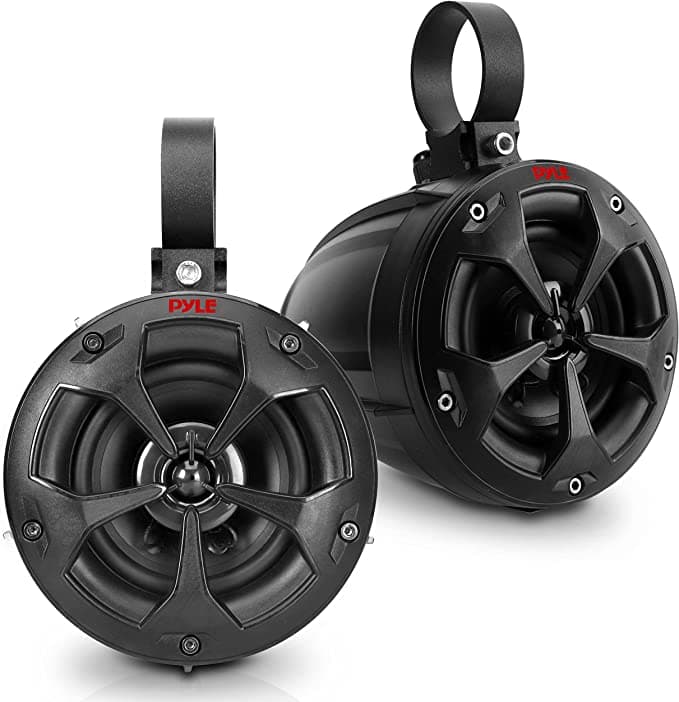 Best Marine Speakers Buying Guide
When it comes to enhancing your time on the water, having a quality audio system can go a long way toward making your day absolutely unforgettable.
Whether you're offshore trolling for your next delicious meal, cruising the intercoastal, or out for an afternoon of wakeboarding with friends, the right marine speakers can make a huge difference in the quality of your day.
But with all of the options available on the market today, it can be hard to choose the best fit marine speakers for your unique applications.
While we have tried to outline some great options for boaters in our list above, we know that your search may take you in different directions to help you find the best marine speakers.
That's why we have put together this buying guide for your marine speakers to help assist you with your search.
We understand the unique challenges that marine speakers face. With exposure to harsh elements constantly, it's important to select speakers that look good, perform well and are durable enough to last on your boat.
So let's dive in and explore some of the most important things you may want to consider when you are selecting your next pair of marine speakers so you can take your marine sound to a whole new level.
Purpose and Application:
The first component of selecting your best-fit speaker option comes down to how you intend on using your speakers onboard your vessel.
While it's obvious that selecting any speaker is all about creating a better sound environment on the water, as a consumer you may want to think about how your speakers need to perform.
Are you looking for a powerful sound system that you can hear above the roar of your engines?
Do you need to match a particular look or style on your boat?
Knowing how your speakers will be used is critical to choosing the best option for your boat.
Marine Grade Construction/Water Resistance:
As any boater knows, the harsh environments of the boating world demand a high-quality construction for any product you integrate as a part of your boat.
This is especially true when we are talking about electronics, and even more important if your boating experience takes place in saltwater environments which can easily corrode and destroy fragile electronic components.
When choosing your marine speakers, it is critical to choose ones that are designed exclusively for use with marine applications.
Marine-grade electronics, specifically speakers, are built to withstand the cruel environments that exist in the boating world, including salt spray, humidity, and potential sun exposure.
Before buying, make sure that your chosen speakers are up to the task at hand and can handle a product lifetime in these conditions.
Durability:
Since speakers are almost always mounted outside in harsh marine environments, choosing options that can survive the exposure are critical.
Buyers should be on the lookout for options that are specifically crafted for use in marine environments with corrosion-resistant components, UV-resistant construction, and sturdy cases and grills.
Having something created with marine elements in mind will give you a longer life of the product in the elements that naturally come with a lifetime on the water.
Mounting and Size Options:
Since each boat is unique in its size and spacing available, carefully considering the size of your marine speakers is the next key component for anyone in the market for boat speakers.
With a range of sizes available, knowing where you intend to mount your new speakers will help you choose the best-fit size for your particular marine application.
If you're replacing speakers, be sure to check what size the existing mounting options are as replacing speakers that are the same size will help to limit any customization necessary with your new speaker installation.
Stereo Integration:
The next thing to look out for when choosing your boat speakers is how your new speakers will integrate with any existing or new stereo or amp systems that you intend to install on your boat.
Knowing how your potential speaker options line up with chosen stereo systems can save you a world of headaches when installing and connecting your new speakers for use on your boat.
Make sure that your speakers match up with stereo outputs, installation, and connection guidelines, and other factors to help make your installation easier and your speakers perform at peak performance.
If you're looking for help choosing a great stereo system for your boat, be sure to check out our article on the Best Marine Stereo systems!
Sound Quality:
It's easy to just grab the first option you see when it seems like so many options are similar on the market for the best marine speaker.
But remember that you will be using this on your boat for years to come.
You want to be sure to select something that provides an enjoyable sound experience for your guests for years to come.
Look out for speakers that are built to perform well in harsh environments while providing a superior sound quality overall.
Brand Reputation and Warranty:
It is essential to consider purchasing your boat speakers from a trusted brand that stands behind their products, customer service and longevity of their products.
When selecting your new marine speakers, be sure to choose brands that offer warranties and associated customer service and support that is tailored to the marine industry and marine applications.
This way you can have peace of mind knowing that your marine speakers are built to withstand the harsher elements found on the water.
The Importance of Professional Installation of your Marine Speakers
While it is tempting to install your own marine speakers, there are reasons why having a professional conduct the installation may be the best bet for your boat.
Here are a few reasons why you may want to search around your local community for a marine audio expert to assist you with the professional installation of your marine speakers and stereo system.
Safety:
What's the number one risk onboard a boat?
Fire…
As with other electronics, marine audio systems require a power source to work and may need to interface with other systems within your boat to work effectively.
Using a professional to conduct your installation helps to ensure that your stereo is correctly wired and installed.
Doing so could help you reduce the risk of short circuits, unintended shocks for your guests and potentially even fire.
Warranty:
Every speaker option that we have outlined in the list above has some sort of warranty program for its customers.
However, in most cases, the warranty will only be valid if the system was professionally installed.
If you install your system yourself and accidentally do something to void your warranty you could be looking at quite a headache if you need to replace your system within the warranty period for any reason.
Using a professional can help you reduce the risk of voiding your warranty which can help you protect your investment, especially in more top-of-the-line stereo systems that come with a larger cost.
Quality & Compatibility:
A professional installation service uses their experience to help you install your system correctly on your vessel after conducting tons of previous installations, often with the same or similar systems as yours.
Utilizing a professional service can help you integrate your new system with other tools and electronics on your boat, and can even increase the sound quality that you experience once the installation is complete.
Overall, using a professional for the installation of your marine audio system is a way to ensure that your new electronics are set up to perform their best for you in the years to come.
If you have experience with audio systems or installation of boat electronics, you may have no problem installing your speakers yourself, but it's always a good idea to consider a professional service if you don't know exactly what you are doing on your boat!
Best Marine Speakers Wrap-up
As we wrap up our list of the best marine speakers, it's easy to see how selecting the best option to suit your boating needs is critical for any boater looking to enhance the audio experience of their guests on the water.
By carefully considering the factors we have outlined, boaters can make a better-informed decision about the best option for their boat speakers.
Remember that when choosing your boat speakers, not just any out of the box speaker will do.
With harsh environments present in boating, it's imperative to choose a marine speaker that can perform, and last, in environments that will destroy electronics that aren't created specifically for boating applications.
As you embark on your journey to choosing the best marine speakers for your boat, we hope that our list of top speaker options and our included buying guide can help you narrow your search.
Whether you are hosting on-deck dining parties, offshore in search of your next catch, or simply lounging around the nearshore waters and sandbars, the right speakers can maximize your guests experience on the water.
So set sail with confidence knowing that you have chosen a set of speakers that are built to last for your specific application.
May the rhythm of the waves harmonize perfectly with the melody of your chosen marine speakers, creating unforgettable moments and cherished memories on every voyage!
—
Did you like this article? Did it help your search for a fishing hat? Leave us a comment below and join the conversation!
Or have a look at some of our other marine guides including Gifts for Boat Owners, or informative posts like our Boat Grill Review, Anchor Chain Solutions, choosing the Best Fishing Hats, Selecting the Best Marine Stereo, or our guide to Haulover Inlet!
Do you own a boat? Get custom artwork & gear!
For the boater who is proud of their sea-going vessel, custom boat gear is the perfect solution to show off their pride and joy anywhere.
At Custom Yacht Shirts, we use a photo of your boat to create custom boat art drawings that are perfect for use on a variety of customized gear.
We feature t-shirts, long sleeves, hoodies, tank tops, pop sockets, phone cases, and much more that make the perfect custom gift for any boat owner.
Best of all, once the art preparation process is complete, all of your custom boat gear is available for on-demand ordering on private Amazon.com product pages.
Order 1-1000 of your custom products easily and simply with your existing Amazon account featuring free returns and free shipping with a Prime account.
The perfect gifts for boat owners!
What are you waiting for???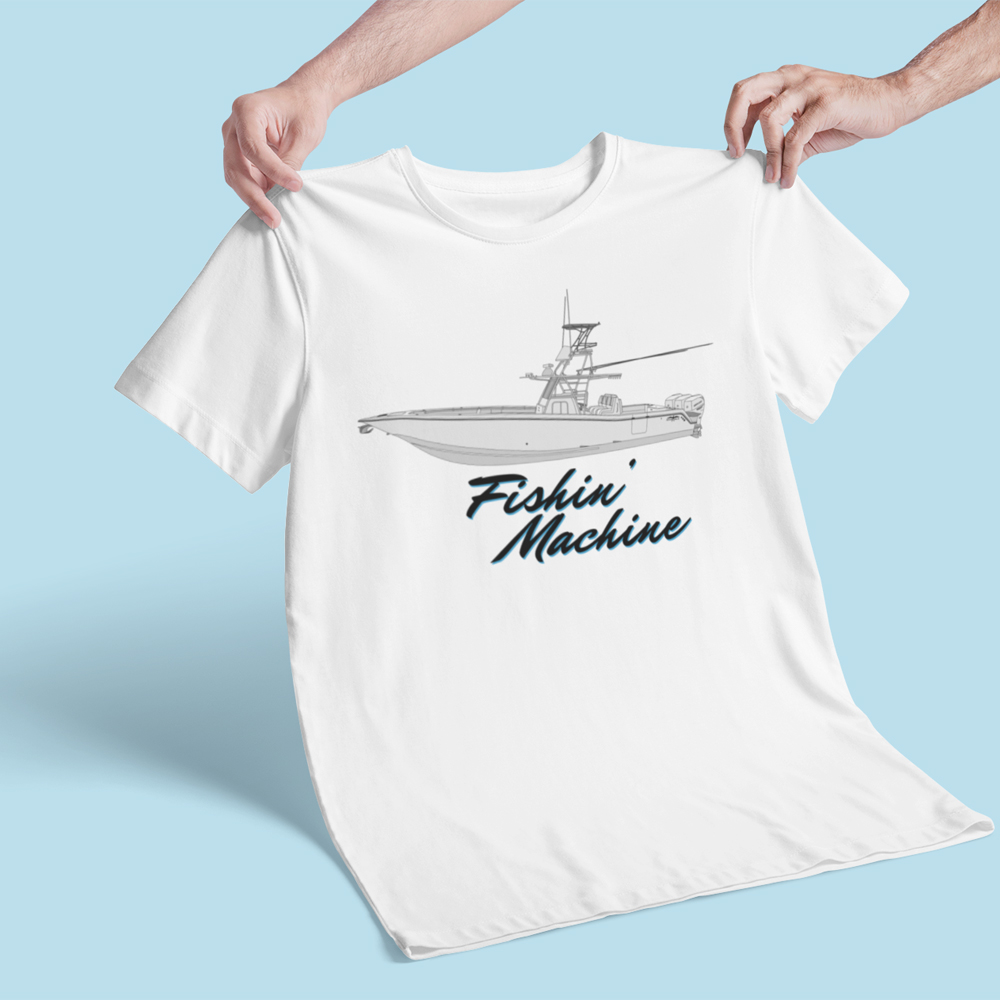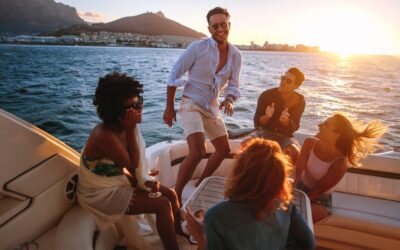 Best Marine Stereo: Navigating the Seas of Sound When a purchase is made through our links, we may earn a commission from Amazon, West Marine and other online businesses. You can...

Start your Custom Yacht Shirt order today!
Complete your order on our website to get your custom yacht gear started. Have our team convert a photograph of your yacht and stern art into digital art for use in your custom printing.

Receive a Private Amazon.com link for your yacht's gear.
We'll email you a link to purchase your custom yacht gear on-demand with secure checkout and fulfillment provided by Amazon.com.

Get your yacht gear delivered to your dock with free shipping on-demand!
Order your custom apparel again and again with no minimum orders or additional setup fees.