The Best Fishing Hats to Keep You Cool and Comfortable on the Water
When a purchase is made through our links, we may earn a commission from Amazon, West Marine and other online businesses. You can learn about our content and affiliate policies on this page.
When it comes to spending a day on the water, there are a few critical items that any angler needs to have at the ready on board a boat. 
Obviously, a high-quality fishing rod, some good sunblock, a quality anchor chain and anchor, and high-quality bait are all at the top of the list. 
However, many anglers often overlook an item that is easy to forget – a protective fishing hat!
A fishing hat is one of those items that while easily forgotten, can make all the difference to a great day on the ocean, or lake! 
Not only do fishing hats protect anglers from the harmful UV rays of the sun, but they can also provide protection from other elements on the water and in some cases provide a degree of camouflage to help anglers blend into their surroundings. 
In this article, we take a detailed look at some of the best fishing hats currently available to fishermen on the market today. 
We also provide our valued boaters and anglers with buying guide to help you better understand how you can get the best fishing hats for the money to make the most of your time hunting your favorite species. 
From lightweight designs to breathable materials and more, we've put together a list of potential fishing hats that are sure to help you stay cool and protected from the elements on your next day of fishing. 
Don't venture out on your next day of angling without one of these quality fishing hats!
Read on to find the perfect option to keep you covered!
Columbia Unisex Bora Bora Booney Fishing Hat
First up on our list of best fishing hats is the Columbia Bora Bora Booney Fihsng Hat.
This 100% nylon fishing hat comes with a wide brim for superior sun protection and a drawstring closure to keep the hat on your head in any condition.
The Omni-shade technology from Columbia provides best-quality sun protection with materials that block UVA and UVB rays to help prevent sun damage after a long day in the sun, glare and elements.
The Omni-wick technology featured in this hat allows moisture to evaporate quickly for the surface of this hat, keeping you dry and comfortable in the elements.
With a wide, 3″ brim, sun protection comes standard around all edges of your head, and the toggle size adjustment ensures that the hat fits anyone regardless of size or gender.
Advantages:
Adjustable Hat Size
Moisture Wicking Head Band
Full 3″ Brim
Breathable Mesh
Adjustable Chin Strap
Various Colors available
Disadvantages:
The brim is not reinforced
Lighter colors can get dirty
Constant wear produces sweat stains
Home Prefer Mens UPF 50+ Sun Protection Cap Wide Brim
The next hat on our list of best fishing hats is the Home Prefer Mens UPF 50+ Wide Brim Fishing hat with Neck Flap.
This wide-brim fishing hat is a great option for anglers looking to minimize their exposure to the sun while protecting their neck and the back of the head areas while on the water.
This 100% Polyester fishing hat features a pull-on closure for the perfect fit and a chin strap to tighten the hat for comfortable wear.
With a wide brim and mesh vents, this fishing hat pulls cooling airflow through the crown of the hat and back flap to keep anglers cool and comfortable in any conditions on the ocean.
With 50+ UPF protection, the Home Prefer blocks 98% of damaging UVA & UVB sun rays making it a perfect fit for anglers and other ocean-loving enthusiasts.
Advantages:
Pull-on Closure
Breathable and quick drying
Lightweight and Comfortable
Cooling Airflow
Neck coverage
Disadvantages:
The chin strap can have issues with breakage
EINSKEY Sun Hat for Men/Women, Waterproof Wide Brim Bucket Hat
The EINSKEY bucket hat is a great option for a waterproof fishing hat designed to maximize sun protection for fishing and other outdoor activities.
This unisex design hat is 100% polyester and features a drawstring closure for adjustment of the perfect fit.
It also has a chin strap to help hold the hat in place on windy days on the ocean.
With an extra wide 3.9″ brim, this waterproof bucket hat provides 360-degree sun protection for your entire head and neck.
Like some of the other fishing bucket hats we have featured on this list, this hat also comes with a breathable mesh section on the sides for comfortable long-term wear.
Advantages:
Lightweight & Strong
Adjustable Chin Strap
Adjustable Closure
Foldable
Moisture Wicking
Extra Wide Brim
Disadvantages:
Brim can be too large for people with smaller head sizes
Easily creases
KastKing Sol Armis UPF 50 Boonie Hat
The KastKing Sol Armis is another option for a high-quality boonie style or bucket hat for fishermen looking for superior sun protection on the water.
Made of a lightweight breathable material and designed for fishermen, this hat has a number of features styled to create a perfect option for anyone on the water.
Dark material on the underside of the brim absorbs reflective light and helps to reduce glare and eye strain, while vented mesh sides enhance air flow around the head for easy longer-term wear.
With its one size fits all elastic drawstring, and moisture-wicking headband, this hat fits most anglers snugly and comfortably.
Advantages:
Anti-reflective Brim
Moisture Wicking Headband
Vented Mesh Sides
One size fits all
Disadvantages:
Colors are only available in camouflage styles
Can be a little on smaller side
icolor Foldable Fishing Hat Sun Cap with Flaps
The icolor Foldable fishing hat combines the ease of a baseball hat with the added protection of foldable flaps for extra sun protection while casting for your favorite fish.
This 100% nylon hat has some outstanding features that provide fishermen with top-of-the-line protection from the elements.
With additional flaps that cover both the nack and front of the face, the color fishing hat helps to block the sun out almost entirely when on the water.
With elastic fast buckle and and adjustable chin strap this fishing hat provides angler with a comfortable tight fit that is quick drying and water-resistant.
The removable flaps provide numerous options for this hat, from classic baseball hat to full front and back protection.
Advantages:
UPF 50+ Sun Protection
Convertable styles
Quick-drying
Water-resistant
REmovable face and neck flaps
Disadvantages:
Questionable reports of durability
Thin construction
KOOLSOLY Fishing Hat, Sun Cap with UPF 50+ Sun Protection and Neck Flap
The KOOLSOLY fishing hat is another great 360-degree sun protection hat on our list of the best fishing hats.
Featuring 360-degree fishing protection, this hat provides UPF 50+ sun protection to keep the skin on the head, neck, ears and face safe from harmful UVA/UVB rays of the sun.
Lightweight and breathable material for all-day wear that is quick-drying and ready for your adventures.
This hat comes complete with removable face and neck flaps that provide superior additional protection for the neck and face.
Featured in both camouflage and solid colors, this hat is a great option for fishermen looking for a lightweight bucket-style hat for their fishing adventures.
Advantages:
Adjustable Drawstring
Breathable Mesh Vents
Waterproof Polyester
360-degree Protection
Removable Face and Neck Flaps
Various Colors and Patterns are Available
Disadvantages:
Multiple Pieces
Brim can get bent easily
WMCaps Outdoor Sun Hat for Men with UV Protection Safari Cap
The next hat on our list of quality fishing hat options is the WMcaps Safari Fishing Cap.
This hat is a great option for fishermen looking for a built-in neck flap to keep any harmful UV rays off of the neck areas throughout the day's adventures.
Made of 100% nylon, this hat features a 5″ wide brim for extra wide sun protection from the elements.
This protects the face, neck, ears and entire head from sun and element damage while providing clear sightlines for fishing.
Like other hats on our list, this hat features breathable mesh vents and is lightweight for comfortable all-day wear.
Advantages:
Wide Brim for sun protection
Breathable Mesh
Adjustable Sizing
Chin Strap
Sweat Absorption
Disadvantages:
Brim can be too big for some anglers
Some colors can fade in excessive sun exposure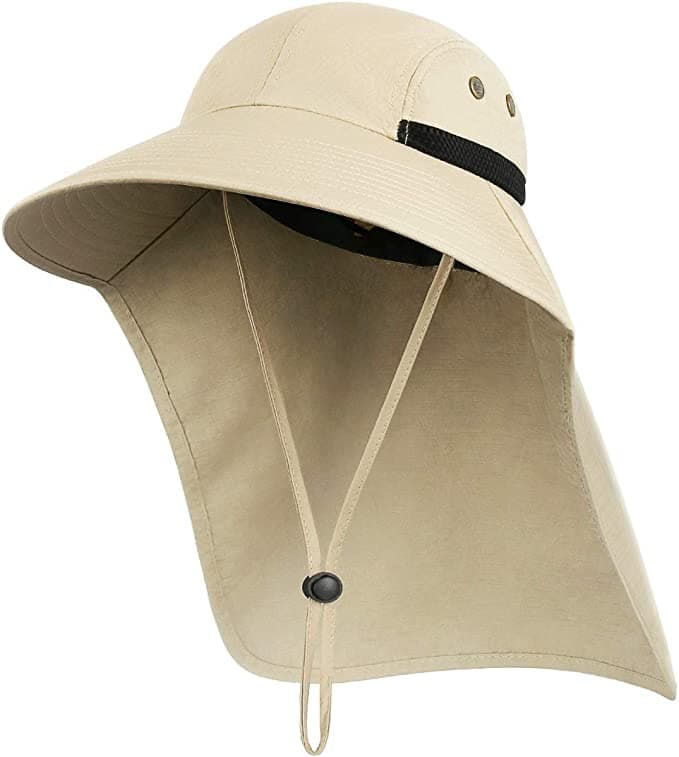 Joyblossom Super Wide Brim Fishing Hat UPF 50+ Sun Safari Hat
If you're in tropical and sub-tropical climates and looking for extra wide protection from the sun, the next hat on our list of best fishing hats might be perfect for you.
The JoyBlossom Super Wide Brim fishing hat features an almost 6″ wide brim that casts a large shadow for 360-degree sun protection.
With a drawstring closure and removable face flap, this hat provides anglers with superior protection against the elements.
Breathable and cool mesh provides a lightweight fit for day-long wear with protection against the elements.
Advantages:
Waterproof and Quick-drying
Breathable Cool Mesh
Adjustable Sizing Buckle
Soft Sweatband
Extra Wide Brim
Disadvantages:
Can be clunky in sizing for some anglers
Extra-wide brim can take some getting used to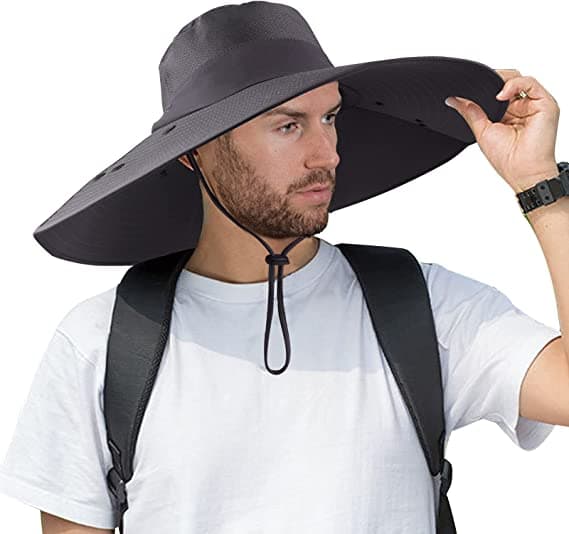 HUK Mens Boonie Hat | Wide Brim Fishing Hat
The HUK Mens Boonie Hat is a quality constructed fishing hat that is a great option for anglers looking for a little more quality in their hat design.
Designed to provide a bit more sun protection for hot days on the water, the HUK boonie hat provides comfortable protection from the sun on even the sunniest days on the ocean.
Built with hydrophobic technology, this hat transport sweat to drier areas away from the skin to help keep anglers cooler.
Advantages:
Quality Construction
Adjustable Fit
Performance Engineered
Full Mesh Back
Disadvantages:
Limited Colors and Patterns Available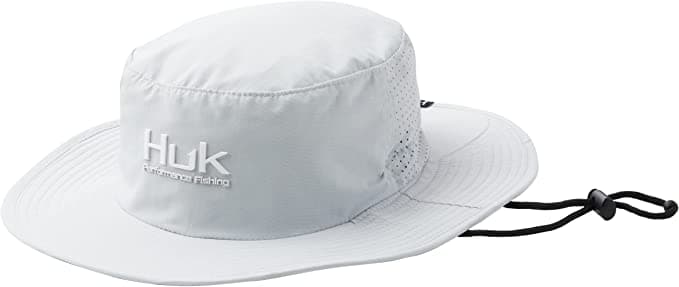 Quiksilver Waterman Men's Dredge Waterman Straw Sun Hat
A long-standing option for watermen and fishermen is the Quicksilver Watermen Straw Sun hat.
This hat has long been worn by both watermen and anglers for ultimate sun protection from the elements.
Featuring straw construction, this hat provides 360-degree sun protection from the elements for day-long use.
Advantages:
Drawstring Closure
UPF Sun Protection
Disadvantages:
Degrades with excessive water exposure
Columbia PFG Fish Flag Mesh Snap Back-High
Our last option on this list of best fishing hats for anglers is a traditional mesh-style baseball hat from Columbia Performance Fishing Gear.
This traditional baseball-style hat features a mesh back and snap closure for classic comfort.
It features an American flag-style fishing design on the front and the Performance Fishing Gear logo from Columbia on the back mesh area.
A ventilated back mesh area provides superior breathability and comfort for hot days in the sun.
Advantages:
Quality Construction
Adjustable Fit
Classic OCmfort
Full Mesh Back
Disadvantages:
Best Fishing Hat Buying Guide
Now that we've outlined some of the fishing hat options available for anglers, you might be wondering how you can choose the best one for your fishing style and needs.
With so many different options, features and styles to consider it can be confusing for an angler to know exactly how to choose the best option for their fishing lifestyle.
To help you combat any confusion, we've put together this comprehensive buying guide to help you better navigate the myriad of choices you have as an angler on the search for a quality fishing hat.
Whether you are just starting your fishing adventure or have thousands of days on the water under your belt, here are some of the key features you may want to keep in mind when selecting your fishing hat!
Sun Protection Factors:
Probably the primary reason any angler wears a hat is for sun protection.
The harmful rays of the sun can be very damaging for any angler that is constantly out in the sun and we all know how bad it can be when you end the day on the water with a sunburn that feels like the surface of the sun itself.
Hats that feature a wide brim and UPF protection are the best bet for anglers looking to increase the protection for the face, neck, ears and head when spending a day on the water.
Hats that feature strong UPF protection are the best option for anglers who are trying to protect themselves from the sun during fishing adventures.
Construction Materials:
The materials that a fishing hat is made from are a definite consideration for any angler looking for the best fishing hats.
The materials that a hat is constructed from can influence a number of factors that include the hat's breathability, comfort, durability, and water resistance.
Some hats are constructed from materials that provide water-resistant coatings for increased water-wicking properties and increased drying.
Some of the more common materials for fishing hats include cotton, nylon and polyester, or a combination of these materials.
Fishing Hat Fit:
In order to ensure proper protection and comfort, a good hat should fit the angler by staying in place and providing coverage without feeling too tight or loose.
An uncomfortable or too tightly fitting hat can make an angler throughout a long day on the water, and can even constrict blood possibly causing headaches or tension on the head.
Many of the hats in our best fishing hat list come with adjustable straps or drawstrings to help better fit an angler's head.
Be sure to consider your head size and look for fitting instructions on any hat before purchasing to ensure that you can wear the hat with no problems.
Breathability & Ventilation:
One of the other big considerations for any fishing hat is the level of breathability and ventilation available.
Since anglers are in extreme conditions throughout the day, it's important to pick a hat that provides airflow and ventilation around the head, especially in hot climates. 
Mesh panels that are featured on many hats provide a great option to keep anglers feeling cool and comfortable during long excursions hunting those exciting fish species. 
Camouflage:
Often times fishermen hunt for fish in calm conditions with clear water. In conditions like this, it is sometimes best to blend in when fishing. 
This is especially true in the backcountry and inshore fishing environments when fish can be easily spooked. 
For this reason, a great option for fishing hats is in the features related to camouflage. 
Look for hats that feature camo patterns in various colors to help you look less like an angler and more like a nature feature of the fish's native habitat. 
Fishing Hat Styles
When it comes to the myriad of different fishing hat styles available on the market today, there are a number of different options available to anglers and boaters.
The best choice for your fishing hat depends on a number of factors including the preference of the individual angler, fit and style.
Understanding some of the different fishing hat styles available can help anglers make the best choice possible with respect to the best fishing hats for their unique needs.
In this section, we take a more detailed look at some of the popular hat styles available to fishermen on the market today.
No matter what you are looking for there is definitely a fishing hat style to meet your needs!
Bucket Hats:
Bucket hats are one of the traditional styles for fishing hats as they provide greater 360-degree protection for fishermen looking for all-day wearability and comfort.
Bucket hats cover most of the entire head with protection for the head, ears, neck  and partial sections of the face.
Often a bucket hat features a wide brim and more relaxed fit which makes them a great option for fishermen and boaters.
Sun Hats:
Sun hats are very similar to bucket hats but often feature different brim options and a chin strap to hold the hat on an angler's head in various conditions.
Sun hats usually have features for more breathability, provide great sun protection and are lightweight.
They are a great option for anglers looking for all-day protection.
Baseball Hats:
Baseball hats are a very popular choice of fishing hats for anglers.
This is probably simply due to the fact that baseball hats are widely available and most every household has one.
The downside with baseball hats is that don't really provide the necessary sun protection that boaters and anglers need for long days in the sun and on the water.
Visors:
Visors are another popular style of fishing hat.
Even though they provide less sun protection, many anglers opt for the easy flow feeling of a visor that provides a wide brim and comfortable open back.
While the protection from the sun is lacking with a visor, they can still be a popular option for fishermen.
Wide-brimmed or Safari Hats:
Another great option for fishermen are wide-brimmed or safari-style hats. 
These hats are great for anglers who are looking to stay completely out of the sun. 
Usually featuring a very wide brim, these hats provide 360-degree protection for anglers with extended sun protection. 
Best Fishing Hats Wrap-up
As you can probably see, having a good fishing hat is a critical piece of equipment for any angler.
No matter if you plan on spending the entire day on the water or just a few hours here or there, a durable, quality fishing hat can protect you from the sun, keep you cool and comfortable and give you the necessary protection to help you have a great day in the sun.
With a myriad of styles and features to choose from, selecting a great fishing hat for your day of fishing includes considering a number of factors including style, fit, material and much more.
With a quality fishing hat, you can more fully enjoy your time on the water and come home refreshed and ready to take on another day on the water right away.
So be sure to select a fishing hat that will help you enjoy your day of fishing on the water to the absolute fullest!
Did you like this article? Did it help your search for a fishing hat? Leave us a comment below and join the conversation!
Or have a look at some of our other marine guides including Gifts for Boat Owners, or informative posts like our Boat Grill Review, Anchor Chain Solutions or our guide to Haulover Inlet!
Do you own a boat? Get custom artwork & gear!
For the boater who is proud of their sea-going vessel, custom boat gear is the perfect solution to show off their pride and joy anywhere.
At Custom Yacht Shirts, we use a photo of your boat to create line art boat drawings that are perfect for use on a variety of customized gear.
We feature t-shirts, long sleeves, hoodies, tank tops, pop sockets, phone cases, and much more that make the perfect custom gift for any boat owner.
Best of all, once the art preparation process is complete, all of your custom boat gear is available for on-demand ordering on private Amazon.com product pages.
Order 1-1000 of your custom products easily and simply with your existing Amazon account featuring free returns and free shipping with a Prime account.
The perfect gifts for boat owners!
What are you waiting for???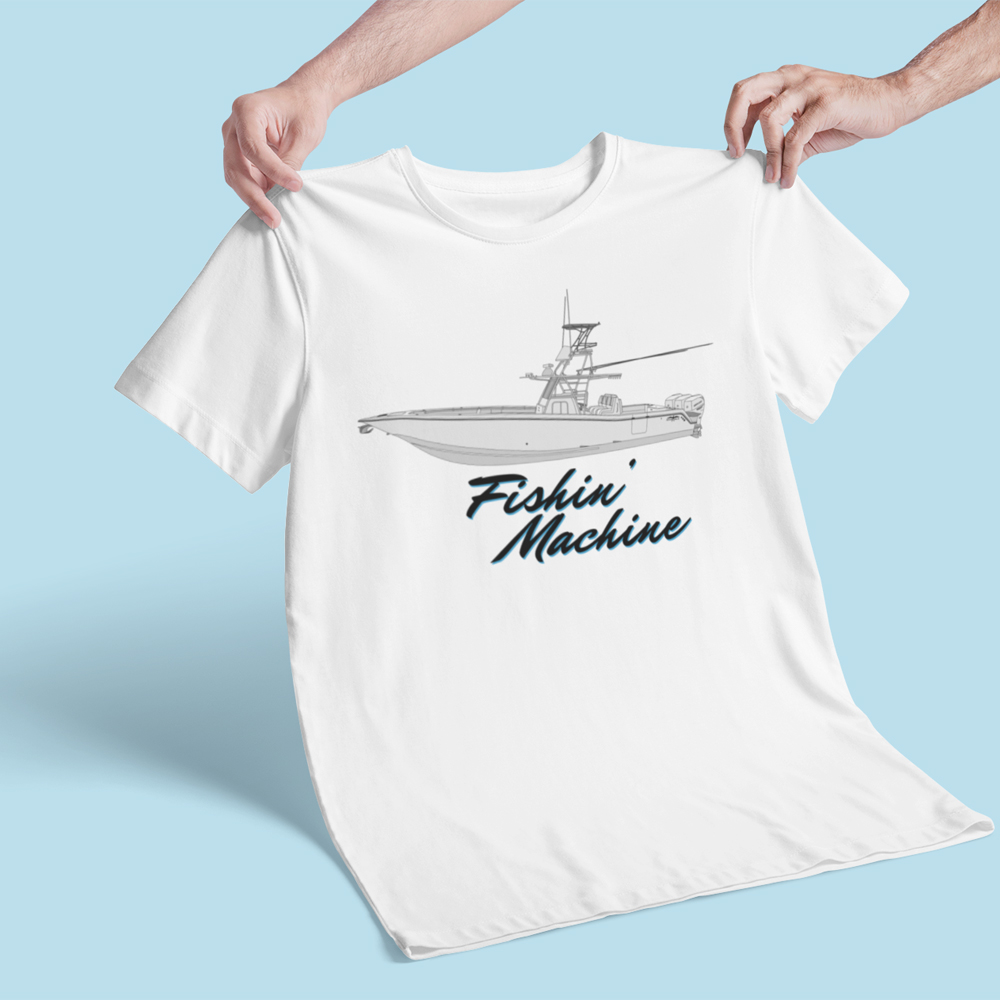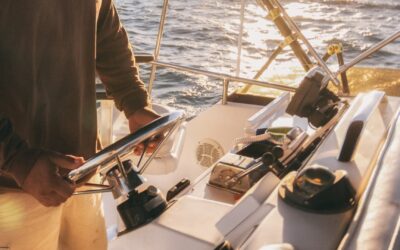 Best Marine Speakers: Make Waves with Boat Speakers for any Budget When a purchase is made through our links, we may earn a commission from Amazon, West Marine and other online...

Start your Custom Yacht Shirt order today!
Complete your order on our website to get your custom yacht gear started. Have our team convert a photograph of your yacht and stern art into digital art for use in your custom printing.

Receive a Private Amazon.com link for your yacht's gear.
We'll email you a link to purchase your custom yacht gear on-demand with secure checkout and fulfillment provided by Amazon.com.

Get your yacht gear delivered to your dock with free shipping on-demand!
Order your custom apparel again and again with no minimum orders or additional setup fees.