Best Marine Stereo: Navigating the Seas of Sound
When a purchase is made through our links, we may earn a commission from Amazon, West Marine and other online businesses. You can learn about our content and affiliate policies on this page.
Welcome aboard, boaters!
Chances are that if you've found this article you share our love for the feeling of a day on the water and all the joy it brings.
There's just nothing better!
From the feeling of the sun on your skin to the sound of the waves gently lapping against the hull of your boat, there's nothing better than the tranquility found on your boat.
Of course, no day on the boat would be quite complete without some great tunes to help set the vibe!
That's where choosing the best marine stereo is critical.
A high-quality sound system helps to enhance everything about being on the water and sets the stage for your onboard entertainment.
Whether you're kicking some Jimmy Buffett with a boat drink in hand, relaxing with some yacht rock, or pumping up the jams to match your speed, having a good sound system allows you to rock your boat in style while cruising.
The challenge is that with so many different options for the best marine stereo out there, it's hard for boaters to know where to start. That's why we've put together this guide to the best marine stereo systems.
In the article ahead, we'll take you through some of the best marine audio stereo options on the market today.
Whether you're just starting out on your nautical journey, or a seasoned waterman with thousands of hours under your belt, our list has something for your marine style!
So kick back, grab a cold drink and let's dive into the world of the best marine stereo systems so we can get your tunes pumping out over the currents asap!
Fusion® MS-RA770 Apollo™ Touchscreen Marine Entertainment System with Wireless Remote, A Garmin Brand
The first stereo system on our list of best marine stereos is the top-of-the-line Fusion touchscreen Marine Entertainment System.
This powerful system is built by Fusion, which is a Garmin brand, so you know that they know what they are doing with respect to marine electronics.
This particular unit is the world's first touchscreen marine stereo that features Apple AirPlay and built-in WiFi.
This Fusion unit produces superior sound even in harsh marine environments and provides boaters with an unbelievable sound experience.
It comes complete with a wireless remote that is designed for use anywhere onboard your vessel.
Truly the height of the market in terms of quality, construction and performance for boaters.
Advantages:
Touchscreen
Bluetooth
Apple AirPlay
Built-in WiFi
Superior Sound Experience
Disadvantages:
Fusion® MS-RA70NSX NMEA 2000 SiriusXM-Ready Marine Entertainment System
Next on our list of best marine stereo systems is another Fusion by Garmin product.
The Fusion MS-RA70NSX may lack the touchscreen capability of the MS-RA770 outlined above, but this powerful entertainment system should not be underestimated.
This waterproof entertainment system comes with a full range of powerful features and options that are perfect for boaters of any experience level, or yacht size for that matter!
The unit is SiriusXM-ready, comes complete with Bluetooth, and has support for Apple iAP2 and Android AOA music.
With waterproof, flush-mounted installation options this unit is sure to look sleek and clean next to your other Garmin electronic setups.
Designed to deliver a quality on-water entertainment system, is designed from the ground up for marine applications and built to provide a clean, clear, and powerful sound on the water.
Advantages:
IPx7 Waterproof front face
USB MP3 Playback
Flush or Dash mounting
Multi-zone control when installed on a powered network
NMEA Connectivity
Clean design
Disadvantages:
Wireless Controls are sold separately
Rockford Fosgate PMX-3 Compact Digital Media Receiver with 2.7″ Display
Next up is the Rockford Fosgate PMX-3 Stereo system.
 This powerful digital media receiver is designed especially for marine applications and features a 2.7″ full-color TFT display that provides great viewing even in full sun conditions. 
Complete with a number of powerful features this marine stereo system is Satellite Radio ready with Pandora control, Bluetooth audio streaming with album art support, and has AUX & USB inputs with USB charging. 
Known as the Punch Marine receiver, this powerful model has a multi-channel output for four channels and is IPX6 water intrusion rated for even the harshest marine environments. 
With easy mounting in a 3″ cutout, this marine stereo system is a great option for boaters looking for a high-performance unit with high-quality sound. 
Advantages:
Multi-channel Output
IPX6 Water Intrusion Rated
SiriusXM Ready, AM/FM/WB Tuner, Pandora Control and Bluetooth Streaming
2.7″ Full Color Display
Internal Power Amplifier
Disadvantages:
Sirius/XM Tuner Sold Separately
Fusion® Apollo™ MS-RA670 Marine Stereo, With DSP, A Garmin Brand
Our next marine stereo system is the third Fusion brand from Garmin model on our list.
The Fusion Apollo MS-RA670 marine stereo is another great option for high-quality sound from Garmin.
With a bright 2.7″ LCD display that is compatible with your album art, this model comes with built-in Digital Signal Processing that features custom audio profiles for superior-quality sound.
Rated IPX6 and IPX7 water-resistant, this unit features True-Mariner accreditation for the harshest of marine environments.
With support for Bluetooth, Wi-FI, AUX, SiriusXM,  Digital Optical Input, iPhone/iPod, AM/FM and more, the list of compatibility is comprehensive for this marine stereo.
Advantages:
Bluetooth, Wi-Fi, USB, Aux
Apple AirPlay
2.7″ Display
Garmin Brand
Disadvantages:
Reports of Bluetooth dropping at far distances
Cost is greater than some boater's budgets
Kicker KMC4 Dual-Zone 3″ LCD Marine Digital Media Gauge Receiver w/Bluetooth/USB
The next marine stereo system on our list is from Kicker. 
This entertainment hub features four channels and up to 200 watts of built-in power. 
It features connectivity for AM/FM/weather-band tuners, charging USB connection and Bluetooth Audio. 
The unit features a full-color 3″ LCD screen and rotary encoder for easy access to your multimedia options. 
A great option for a sleek and clean marine stereo system. 
Advantages:
4 channels / 200 Watts
Bluetooth/USB
USB Charging
Sunlight Viewable Full Color Screen
Disadvantages:
Reports of weaker radio connections
Reports of higher learning curve with user controls
BOSS Audio Systems MGR450B Weatherproof Marine Gauge Receiver – Bluetooth, Digital Media MP3 Player
Next up on our list of best marine stereo systems is the Boss Audio Weatherproof Marine Gauge Receiver. 
This highly-rated marine stereo system is a great entry-level option for boaters looking for quality sound without breaking the bank. 
Featuring tons of compatibility options, the Boss provides smartphone connectivity through Bluetooth connections that allow for seamless MP3 playing as well as app connectivity like Spotify and Pandora. 
Like most of the units we feature in this guide, the Boss unit also allows for AM/FM radio, NOAA Weather and USB charging. 
The unit also comes with a three-year warranty when purchased through Amazon.com, which is great for any boater!
Advantages:
Bluetooth ready
Weatherproof IPX6 rating
NOAA Weather Radio
Built-in Equalizer
Audio Streaming
Disadvantages:
No Wire Harness Connector
KENWOOD KMR-D382BT Marine Stereo – CD USB MP3, Aux in, AM FM Radio SiriusXM Ready, Weatherproof
Our next marine stereo system is the first unit to feature CD compatibility for all the old-school guys out there that still want to carry a collection of CD's on the water. 
Best of all, while providing legacy compatibility, this unit also utilizes Bluetooth for more modern streaming connections. 
Offering full streaming via Spotify and Pandora, the receiver features AM/FM connections for traditional radio. 
Made for the harsh marine environment, this unit is all-weather waterproof and has a glare-resistant screen with openings that are designed to limit salt and spray. 
A great option for those looking for legacy CD connections with modern options built-in. 
Advantages:
CD Compatibility
Bluetooth Streaming
Weatherproof
Disadvantages:
Has openings that could experience salt damage over long term
Aquatic AV MP6 Shallow Mount Waterproof Marine Stereo
The next stereo up on our list of best marine stereo systems is the Aquatic Shallow Mount Waterproof system.
This powerful system provides superior sound for your boat with a shallow mount design to save space in tightly cramped areas of your vessel. 
With Bluetooth/MP3/USB/AUX capabilities and standard AM/FM options, this stereo provides a well-rounded offering of solutions for you to play and stream your musical choices onboard. 
It also has additional add-on gear that you can get sold separately including remote control and other fun gadgets. 
Advantages:
Shallow Depth Mounting
Bluetooth/MP3/USB/AUX
288 Watt Amplifier
3″ Monochrome Display
Disadvantages:
Velex Boat Bluetooth Marine Stereo Radio
The final marine stereo on our list a more budget-conscious option for boaters.
The Velex Bluetooth Marine Stereo Radio provides lots of great features of some of the higher-end Bluetooth stereo radio systems at a fraction of the cost. 
Featuring wireless audio streaming and IPX6 protection, this radio powers a peak of 40 watts x 4 channels with rear USB 2.0 input. 
Designed for use in marine applications this budget marine stereo system packs a number of features for the lower cost. 
Advantages:
Wireless Audio Streaming
IPX6 Protection
Compact in Size
Disadvantages:
Best Marine Stereo Buying Guide
Now that you've gone over our list of some of the best marine stereo systems, you may be asking yourself how you make the decision of which unit to go with!
In order to help with your search, we've put together a brief outline of some of the most important considerations for you to factor in when deciding what stereo system would best fit your boating needs.
Have a look at the following factors that you may want to consider when approaching the decision to purchase a marine stereo for your vessel.
By considering some of these key factors, you can make sure that you choose a product that best lines up with your needs while providing you with a high-quality audio experience on the water.
Marine Grade Construction:
As any boater knows, the harsh environments of the boating world demand a high quality construction for any product you integrate as a part of your boat.
This is especially true when we are talking about electronics, and even more important if your boating experience takes place in saltwater environments which can easily corrode and destroy fragile electronic components.
When choosing your marine stereo system, it is critical to choose a unit that is designed exclusively for use with marine applications.
Marine-grade electronics, and specifically stereos, are built to withstand the cruel environments that exist in the boating world, including salt spray, humidity, and potential sun exposure.
Before buying, make sure that your chosen unit is up to the task at hand and can handle a product lifetime in these conditions.
Weatherproof/Waterproof:
When you are choosing your best marine stereo, make sure that anything mounted in a boat is definitely weatherproof, or better, waterproof.
There are two classifications of weatherproofing that you should look for in your new stereo.
IPX6 classification provides water-resistant protection for electronics. Meaning that the unit can withstand water jets of 100 liters per minute from a distance of 3 meters for at least 3 minutes without any negative or harmful effects to the electronics.
IPX7 classification provides a higher degree of more "waterproof" protection for electronics. This means that items with an IPX7 classification can withstand immersion in water up to 3 feet deep for up to 30 minutes without any damage to the unit.
When selecting your marine-grade stereo system, be sure to look out for units that provide at the minimum the water-resistant protection of IPX6, and better yet, the waterproofing of IPX7.
Unit Power Outputs:
When you are on the water, you want to be sure that you can heat your audio clearly and strongly enough to drown out the ambient noises on the ocean. This can even include your engines.
When choosing your marine-grade stereo, look out for the power rating of the unit.
Higher output power equates to the delivery of louder and clearer sound for your on-the-water entertainment.
One note, is that you need to make sure to check that the unit you are choosing is compatible with your boat's unique electrical system as purchasing a unit that is too powerful for your electrical system can result in malfunctions and damage to your systems.
Connectivity & Compatibility:
The next thing to look out for when choosing your marine stereo is the level of compatibility and connectivity that the unit provides.
Look for a system that will provide you with multiple ways to stream and play your music onboard.
If you like to use satellite radio, be sure to choose a system that provides native compatibility (or at least the option for an add-on) to provide you with the option to use your favorite streaming services and apps.
Finally, if you need legacy options like CD compatibility, be sure to look for units that can provide not only the legacy connection but also the more modern connections all in one package so that you can use both styles of music in the days on the water ahead of you.
User Interface and Usability:
It's easy to just grab the first option you see when it seems like so many options are similar on the market for the best marine speaker. 
But remember that you will be using this on your boat for years to come. 
You want to be sure to select something that provides an intuitive and easy-to-use interface for you and your guests. 
Look for systems with large and easy-to-read displays, simple functions for options and even touch-screen capability on touch-screen models. 
Brand Reputation and Trustworthiness:
Kind of goes without saying, but you may want to make sure to purchase from a brand that you trust and that stands behind their products. 
Since you are choosing something for a marine application look out for a brand that offers a warranty and that has options for easy customer support. 
That way you can rely on the fact that you've chosen something that is built to last for your vessel. 
The Importance of Professional Installation of your Marine Stereo
While it is tempting to install your own marine stereo system, there are reasons why having a professional conduct the installation may be the best bet for your boat. 
Here are a few reasons why you may want to search around your local community for a marine audio expert to assist you with the professional installation of your marine stereo system. 
Safety:
What's the number one risk onboard a boat? 
Fire…
As with other electronics, marine audio systems require a power source to work and may need to interface with other systems within your boat to work effectively. 
Using a professional to conduct your installation helps to ensure that your stereo is correctly wired and installed. 
Doing so could help you reduce the risk of short circuits, unintended shocks for your guests and potentially even fire. 
Warranty:
Every system that we have outlined in the list above has some sort of warranty program for its customers. 
However, in most cases, the warranty will only be valid if the system was professionally installed. 
If you install your system yourself and accidentally do something to void your warranty you could be looking at quite a headache if you need to replace your system within the warranty period for any reason. 
Using a professional can help you reduce the risk of voiding your warranty which can help you protect your investment, especially in more top-of-the-line stereo systems that come with a larger cost.  
Quality & Compatibility:
A professional installation service uses their experience to help you install your system correctly on your vessel after conducting tons of previous installations, often with the same or similar systems as yours. 
Utilizing a professional service can help you integrate your new system with other tools and electronics on your boat, and can even increase the sound quality that you experience once the installation is complete. 
Overall, using a professional for the installation of your marine audio system is a way to ensure that your new electronics are set up to perform their best for you in the years to come. 
If you have experience with audio systems or installation of boat electronics, you may have no problem installing your system yourself, but it's always a good idea to consider a professional service if you don't know exactly what you are doing on your boat!
Best Marine Stereo Wrap-up
As we've outlined here, choosing the best marine stereo can really help to make your time on the water more enjoyable for you and all your guests.
Whether you are looking for the latest and greatest technology, or simply something to bump your vibes out over the water, selecting the marine stereo that best fits your needs comes with a number of important considerations.
When selecting your new marine stereo be sure to look out for things like its compatibility, durability, weatherproofing and other factors that can lead to a longer life on your boat in harsh oceanic environments.
Overall, taking the time to consider your needs and find the best-fit solution for your next marine stereo system can help you get the best quality audio for your money on the water!
We hope that our guide to marine stereos helps you journey to better navigate the seas of sound!
Did you like this article? Did it help your search for a fishing hat? Leave us a comment below and join the conversation!
Or have a look at some of our other marine guides including Gifts for Boat Owners, or informative posts like our Boat Grill Review, Anchor Chain Solutions, choosing the Best Fishing Hats, or our guide to Haulover Inlet!
Do you own a boat? Get custom artwork & gear!
For the boater who is proud of their sea-going vessel, custom boat gear is the perfect solution to show off their pride and joy anywhere.
At Custom Yacht Shirts, we use a photo of your boat to create custom boat art drawings that are perfect for use on a variety of customized gear.
We feature t-shirts, long sleeves, hoodies, tank tops, pop sockets, phone cases, and much more that make the perfect custom gift for any boat owner.
Best of all, once the art preparation process is complete, all of your custom boat gear is available for on-demand ordering on private Amazon.com product pages.
Order 1-1000 of your custom products easily and simply with your existing Amazon account featuring free returns and free shipping with a Prime account.
The perfect gifts for boat owners!
What are you waiting for???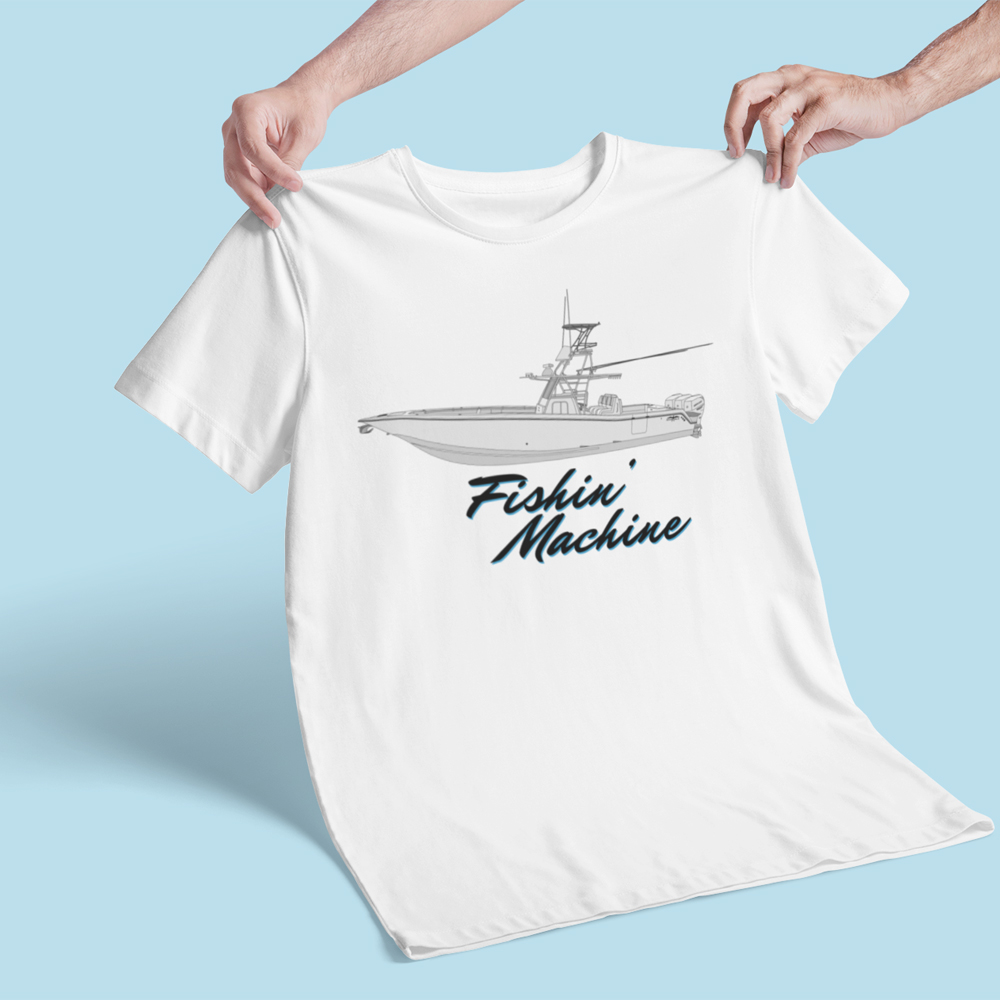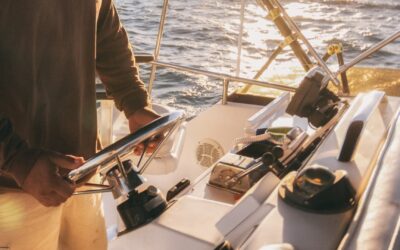 Best Marine Speakers: Make Waves with Boat Speakers for any Budget When a purchase is made through our links, we may earn a commission from Amazon, West Marine and other online...

Start your Custom Yacht Shirt order today!
Complete your order on our website to get your custom yacht gear started. Have our team convert a photograph of your yacht and stern art into digital art for use in your custom printing.

Receive a Private Amazon.com link for your yacht's gear.
We'll email you a link to purchase your custom yacht gear on-demand with secure checkout and fulfillment provided by Amazon.com.

Get your yacht gear delivered to your dock with free shipping on-demand!
Order your custom apparel again and again with no minimum orders or additional setup fees.