Custom Boat Apparel Products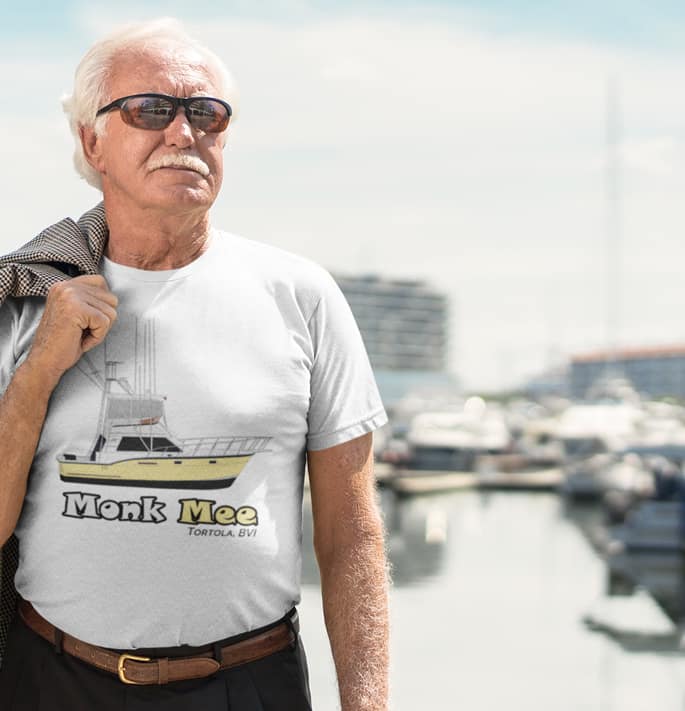 Our standard regular fit t-shirt is our original fit t-shirt that is familiar to anyone who has ever slipped on a cotton tee. While regular in fit style, these shirts feature a lightweight cotton and cotton blend that feels light and comfortable.
Starting at $20.99 per item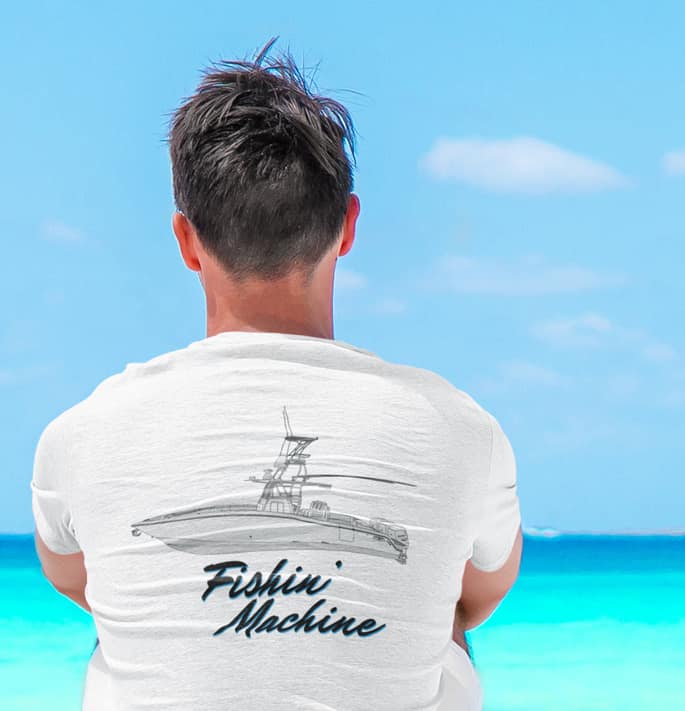 Our premium fit custom boat t-shirts feature a sleeker and softer design for the boater looking for a more modern fit and weight t-shirt blank for their custom boat products. These premium shirts fit tighter and as such we recommend buying limited numbers of your custom products in this style to confirm the fit and wear of the shirt before purchasing in larger increments. 
Starting at $22.99 per item
Need a little extra warmth on that cooler morning running out the cut? Our custom long sleeve boating shirts put your custom boat artwork on a comfortable, lightweight long sleeve t-shirt perfect for those early mornings or crisp afternoons.
Starting at $24.99 per item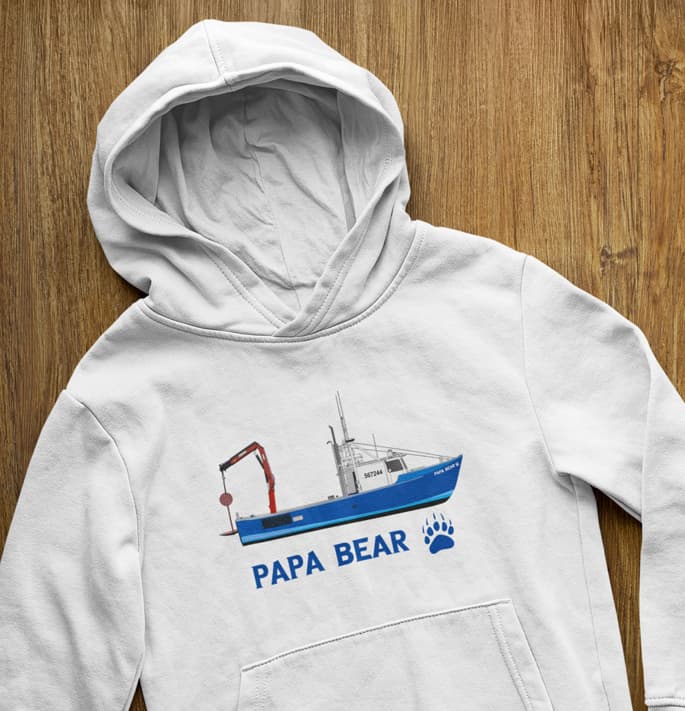 Nothing is better than pulling your hood up as you hit that first cold air coming off the ocean on colder weather days! A pullover hoodie provides boaters with insulated warmth that extends to the neck, head and sides of the face. Perfect for the days when you aren't ready for the cold.
Starting at $32.99 per item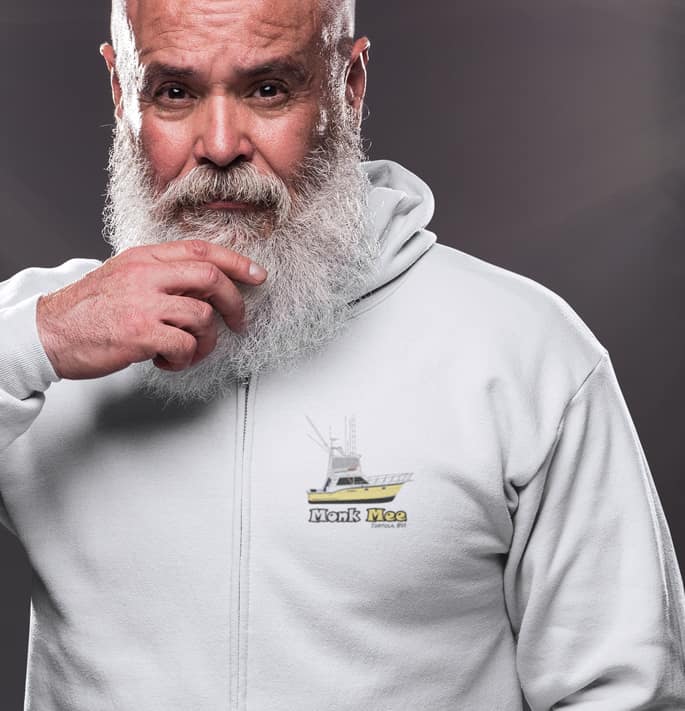 Turn your boat photo into professional custom zip hoodies with Custom Yacht Shirts! Perfect for cooler days when a little extra layering is necessary. These unisex zip hoodies are perfect for any boater who's looking for a comfortable zip hoodie that is personalized to match their boat!
Starting at $34.99 per item
Looking for some warmth on those cold mornings on the ocean?  Our custom boat sweatshirts feature your custom boat artwork on either the front, back or both sides of these comfortable sweatshirts that are a must-have for cooler conditions. This unisex design fits men and women comfortably providing a thicker layer for your saltwater lifestyle.
Starting at $31.99 per item
Bring the party to the water with our men's and women's custom tank tops for a little fun at the dock and beyond. Our tank tops feature a classic tank top design with the printing of your custom boat art on the front, back, or both sides of your shirts.
Starting at $21.99 per item
Love a baseball shirt? Our custom raglan t-shirts are the perfect fit for you to show off your custom boat artwork with style on a comfortable and easy wearing 3/4 length long sleeve.
Starting at $25.99 per item
Our v neck t-shirts are a great women's style apparel option for all of the lady boaters in your life! This stylishly cut shirt for women features a soft and lightweight style t-shirt in a variety of colors and sizes.
Starting at $23.99 per item
More about our Custom Boat Apparel
What are you wearing on your back? 
At Custom Yacht Shirts, we created our on-demand custom boat gear service to help boaters like us get quality custom gear at a fraction of the price of normal screen printing efforts. 
Our custom boat apparel features nine different options for your completed custom boat artwork. 
Enjoy regular fit shirts or get a softer, tighter fit with our premium t-shirts. Cuddle up in our pullover hoodie or break out the tickets to the gun show with our custom tank tops. 
Your custom gear is totally up to you as you enjoy no minimum order and completely on-demand printing solutions to help you maximize your custom gear inventory for your family, guests and crew on your prized boat or yacht. 
Our process starts with a photo of your boat that is turned into custom boat artwork by our skilled marine artists. Your art is then featured on up to 9 selections of custom boat artwork all available to your with your order from Custom Yacht Shirts. 
Once your artwork is complete our team sets up your private on-demand store links with trusted providers like Amazon.com, where you can individually purchase any amount of your gear with no limits, minimums or additional set up fees. 
Enjoy your custom boat apparel from Custom Yacht Shirts!
Why CustomYachtShirts.com?
High-Quality Boat Line Artwork from a photo of your boat
Our artists turn your submitted boat & stern art photos into digital line artwork, perfect for use in custom on-demand merchandise.
Custom Gear On-demand
No need to buy and hold an inventory of your custom gear. When you need new apparel, simply order gear featuring your custom boat line artwork on-demand.
No Additional Printing Fees
Simplify your custom yacht gear with no additional screen printing fees or separate screen preparation charges. 
Wide variety of quality custom products
The Perfect Yachting Gift
Looking for the perfect gifts for boat owners? Need an idea for that person in your life who is in love with their time on the water? What's better than custom gear for their salty lifestyle?
No minimum orders
Skip the minimum orders and complicated printing fees. Order one shirt or 1,000 shirts all for the same low price. 
Free USA Shipping & Returns!
Order your Custom Yacht Gear with your existing Amazon Prime™ account for Free Shipping & Returns!
Includes delivery of a high-resolution digital version of your completed line artwork
Your order comes complete with a high-resolution digital version of your boat line artwork delivered via email after approval of your completed design.

Start your Custom Yacht Shirt order today!
Complete your order on our website to get your custom yacht gear started. Have our team convert a photograph of your yacht and stern art into digital art for use in your custom printing.

Receive a Private Amazon.com link for your yacht's gear.
We'll email you a link to purchase your custom yacht gear on-demand with secure checkout and fulfillment provided by Amazon.com.

Get your yacht gear delivered to your dock with free shipping on-demand!
Order your custom apparel again and again with no minimum orders or additional setup fees.