Choosing the Best Boat Flooring Options: a Comprehensive Guide
When a purchase is made through our links, we may earn a commission from Amazon, West Marine and other online businesses. You can learn about our content and affiliate policies on this page.
If you've been on the water for a while you know that one great customizable option for boaters revolves around the boat flooring options that are chosen for a boat. The flooring that you choose is a critical decision for any boat owner.
Boat flooring not only adds to the look and feel of your boat but also plays a critical role in the functionality, comfort, and safety of your guests.
No matter if your guests are primarily pleasure cruisers or hardcore fishermen, choosing the right flooring can make all the difference in your boating experience on the water.
With a wide variety of boat flooring options available to boat owners in today's market, choosing the best-fit option for your boat can be an overwhelming task for do-it-yourself boat owners.
Often, the best option for boaters is to go with a professional solution for the installation of top-of-the-line boat flooring options that will last longer and provide a safer solution for your boating lifestyle.
In this article, we'll provide a comprehensive look at some of the most popular forms of boat flooring on the marketplace today, including pros and cons, maintenance issues, costs, and more.
No matter the level of your boating experience, this guide is sure to help you navigate to the best-fit solution for your boat flooring options for your vessel.
Awlgrip Flooring Solutions
Awlgrip is a popular and long-trusted flooring brand solution in the marine industry. Commonly known as one of, if not the most, professional yacht paints, Awlgrip has been servicing the marine industry for 50 years with quality paint and flooring solutions.
While Awlgrip itself is not a traditional flooring solution that boaters would consider like teak or carpet, it is regularly used to create non-slip surfaces on decks, cockpits and other sections of boats and yachts.
The Awlgrip flooring solution is a particularly "clean" option available to boaters and provides a quality solution for heat-resistant, slip-free flooring.
Some of the pros and cons of using Awlgrip as a solution for your boat flooring include:
Pros:
Slip-resistance: Awlgrip flooring features built-in non-skip additives that are mixed into the paint during the process of application. When the paint dries, boaters have non-skid particles embedded in the surface that provide grip on otherwise slippery surfaces.
Customizable: With Awlgrip, different additives can be used to increase or decrease the level of non-skid available to boaters. Allowing for custom flooring solutions for areas of greater foot traffic, places where boats tend to get more slippery, and other factors. Awlgrip can also be customized in terms of colors, allowing boat owners to match specific colors and features on their boats.
Low-maintenance: Awlgrip is probably the most low-maintenance solution for boat flooring on the market today. It is easily cleaned with simple soap and scrubbing after a long day on the water.
Durability: Awlgrip is known for its high-performance nature and can last years with its original shine even in periods of high foot traffic, sun exposure, harsh weather conditions, and more.
Cons:
Cost: The number one downside to Awlgrip is its more extreme cost of application and installation. Boaters can save some money by applying the Awlgrip themselves, but for superior protection and lasting durability, it is advised that boaters use a professional service for Awlgrip applications, which can increase costs associated with this flooring option significantly.
Application: Awlgrip is really a specialized product that requires knowledge and equipment usually above that of a normal boater. For this reason, it makes Awlgrip a pretty bad solution for DIY boaters.
Heat retention: If your boat is located in sunny locales, Awlgrip can get hot for bare feet, especially if it is any color other than white. Even white can retain heat when left in the open sun for long periods.
Slippery when wet: Although oftentimes additives are used to create a non-slip surface with Awlgrip this does not guarantee that the surface of Awlgrip cannot get slippery. This is especially true when Awlgrip is wet, with surfaces still prone to potential slipperiness, making them a potential hazard, especially for older boaters.
All in all, Awlgrip is one of, if not the most high-quality boat flooring solutions for boaters and is used in both new constructions and used remodels of boats.
However, it might not be the best choice for boaters on a budget, or looking to do application projects themselves as the costs of Awlgrip, especially for larger boats, can add up quickly.
3M Performance Spray Gun Starter Kit, 26778, Includes PPS 2.0 Paint Spray Cup System, 15 Replaceable Gravity HVLP Atomizing Heads, Air Control Valve
Natural Teak Flooring
Natural Teak Flooring is the classic option for boaters looking to make a mark with their boat flooring options. Commonly used for years, and the default choice in the early days of boating, natural teak flooring provides a beautiful, durable option for boat floors that adds a level of sophistication to any yacht.
Natural teak floors also provide great traction for boaters as the natural wood grain provides channels and grips for both bare feet and marine shoes alike.
Natural teak is available in a variety of natural colors and styles that provide a certain flare to any boat.
Like most flooring options, teak floors come with boat advantages and disadvantages that boaters will find when choosing teak as a solution for any boating project.
Some of these pros and cons include:
Pros:
 Beautiful and stylish: Natural teak floors and decking has a classic, timeless and unforgettable look that is highly valued within the boating community. Many of the top-of-the-line sportfishing manufacturers use teak flooring solely as a means to increase the look, feel, and aesthetics of high-end boats.
Durability: Natural teak is one of the most highly resistant flooring options, providing an excellent choice for boater looking for a lasting solution for their boat floor solution.
Great traction:  Even when wet, natural teak provides superior traction capabilities for boaters, making it ideal for bare feet and marine shoes.
Heat regulation: The natural wood teak flooring provides great temperature regulation, and cools instantly with exposure to water.
Cons:
Environmentally unfriendly: Teak is a very slow-growing natural hardwood. The cultivation of teak contributes to the deforestation of critical natural environments and the destruction of natural habitats. While most teak is farmed, farms can replace native habitats that house large populations of native, exotic species in equatorial regions of the world globally.
Expensive: Because it is a natural hardwood that takes years to cultivate, teak is by far one of the most expensive options for boat flooring. This makes teak flooring unsuitable for the average boater.
High maintenance nature: Natural teak requires constant maintenance to keep looking in top condition. Whether varnished or oiled, teak needs a comprehensive maintenance program to keep it from becoming weathered, cracked, and broken.
Overall, natural teak is a very high-quality boat flooring option for boaters.
While it can be much more expensive, teak provides a durable, long-lasting natural alternative to synthetic and artificial options for boaters on the water. Just be prepared to buy a good teak cleaner and sealer for maintenance!
It also provides a superior feel for the foot, especially in wet conditions on the open ocean, making it the choice for luxury sports fishermen worldwide.
STAR BRITE Teak Kit - Restore Decks, Patio, Outdoor Furniture, Boats & Fine Wood - Marine Grade Teak Cleaner & Brightener Set With Premium Golden Teak Oil Finish
Snappy Teak-Nu - Restore & Renew Weathered, Gray Teak & Other Fine Wood - Professional Strength - For That Freshly Sanded Look
Marine Carpet Boat Flooring Options
Marine carpet flooring is one of the most durable options available to boaters for use on boat floors and decks.
Marine carpet is made from strong synthetic materials that are designed to be resistant to moisture, mildew and the generally harsh conditions present in boating.
A primary reason that marine carpet is used is due to its non-slip nature, which helps to provide stable footing for boaters even when conditions are wet.
It is also known to reduce noise and vibration on boats making it a comfortable choice to help create a more enjoyable boating experience.
Marine carpet comes in a wide variety of colors and styles and can be easily installed with a variety of applications, including on wood, fiberglass, and in proprietary snap-on systems.
Marine carpet is also a popular solution for boaters because it provides a high level of comfort and overall aesthetics to a boat at a lower cost than higher-end options while being relatively easy to clean and maintain.
Some of the advantages and disadvantages of marine carpet systems include:
Pros:
Easier installation: Marine Carpet is one of the easiest boat flooring options available for boaters on the water. It can be installed by DIY boaters, which can make it a more affordable option for boat owners looking to do the installation process themselves.
Durability: Marine carpet is made with synthetic materials that are designed to hold up against sun, wind, and the harsher marine environments that come with life on the water. The long-lasting nature of this product helps to make it a more popular option for DIY boaters. 
Comfort and feel: Marine carpet provides boaters with a comfortable experience underfoot. As a cushioned surface, the marine carpet is comfortable to walk on, making it a perfect choice for recreational or lounge boats.
Cons:
Can be slippery when wet: Marine carpets can be hazardous on boats when wet. Some options in the marine carpet universe become slippery for boaters when they are on the water.
Prone to staining: Some marine carpets are easily stained, which makes them very difficult to maintain and treat in the long run.
Can trap water: Especially when installed unprofessionally, marine carpets can be prone to trapping water, which can promote the growth of mold and mildew and cause lumps and uneven portions of the carpet to appear.
Appearance: Marine carpeting can provide a lower quality look and feel to your boat that many boaters are not looking for with flooring solutions.
Overall marine carpet is a popular choice for boat flooring solutions. They come with their unique set of advantages and disadvantages but offer a quality solution at a lower cost than many of the alternatives on the marketplace.
Vinyl Boat Flooring Options
Vinyl boat flooring is a very popular choice for boat flooring among boaters due to its durable and customizable nature.
Vinyl flooring comes in a wide variety of colors, options and patterns which can mimic options like wood, and other popular marine materials. It can also feature custom designs that can give a personalized flair to any boat which helps when matching other fun boat accessories.
Vinyl boat flooring provides superior protection with its resistance to water and moisture and is much easier to clean than other boat flooring options.
Vinyl flooring is also generally much more affordable than other types of boat flooring, which provides a great option for boaters looking to save money with an installation that can be done professionally or DIY for boaters with some know-how and knowledge.
Some of the detailed advantages and disadvantages of vinyl boat flooring include:
Pros:
Waterproof: Vinyl boat flooring is manufactured with synthetic compounds to be waterproof for use in marine applications. This makes it ideal for boats and other watercraft.
Durable: Vinyl boat floors are built to be resistant to wear and tear, making them a quality option for boats with high traffic.
Easy to clean: Vinyl flooring is particularly easy to clean, with simple soap and water applications providing easier maintenance on boats.
Cons:
Slippery when wet: Vinyl flooring is particularly slippery when wet and create a hazard for boating guests, especially in areas where there is overspray or constant water.
Fading: Vinyl flooring does have a tendency to fade over time, especially in harsher marine conditions. Portions of flooring and decking that are exposed to high sun exposure can be especially prone to fading, making portions of the decking uneven in color.
High Quality is Expensive: As with most things in the marine industry, high-quality vinyl flooring can be quite expensive to purchase and have installed professionally.
Can tear: Vinyl floors can tear, especially if exposed to sharp objects like fishing knives, pliers, etc.
While vinyl flooring isn't the best option for every boater, vinyl floors can provide a quality solution for boats that are looking for a customizable and personalized option for flooring.
EVA Foam Boat Flooring Options
EVA Foam Flooring is quickly becoming one of the leading and most popular options for boat flooring solutions in the marine industry.
This option uses a padded foam that comes available in an infinite combination of colors, patterns and shapes that are molded to fit the unique decking spaces of your watercraft.
The padded foam also provides a superior solution for traction, even when wet, which gives boaters the confidence to use it on walkways, bows and other areas that require sure-footing.
A number of high-quality EVA Foam deck companies have sprung up in the last few years, as well as DIY applications that are available around the internet.
The downside is that many of these EVA Foam applications can be short-lived in terms of quality in application over the long term, with foam peeling and rising in areas.
Some of the detailed pros and cons of the EVA Foam solution for boat flooring include:
Pros:
Super lightweight: EVA Foam decking is very lightweight, which is especially great for high-performance boats, and backcountry fishing vessels.
Slip-resistant: Even when wet or in marine conditions, the EVA foam decking can provide great traction for boaters.
Highly customizable: EVA Foam decking provides a high degree of customization, including a large variety of personalized colors, shapes, and patterns that are custom-made to fit the unique decking sections of your boat.
Cons: 
Expensive: EVA Foam is a newer technology and is a particularly popular buzzword in the marine community currently, making it more expensive than other potential decking solutions.
Fading is possible: In areas of direct sunlight, EVA Foam can fade significantly over time.
Cracking and peeling: EVA Foam may not be ideal for boats that are exposed to long periods of sunlight. Reports of lifting of sections and peeling of the raised foam are reported by users in the longer term.
KXKZREN Boat Flooring EVA Foam Decking Sheet Faux Teak Marine Mat Marine Non-Slip Self-Adhesive Flooring Material 94" x 44"/35"/23"/16"
Synthetic Teak Flooring
If you're looking for a teak look and feel for your boat decks but don't want to shell out the larger budget associated with natural teak, synthetic teak flooring is an option that may be best suited for your needs.
Synthetic teak is manufactured to mimic the look and feel of natural teak while being more durable than its natural teak alternative.
Synthetic teak is also much easier for boaters to maintain, without the constant sanding, and overall maintenance necessary to keep it looking good in harsh marine environments.
Best of all, while looking very similar to the real deal, synthetic teak does not put the same toll on natural habitats that natural teak can because of farming and harvesting.
Some of the pros and cons of synthetic teak include:
Pros:
Low Maintenance: The low maintenance nature of synthetic teak helps to make this boat flooring option very attractive to boat owners
Look and feel: While being a synthetic copycat, synthetic teak looks very much like the real teak that is used in high-end applications. This provides boaters with a great alternative that mimics natural teak without all the extra cost and maintenance.
Slip-resistant: Synthetic teak is a great solution for boaters looking for something that is slip-resistant. Most synthetic teaks provide great traction, even when wet.
Environmentally friendly: Synthetic teak is usually made of materials that are based on recycled materials. This makes it much more environmentally friendly than vinyl or other flooring options. Plus, the fact that natural forests are not destroyed in order to grow and harvest the teak is a massive environmental plus.
Cons:
Not as durable: Synthetic teak is not nearly as durable as real teak in the long run. This means that the synthetic teak alternative may need to be replaced more often over the lifetime of a vessel.
Hotter than real teak: Synthetic teak has a tendency to become hotter in environments with direct sun and high heat. This makes synthetic teak far hotter underfoot when compared to the natural teak alternative.
Expensive: Even though it is cheaper than the natural alternative, synthetic teak can still be costly, making it potentially out of budget range for the average boater.
If you're in the market for synthetic teak options for your boat flooring, be sure to have a look at the following marine businesses that specialize in synthetic teak solutions:
Bamboo Flooring
Bamboo flooring is another great alternative for boaters looking for an environmentally friendly and renewable option for boat flooring.
Known for its resistance to water damage and overall durability, bamboo flooring options provide boat owners with a lightweight and relatively easy-to-install option for their boats.
Since bamboo grows quickly, it is a rapidly renewable resource for boat flooring that avoids deforestation and overall environmental harm.
Bamboo flooring is often times coated with a protective coating to help strengthen it for use in marine applications, giving it better durability against stains and sun damage.
As with most things in the marine industry, price dictates the quality of bamboo flooring, with cheaper options being prone to a greater degree of cracking, peeling, and overall deterioration.
Some of the advantages and disadvantages of bamboo flooring in marine applications include:
Pros: 
Eco-friendly: Bamboo naturally grows very quickly making it a great environmentally friendly solution for boaters.
Lightweight: Bamboo, by its very nature, is very light, making it a great solution for boats. This can lead to better fuel efficiency overall and higher performance for small vessels.
Resistant to mold and moisture: Bamboo is naturally resistant to moisture and mold, which helps to make it more low-maintenance overall for boaters.
Cons:
Fades easily: Bamboo flooring is particularly sensitive to UV light which makes it fade faster than other flooring alternatives.
Scratches easily: As a soft wood, bamboo is prone to scratching which can lead to abrasions in the finish of the flooring.
Harder to find: High-quality bamboo flooring options can be harder to find with less availability than other options, especially for higher-quality solutions.
Cork flooring
Cork boat flooring is our next viable solution for boaters looking for a natural alternative for boat flooring without the use of more expensive hardwoods.
Cork boat flooring utilizes the bark of cork oak trees that is usually made into tiles or planks for use in decking or other flooring sections on marine vessels.
Like bamboo, cork is lightweight and has naturally occurring insulation properties that help to moderate flooring temperatures in different seasons.
Best of all cork flooring is usually collected off of living trees without destroying the tree itself, making it a great solution for a more environmentally friendly option for boaters.
Some of the more detailed pros and cons of cork flooring include:
Pros:
Eco-friendliness: Cork is renewable and is harvested from living trees without harming the tree, making it a great natural alternative to other options that contribute to deforestation and habitat destruction.
Lightweight: Like some of the other options on this list, cork flooring is a great lightweight solution for boat floors. This provides better efficiency for marine vessels and a higher degree of performance for boats that rely on lighter overall weights.
Anti-slip: Cork provides natural traction for boaters, which helps to reduce the instances of slip and fall instances on boats with cork flooring.
Comfort: Cork provides natural support and softness in marine flooring applications that can help boaters who spend longer hours on boats.
Cons:
Susceptible to damage: Because cork is a softer natural wood, it is much more susceptible to damage from heavier foot traffic and things like dropped sharp objects. This may make it a poorer solution for fishing boats or other recreational watercraft that require a more durable solution.
Maintenance: Cork flooring requires more maintenance than other solutions like EVA foam or vinyl flooring. When not maintained, cork floors can be susceptible to damage from water intrusion and other factors.
Limited design options: Cork flooring has limited styles and colors to choose from for marine applications.
Conclusions for your Boat Flooring
Choosing the right boat flooring for your vessel can be a critical decision for any boat owner. Not only does the direction you go for your flooring impact the overall look and feel of your boat, but also defines issues related to comfort and safety.
The options that we have outlined above all come with their own advantages and disadvantages.
While the most critical component for most boat owners is the cost when related to installing new boat flooring, there are a number of things to consider that determine your direction overall with your flooring.
When choosing the flooring for your boat consider not only your budget but also aesthetics, and how you plan to use your boat.
If you're a fisherman and plan to spend most of your time on the water in search of your next big catch, it may not make sense to have a flooring option that is slippery when wet and easily damaged.
Likewise, you should also ask yourself important questions when considering boat flooring options that include:
Are you looking for a solution that is slip-resistant?
Do you need flooring that is low maintenance?
Will your boat flooring incur heavy foot traffic?
Do you have the budget to pay for professional installation?
Are you doing the installation yourself?
How important are environmental considerations?
Another critical factor to determine before choosing your boat flooring would be where and what climate you expect to use your boat in primarily.
Will the boat be in direct sunlight and extreme heat?
Will the boat be stored in the winter months?
Questions related to the climate you intend to use your boat can provide you as a boat owner with great insight in terms of what boat flooring may be best fit for your unique needs on the water.
Regardless of which boat flooring option you choose, professional installation and maintenance are critical to ensuring the long and high-performance usage of your boat flooring.
If you are not using a professional installation service, be sure to follow manufacturer guidelines with respect to installation and maintenance, and always clean and care for your boat properly to keep your boat flooring in top condition.
With a wide range of materials available to boat owners for quality boat flooring, it can be overwhelming to choose your next solution for your decks and boat floors.
Hopefully, our guide has provided you with some insight into how you can better manage and choose the best-fit path for your next boat floors.
Let us know below in the comments!
And good luck with your search for the best solution for your boating needs!
Looking for other boat guides?
Check out our articles on Bimini Tops for Boats, Boat First Aid Kit Reviews, Best Boat Fenders, 9 Fishing Gaff Hook Options, 7 Superior Anchor Chain Solutions, or 7 Boat Grill Options for your Marine BBQ!
About the Author: Custom Yacht Shirts
Custom Yacht Shirts turn your boat photo into high-quality boat artwork that is used in on-demand clothing and custom boat gear specifically curated for boaters!
We feature t-shirts, long sleeves, hoodies, tank tops, pop sockets, phone cases, and much more that make the perfect custom gift for any boat owner.
Best of all, once the art preparation process is complete, your custom boat gear is available for on-demand ordering on private Amazon.com product pages.
Order 1-1000 of your custom products easily and simply with your existing Amazon account featuring free returns and free shipping with a Prime account.
The perfect gifts for fishermen in your life!
What are you waiting for???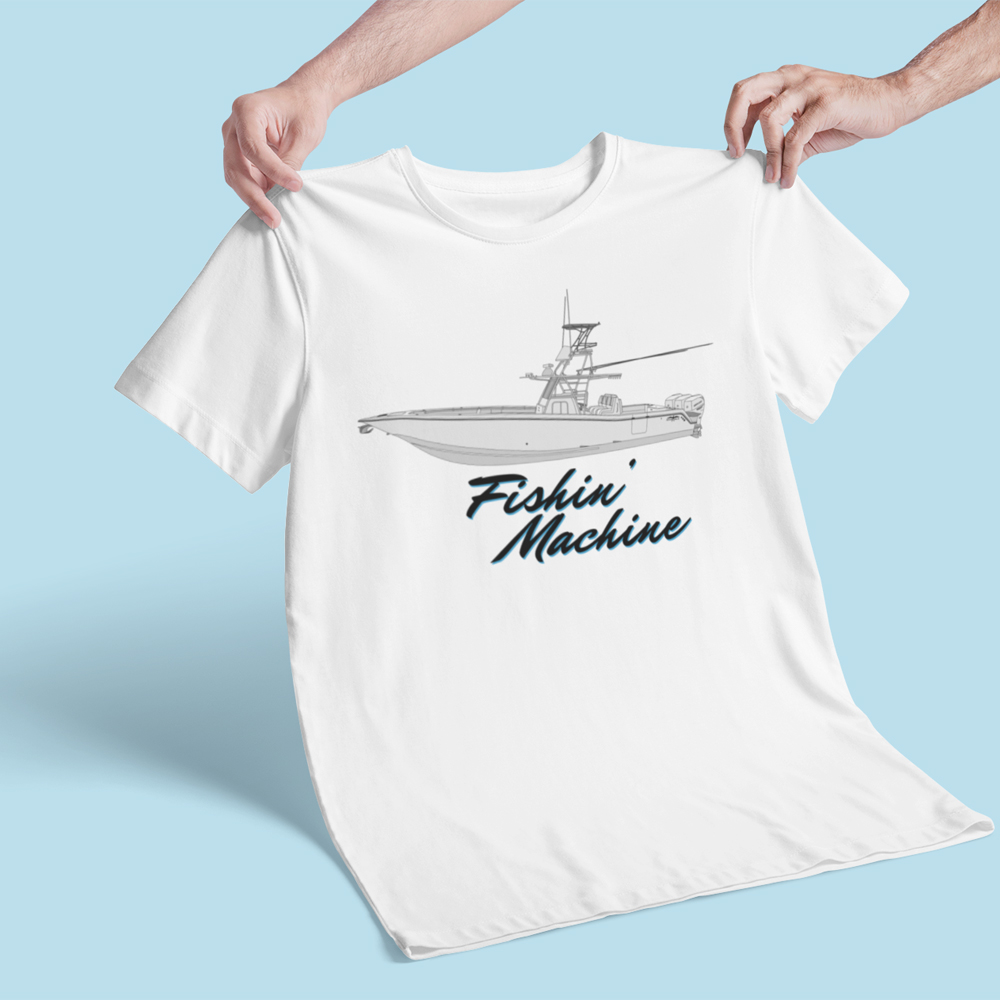 Sail with Confidence: The Best Boat Compass for Every Captain When a purchase is made through our links, we may earn a commission from Amazon, West Marine and other online...

Start your Custom Yacht Shirt order today!
Complete your order on our website to get your custom yacht gear started. Have our team convert a photograph of your yacht and stern art into digital art for use in your custom printing.

Receive a Private Amazon.com link for your yacht's gear.
We'll email you a link to purchase your custom yacht gear on-demand with secure checkout and fulfillment provided by Amazon.com.

Get your yacht gear delivered to your dock with free shipping on-demand!
Order your custom apparel again and again with no minimum orders or additional setup fees.