The Best Boat Fenders – Saving your Boat in Port!
When a purchase is made through our links, we may earn a commission from Amazon, West Marine and other online businesses. You can learn about our content and affiliate policies on this page.
You know the noise…
That cracking or scraping…
It send shivers up the spine of any boater.
Maybe you underestimated the tide…
Maybe you didn't take into account the way the other boats were tied up at the dock.
Or maybe you thought you were in a no-wake zone when that amateur weekend warrior had other plans as they blew past your boat on the seawall.
No matter what caused it, anyone who has been boating for a while knows what it's like to make a mistake when docking and forget to place a boat fender in that prime position to protect your hull from the dock, other boats or pilings.
A boat fender, or boat bumper, as they are also called, can be the difference between keeping your boat safe on the dock and ending up with a massive pain, if not more, to deal with when you get back on board.
Boat fenders come in a variety of shapes and sizes, but all of them have one purpose:
To help save your boat from unintended scratches, nicks and damage that is possible on the water.
Choosing the right boat fender can depend on a number of factors including the size of your boat, where you dock up, and what the conditions are like at your dock.
We've taken a minute to compile some of the top boat fenders available online to help make your job as a qualified captain a little easier for you.
Have a look at some of these top boat fenders that you can use to help protect your most precious vessel in the water today.
Extreme Max BoatTector Fender Value 4-Pack
Available in Multiple Sizes and Colors
The BoatTector fenders are designed for boaters looking for optimal protection of their watercraft.
These fenders are carefully crafted to provide long lasting durability and performance on the water.
This four-pack is great product for any boater looking for a value pack that comes complete with boat multiple fenders and lines included.
Each boat bumper comes complete with four UV stabilized ribbed body fenders with needle-valves allowing for the adjustment in the firmness of the fender.
Available in up to 14 colors and three different sizes, the Extreme Max fender pack is perfect for boater looking for great protection at a limited cost.
Advantages:
4 fenders per order
UV Stabilized & Chemically Resistant
Includes four dock lines
Disadvantages:
Does not include needle valve pump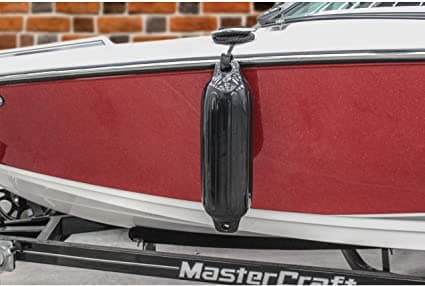 Extreme Max BoatTector Contour Fender 2-Pack
Available in multiple colors
If you're looking for a more contour-friendly boat fender option for your watercraft, the ExtremeMax Contour Fender provides a hull-hugging option that comes in a value 2-pack. 
These 24″ fenders are UV and tear-resistant and provide protection for your gunwale and hull. 
Each fender features a corrosion-proof grommet that provides easy and secure hookup of the fender to the side of your boat. 
Best of all, these contour fenders are a great option for boaters who are low on storage space as each fender easily collapses on itself to fit in places that round fenders cannot. 
This product features two contour fenders and includes two 3/8″ x 5′ ropes.
Advantages:
UV and Tear-Resistant
Fender Lines Included
Easy Storage
Disadvantages:
Limited size options available
Taylor Made Big B Center Rope Tube Fenders
Available in Multiple Sizes and Colors
The Taylor Made Big B fender is the classic center rope boat bumper that provides the classic versatility most boaters expect with an inflatable boat fender.
This fender allows boaters to hang the fenders either horizontally or vertically with ropes up to 5/8″ diameter.
The one-piece seamless design style is created for ultimate durability and protection for your boat or watercraft in even the toughest marine conditions.
With the ribbed fender technology, these fenders provide the ultimate protection for your boat, minimizing boat roll in high wind, swell and other extreme conditions.
Advantages:
Versatile usage
High-Performance Durability
Made in the USA
Numerous sizes and colors
Mission Boat Gear Sentry Boat Bumper
Available in Two Colors
The Mission Sentry Boat Fender is a new approach to the traditional boat bumper system.
This boat and dock fender provides multiple protection via an innovative hanging system that enables protection both above and below the rub rail.
The fender is designed to provide a lower hanging point than traditional fenders, which keeps it from getting caught on the top of the dock where protection can lapse.
The molded, cross-linked foam doesn't absorb any water and is extremely durable, and features a more environmentally friendly construction than traditional vinyl fenders.
The no-knot system that is integrated with the fender allows for quick and easy attachment to your boat in a variety of ways.
Truly a new approach to a classic boating need!
Advantages:
Quality Construction & Performance
Contour Hugging
Innovative Material
No knots
Disadvantages:
The rubber lines are reported to possibly lose their positioning in extreme weather.

Polyform A Series Buoy
Multiple Colors & Sizes Available
Commonly known for its use as a marker buoy, the Polyform A Series buoy is a heavy-duty buoy solution for boat bumpers.
Available in a variety of colors and sizes, you will probably know this buoy from its traditional red and blue design.
With options that provide solutions for boats from 10 to 70 feet, this fender features a heavy-duty blue reinforced rope hold that is commercial grade tough.
This product is proven in even the most extreme marine conditions, making it ideal for boaters around the world.
Advantages:
Heavy Duty
Commercial Grade
Strong Rope hold
Multiple Sizes and Colors
Disadvantages:
Product ships deflated and may require additional tools to inflate.
X-Haibei Pair of Ball Boat Fenders
Multiple Sizes and Colors
Similar to the Polyform A Series fenders above, the X-Haibei features a pair of ball fenders that offer a variety of protection for boaters.
Available in multiple sizes and colors, these heavy-duty ball dock bumpers can be used for docking fenders and much more.
These ball fenders are shipped uninflated, so take care to read inflation guidelines when blowing up these fenders prior to usage.
Advantages:
2 fenders included in each order
Multiple Sizes and Colors
Heavy Duty UV PVC Material
Disadvantages: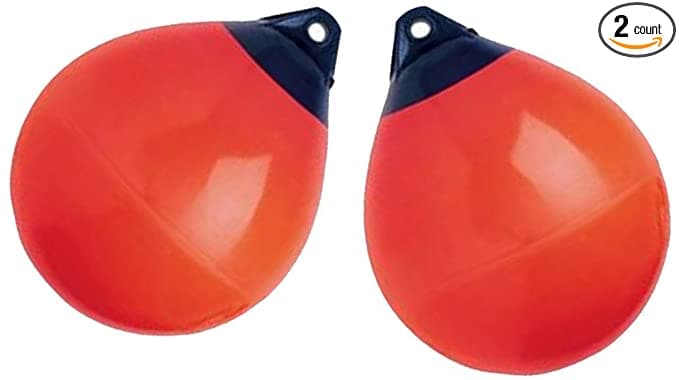 Taylor Made Square Low Freeboard Fender
Multiple Sizes and Colors
The Taylor Made Freeboard Fender is a unique square design that helps protect the gunwale and rub rail of low freeboard watercraft.
Designed to last, this fender is made of marine-grade vinyl for long-lasting protection on the water.
Made specifically for boats that sit lower in the water, these Taylor Made boat bumpers are available in multiple sizes and colors and are molded with top-end quality.
Advantages:
Built for low freeboard boats
Unique Square Design
Multiple Colors and Sizes
Durable High Quality
Disadvantages:
Not built for all marine applications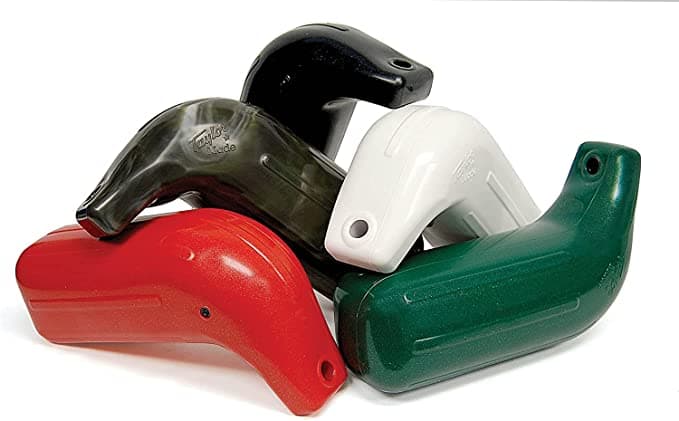 Taylor Made Super Gard Inflatable Vinyl Boat Fenders
Available in multiple colors and sizes
The Taylor Made high gloss finished fender is a traditional double-end circular boat fender with features and durability that make them the ideal solution for any boater.
Featuring a high gloss finish and double molded black ends, this boat bumper comes in nine different color options and four sizes.
The boat fender option is guaranteed for the life of your boat against splitting and bursting, and the rope holes on each end provide for easy setup and access on your watercraft.
The high-strength, marine-grade vinyl provides boaters with a quality option that will last to provide a solid fender for years for your boat.
Advantages:
Durable, quality construction
Stays in position
Maximum Protection
Guaranteed against splitting & bursting
BABz Boat Fender Bumper
Available in two colors
The BABz boat fender is a solid construction round boat fender made of a thick, durable plastic that will not scratch your boat's gel coat.
Featuring an easy option for deflating and storage, the BABz is 22 inches in diameter at normal inflation levels and 24 inches at max inflation.
Each fender features a heavy-duty handle made of thick durable plastic.
Advantages:
Solid construction
Easy on your boat's gelcoat
Heavy-duty handle
Disadvantages:
Features company logo large on one side that some boaters may not like.
Luoweikadeng Heavy-Duty Inflatable Fenders
18″ x 60″ Design
Looking for heavy-duty and larger fender protection for bigger boats?
The Luoweikadeng heavy-duty fender may be a perfect option for you.
At 18″ x 60″ long, this PVC fabric fender is designed with high performance in mind.
Featuring two stainless steel D-rings glued at both ends, this fender is up to 10 times as strong as traditional vinyl boat bumpers.
Requiring minimal storage space for its size, this boat bumper considerably lowers the collision energy transferred between two boats at dockage.
Best of all, this product features a 100% satisfaction guarantee for boat owners looking for a little more peace of mind when selecting the best boat bumper for their needs on the water.
Advantages:
Heavy-Duty PVC Construction
2 stainless steel D-rings on each end
Easily adjustable inflation
Mission ICON Boat Dock Fender
Available in one or two-pack
The Mission Icon boat fender provides boaters with a modern solution for boat protection for boaters.
With eight attachment points, the Icon provides easy deployment to both points on your boat or dock.
Created from an extremely durable closed-cell foam construction, the Icon fender is non-marking and completely waterproof.
This product includes fender lines constructed with a nylon core to reduce the stress under tension.
A great substitute for traditional boat fenders.
Advantages:
Quality closed-cell foam construction
Easy attachment
Waterproof and non-marking
Disadvantages:
Report of shifting in higher winds
DLFender Power Boat Fender Adjusters
White in color
This one-piece fender adjuster secures boat fenders to your boat using your existing rod holders.
Featuring simple construction that provides no knots ties or lines to secure, allowing boaters to adjust the height of fenders easily with one hand.
Perfect for boaters who raft up with other boats looking for a quick fender deployment system.
Fendergrip® by New World Marine
The Fendergrip is a great option for boaters looking for a quick and easy solution to adjust fender placement on their boat.
Featuring a push-button height adjustment capability that allows boaters to move fender placement with ease.
This neat little tool can hold up to 845 pounds and up to 1/2 braided rope.
Make your fender adjustments a breeze with the Fendergrip.
6 Foot Braided Nylon Boat Fender Lines by Better Boat
Available in Black, Blue & White
These quality marine-grade double-braided nylon boat fender ropes are the perfect accessory to help you make the most of the new fenders you have purchased to protect your boat.
With sun, salt and wind resistance, these ropes are easy to handle and offer a smooth-to-the-touch feel that will not scratch your boat.
These ropes also feature a 5-inch pre-made eyelet that is heat-treated to provide a simple and durable solution for the hook-up of your boat fenders.
Better Boat offers premium quality boat care products, perfect for first-time to experienced boaters.
Set of 2 – Hole in Middle Boat Fender Covers
These boat fender covers are perfect for any boater looking for a solution to provide a soft cover to older fenders.
Featuring ultra-soft knitted fleece,  each bumper comes with a drawstring to provide a tight and smooth fit.
One of the best features of this product is that it helps boaters to avoid the squeaking sound that traditional vinyl boat bumpers can cause between boat and dockage.
They also provide an extra layer of protection for the hull of your boat for lasting protection.
Fastfender Fender Connections
The Fastfender connection makes it possible for any boater to attach and remove fenders quickly and easily onboard.
With multiple sizes and features, the Fastfender makes it simple for boaters to move fenders to new locations on their boat even with one hand.
Available in multiple colors and options for sailboat wiring setups.
What is Boat Fender and why do I need one?
A boat fender is a marine tool that provides protection for the hull of your boat against other boats, dockage, moorings and more.
Also known as a boat bumper, this critical piece of marine technology provides a buffer zone for your boat in ever-changing marine conditions…
When used correctly a boat fender works to marry your boat with dockage while reducing friction between your hull and the environment in your boating life.
So why do you need a boat fender?
A boat fender provides boaters with perhaps one of the most critical components to being a boat owner…
Peace of mind!
Your boat bumpers allow you to rest a bit more easily at night knowing that your boat, whether at your dock or a marina is protected from unexpected events on the water.
Tidal changes, wind conditions, and especially that boater who ignores "No wake zones" can all present formidable threats to your favorite watercraft.
Your boat bumper gives you an extra layer of protection and insurance that puts a smile on any boater's face.
What types of Boat Fenders do I need?
There are a variety of boat fender styles that you can use to protect your treasured vessel.
Choosing the right type of boat fenders comes down to what type of boat you are protecting and how you live your life on the water.
Do you keep your boat at a marina? At your home dock? Rafted to other boats? On a mooring?
Are you protecting the hull of a 25′ Mako? Or 70′ Marlowe?
Understanding your unique boating equation can help you better choose the perfect boat fender for you.
With respect to types of fenders available, here are a few to familiarize yourself with:
 Ball Fenders – As you would probably imagine the ball fender is just that, a ball. These fenders come in various sizes and perform a variety of tasks for boaters. Since the fender is round, it provides rolling protection for your boat, and also provides a great solution for mooring or anchoring for time spent on the hook.
Cylindrical Fenders – These fenders are designed in long tubes that provide convenient cushioning between your boat and any foreign object. They come designed with either two eyelets, one, or a hole down the center of the fender. These fenders usually feature molded tab sections that allow for either vertical or horizontal placement depending on where they are needed on the location of your boat.
Flat Padded Fenders – These fenders provide contour protection along boat hulls. Their optimal storage capabilities make this a popular choice, but the lightweight nature of these fenders can make them prone to movement, especially during more intense marine conditions.
New Closed-cell foam Fenders – These fenders are a more recent development in the marine world, with companies marketing this style of fender as the best new thing in the boat bumper world. These fenders can work great in applications onboard and on dockage itself.
Boat Fenders Buying Tips
Selecting the perfect fenders for your boat is a matter of application crossed with your personal boating style.
Where and how you choose to store your boat while you aren't on board can help you determine the best fit for your boating life.
Some of the things you need to keep an eye on when selecting your boat bumpers include:
The size of your boat and the respective size of the bumpers you need – Boat fenders come in a myriad of sizes. As you most likely already know, smaller boats will require smaller bumpers, with bigger boats and yachts needing much larger fenders to protect the increased size of the hull and boat itself. When you are choosing your boat fender, look out for recommendations with respect to fender-to-boat sizing. You don't want to get caught in deteriorating marine conditions with wrongly sized fenders that won't do the job to properly protect your boat.
Storage Capabilities – When you're on the water, where are you gonna put those fenders? When they are full of air at the dock they fulfill their purpose of protecting your hull…but once you are off the dock, what type of storage space do you have onboard for use at your next destination? Knowing where you can store your bumpers without sacrificing too much space for your guest and activities can help you better choose the best boat fenders for your marine life.
Inflation Demands – How do you inflate the boat fenders you choose? Both initially or over time as they lose pressure? Do your fenders require a hand-pump? Electric air pump? Special connection or valve? Knowing how you will keep your boat fenders inflated over time can help you better understand the best choice for your boat applications.
Boat Fender Colors – Depending on the brand, boat fenders can come in multiple colors. Many boaters love to match the color of fenders to the boat hull color on their vessel. This can add a personalized touch to the accessories of any boat.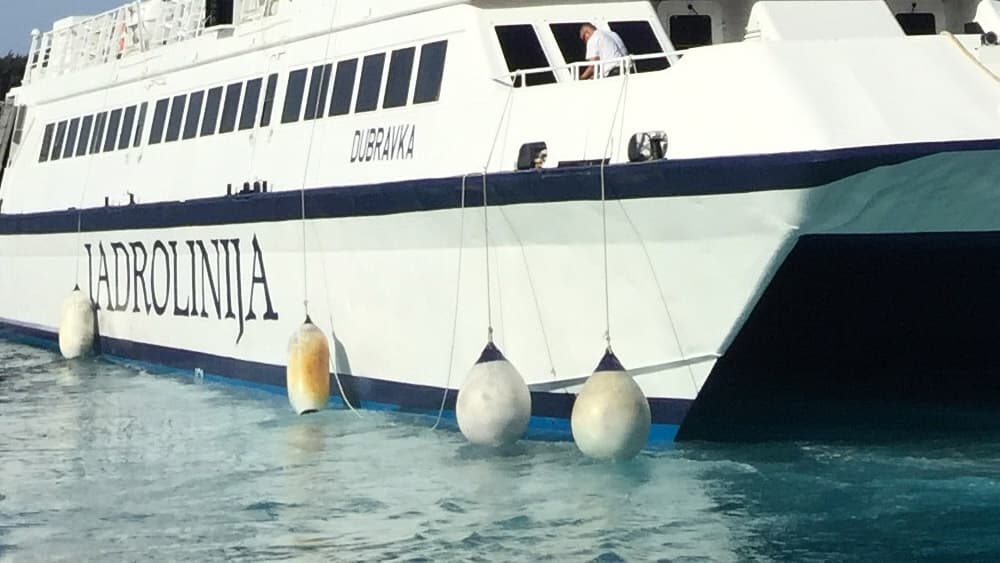 Frequently Asked Boat Fender Questions
How long will the best boat fenders last? 
That answer totally depends on how you treat your boat fenders!
Do you abuse them and never care for them over the seasons?
Or do you give them the TLC needed to extend their life?
As most are created with high-quality marine-grade construction materials like heavy-duty vinyl and PVC, boat fenders can last for years.
What's the best size boat fender for my boat?
The best size fender for your boat comes down to how large your boat or yacht is overall.
In simple physics terms, the longer and wider your boat is overall, the more protection you will need to counteract the forces at hand between your vessel and any other fixed object.
Since your fenders provide that cushion, choosing sizes that provide ample refraction between your hull and dockage is critical.
When choosing your boat fenders look for manufacturing guidelines that spell out the correct sizing and number necessary for your vessel.
How can I care for my boat fenders? 
Cleaning boat fenders is easy. Just grab a rag and some marine cleaner, or simply soap and water, and wipe down your fenders during your boat clean-up/wash-down regularly.
They also make special sprays for vinyl and PVC marine products so be on the lookout for those options.
Another great option is to purchase fender covers to give your fenders a little extra protection themselves.
Choosing the Perfect Boat Fenders
It can be tough to choose the best boat fenders.
So we figured we would include this video from West Marine that outlines much of what we have covered here in this article for boaters looking for a bit more graphical method of understanding boat fenders as a boat owner.
It's six minutes of great info!
Best Boat Fenders Wrap-up
As you can probably see, having top-quality boat fenders can help provide protection, insurance and peace of mind for any boater.
Choosing the best boat fender for your marine application can be challenging for a new boat owner, so always be on the lookout for manufacturer guidelines to help you make the best purchase for your treated vessel.
We hope this guide helps you find a great option to help enhance the quality of your life on the water!
Did you like this article? Did it help your search? Leave us a comment below and join the conversation!
Or have a look at some of our other marine guides including Gifts for Boat Owners, or informative posts like our Boat Grill Review, Anchor Chain Solutions or our guide to Haulover Inlet!
Do you own a boat? Get custom artwork & gear!
For the boater who is proud of their sea-going vessel, custom boat gear is the perfect solution to show off their pride and joy anywhere.
At Custom Yacht Shirts, we use a photo of your boat to create line art boat drawings that are perfect for use on a variety of customized gear.
We feature t-shirts, long sleeves, hoodies, tank tops, pop sockets, phone cases, and much more that make the perfect custom gift for any boat owner.
Best of all, once the art preparation process is complete, all of your custom boat gear is available for on-demand ordering on private Amazon.com product pages.
Order 1-1000 of your custom products easily and simply with your existing Amazon account featuring free returns and free shipping with a Prime account.
The perfect gifts for boat owners!
What are you waiting for???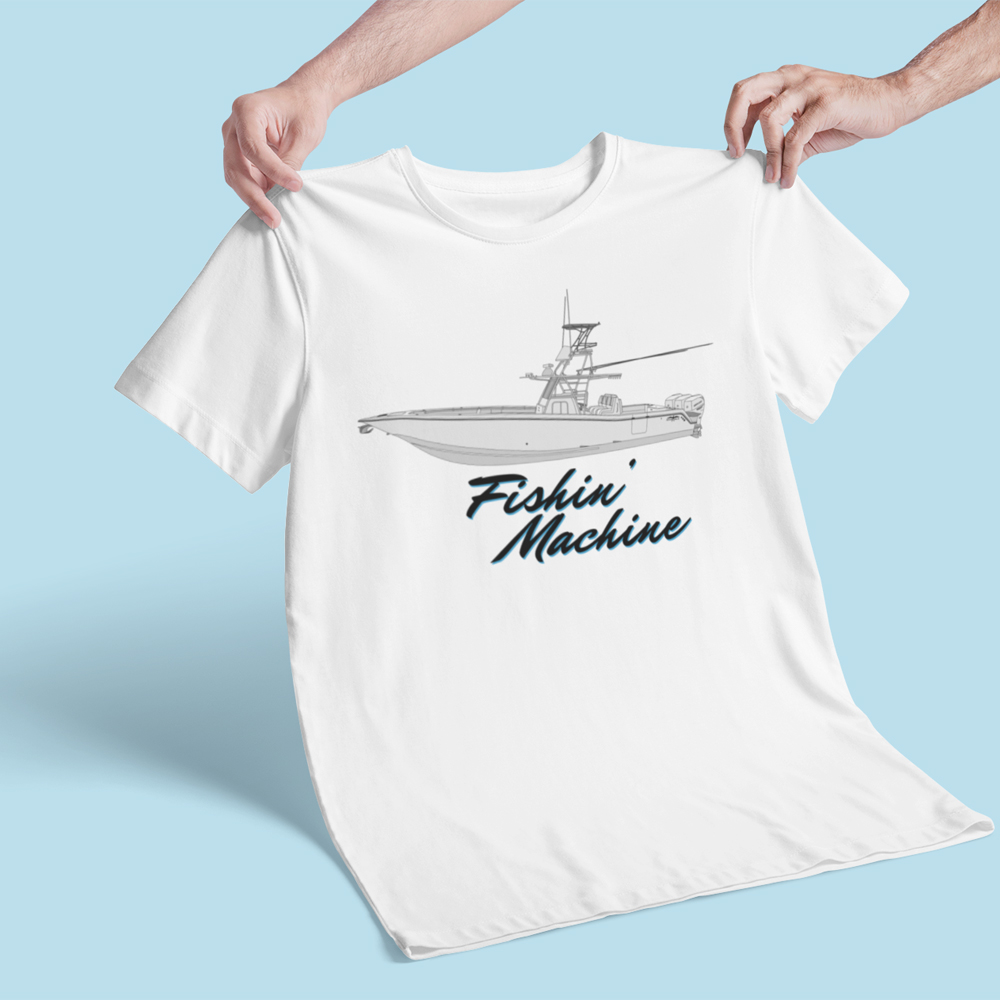 South Florida Boat Videos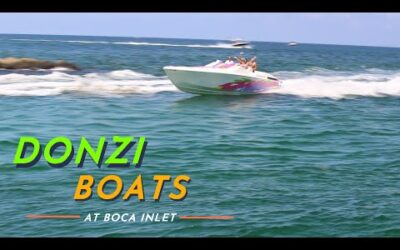 Donzi PowerboatsIf you've been on the water for any length of time, you've probably heard the name Donzi.  For over five decades, the Donzi Marine brand has been making quality...

Start your Custom Yacht Shirt order today!
Complete your order on our website to get your custom yacht gear started. Have our team convert a photograph of your yacht and stern art into digital art for use in your custom printing.

Receive a Private Amazon.com link for your yacht's gear.
We'll email you a link to purchase your custom yacht gear on-demand with secure checkout and fulfillment provided by Amazon.com.

Get your yacht gear delivered to your dock with free shipping on-demand!
Order your custom apparel again and again with no minimum orders or additional setup fees.