Mooring Whips: An Overview & Buying Guide
When a purchase is made through our links, we may earn a commission from Amazon, West Marine and other online businesses. You can learn about our content and affiliate policies on this page.
Tired of watching your beloved vessel crash against the seawall when conditions change at the dock?
What about when someone runs with full wake in your no-wake zone?
Mooring Whips are a stellar solution for boaters, even in challenging docking conditions.
What follows is a brief overview of Mooring Whips, and a guide to the top Mooring Whips currently available online for boaters looking for a better, more secure solution for docking.
Whether you're a seasoned sailor, or fresh on to a boat, Mooring Whips provide a reliable alternative to traditional docking.
Mooring Whips are specialized dockside devices that provide stability for docked boats by holding the vessel away from hazardous seawalls, pilings and other dock environments.
Through the use of flexible, high-strength poles, Mooring Whips can help boaters minimize damage, risk of collision and overall wear and tear on a vessel in the water.
Selecting the best mooring whip can be a critical decision, and we're here to help guide you to some great options to help enhance your docking experience. 
Whether you are seeking safety for your boat, added convenience, or simply upgrading your docking setup, a mooring whip can be a great long-term investment. 
Join us as we unravel the world of mooring whips to help you select the ideal solution to keep your boat safe, secure and protected at the dock!
Dock Edge + Mooring Whip – 12-Feet with Lines and Hardware
First up on our list of quality mooring whips is the system available from Dock Edge.
This premium mooring whip (set of 2) comes in a variety of sizes and classes from Dock Edge that allows you to easily target the unique requirements of your boat and dock setup.
Dock Edge offers three classes of whips that include the economy, premium and ultimate systems that offer different options for boaters:
The economy class features white fiberglass whips with conventional tip and aluminum tensioner. The base features aluminum construction with integral cleat and ring. The set includes two whips, mooring lines, whip lines and tensioners.
The premium class features a "Plug & Socket" design for quick and easy separation. They also feature a tie-off cleat and carbon fiber technology. The solid, cast aluminum base and unique tip with roller function help with easier boat access.
The ultimate class whips feature all of the bonuses of the premium class, but feature a stronger rocker base that allows the whip to rotate to an upward position. This can help with heavier boats and rougher docking conditions.
Dock Edge whips are currently available in four sizes:
Vessel length up to 18′ or 2,500 pounds overall weight.
Vessel length up to 23′ or 5,000 pounds overall weight.
Vessel length up to 28′ or 10,000 pounds overall weight.
Vessel length up to 33′ or 20,000 pounds overall weight.
Manufactured with strong reinforced cross-wound fiberglass, these whips provide durable, flexible support for your vessel at the dock to help minimize wear and tear.
Product includes all ropes and mounting/installation hardware. 
Our overall choice for the best mooring whips you can grab online for your boat.
Taylor Made Products Mooring Whip
Next up on our list is our runner-up to the overall best option for your mooring whip systems solution for your docking upgrade. 
The Taylor Made Products Mooring Whips provide reliable protection from a trusted brand to help protect your boat from dockside damage. 
The fiberglass whips feature a fixed-angle base that helps boaters lock in the positon of the whips for effective placement of your boat away from the dock. 
These Taylor Made Product boat whips come in three different sizes, including:
8′ – For Boats up to 2,500 pounds
14′ – For boats up to 10,000 pounds
16′ – For boats up to 20,000 pounds
Featuring a high-quality construction, these sturdy fiberglass whips and low friction tips provide easy boat retrieval for bearing your guests while providing unmatched protection for your boat at the dock. 
Best Piling Mounted Option
General Marine Products – Vertical Swivel Piling Mounted Mooring Whips
Next up on our list of Mooring Whips is our pick for the best piling-mounted system.
The General Marine Products Vertical Swivels Piling Mounted mooring whips are built for installation on pilings and offer some great added functionality to help make your docking experience first class. 
With this set, the whips return to complete vertical and lock automatically in a vertical position when released so that you eliminate any interference while docking your vessel. A very nice additional over and above fixed setups.  
This product features construction from marine-grade aluminum which is then powder coated to provide long-term effectiveness in harsh marine environments. Its whips are a fiberglass material that is joined with a six-inch coupler. 
With this system, the machine can be mounted at a higher position on a piling, which allows the system to be virtually out of the way of other docking activities. 
Best of all, this system is manufactured to accommodate boats of any size up to 20,000 pounds, providing more of a "one-size-fits" all approach. That is unless you are looking for whips for a larger vessel.  
Runner-up Piling Mounted Option
General Marine Products – Fixed Piling-Mounted Whips
The next setup on our list of best Mooring Whips is the fixed position piling mounted whip system also from General Marine Products. 
This set of two mooring whips is made from durable powder-coated marine aluminum on the mounts and 14″ x 1″ formed solid fiberglass whip poles that are joined in the center by a solid aluminum coupling. 
Similar to our last product highlight, this system mounts to pilings, allowing boaters to raise the height of the mounted system to keep it more out of the way from everyday docking duties.  
Pole holders come with two primary mounting holes, allowing users to adjust the angle of the whips. 
Similar to the last product, this setup is also built as more of a "one-size-fits-all" model with the specifications providing for boats up to 40′ used on this whip setup. 
General Marine Products – Fixed angle, Deck-mounted Mooring Whips
Looking for something that is deck or dock mounted?
This fixed-angle setup also from General Marine Products, is a great option for a straightforward, fixed whip setup. 
Similar to the last two products this setup features powder-coated aluminum bases and fiberglass poles. 
Designed for boats up to 20,000-pound class, or 40′ in length. 
The simple design of this whip system is both strong and sturdy for boaters and makes a great option for any boater looking to upgrade the docking experience.   
General Marine Products – Jet Ski Mooring
The next mooring whip setup on our list is one designed specifically for jet skis. 
This setup features solid 1″x 7′ fiberglass poles that are perfectly sized for most personal watercraft. 
Available in either fixed or swivel setup, these whips also have a cleat mounted on the sturdy base for even easier docking of your jet ski. 
Provides a great solution for keeping your jet ski off the dock for super easy access to the water from your dock. 
Manufacturer offers easy DIY installation instructions as a part of every system for easy setup of your upgraded docking experience. 
General Marine Products – Pivot and Vertical Locking Mooring Whips
Next up on our list is a combination of the fixed-angle and swivel systems that we have featured previously. 
This system provides a swivel mooring whip system that has a base that allows the whips to return to vertical with a drop lock. 
Similar to past products, this setup features 14′ x 1″ solid fiberglass whips and heavy duty marine-grade aluminum bases. 
Designed for boats up to the 20,000-pound class, this product provides solid performance for recreational boaters. 
The solid 1″ fiberglass whips are designed for maximum spring resistance at an optimal length.
General Marine Products – Piling Mounted Mooring Whips Dual system for Boats over 35′.
If your boat is over 35 feet, the next setup in our list of quality Mooring Whips may be perfect for you.
This dual setup provides the strength to help keep bigger boats off the sea wall while locking in place vertically when not in use to stay out of the way of regular docking activities.
This system couples two powerful poles per mount and is designed for use on a piling mount.
In this setup, you receive two sturdy bases, four poles, four sets of lines and instructions to help you get it working on your dock.
General Marine Products – Deck Mounted, Swivel & Lock Mooring Whips – Dual system for Boats over 35′.
The final mooring whip system on our list is the sister product to the dual setup above.
This system provides a beefy setup for larger boats over 35′ and features the similar swivel and lock functionality that we covered previously in this article.
Consisting of four solid 1″ fiberglass poles that are 14′ long, this setup provides a sturdy solution that will protect your boat and also not interfere with normal docking activities.
A great solution for boaters with larger boats that need a fixed deck mount version of this tool.
Mooring Whip Advantages
Now that we've covered some of the top picks available for boaters to help upgrade your docking experience, let's dive into some of the advantages of mooring whips.
This docking solution provides a range of advantages that help make them a popular choice for boats at a dock.
Here are a few of the key advantages:
Enhanced Saftey for your Boat
By holding your vessel off of continuous contact with a seawall, pilings and other docking structures, mooring whips provide an enhanced layer of protection for boats.
The safe distance that is created by the whips holds a boat in place a safe distance away from any dock or pier.
Over the long term this helps to prevent normal wear and tear on your boat's hull and rub rails, and overall damage to your vessel.
Improved Stability
The high tension that the flexible mooring whips create as they anchor your boat in place helps to create a higher degree of improved stability for your boat in the water.
Acting as shock absorbers, the whips can help to moderate the wave action and changing conditions while providing your docked vessel with more stability.
Overall Reduced Wear & Tear
Whether to your rub rails or your actual hull, months of slight rubbing against a dock can do plenty of damage to your treasured boat.
Keeping your boat off docking structures can minimize the overall scrapping and chafing that can occur due to conditions, other boat wakes, and a number of other unforeseen challenges.
Simply put, they help keep your boat looking newer and brighter even in rougher conditions.
More Convenient Boarding
The stability created by the mooring whips can help to make your boat more predictable when boarding guests and gear.
While nothing earth, shattering, when compared to traditional docking, a mooring whip system can create a consistent distance between your boat and dock that provides more hassle-free access to your watercraft.
Functionality
Mooring Whips can be a great option for a variety of various types of boats including powerboats, sailboats, jet skis, personal watercraft, dinghies and more!
Systems are created to handle different solutions for the size of your vessel, with larger vessels potentially needing custom systems created to accommodate their size and weight restrictions.
DIY Installation
Installing Mooring Whips is usually a pretty straightforward process.
Often it can be done without the assistance of a professional, especially if you are handy on the dock as it is.
Today's one-click systems are easily purchased and set up with details instructions and installation kits. 
Mooring Whip Buying Guide
Hopefully now you have a better understanding of mooring whips and possibly have some ideas for which kit above might work best for you.
That's why we put together the following section to help you narrow down our search and finalize your decision for the best mooring whip for your docking solution.
The following buying guide provides valuable insights to help you make a better decision about mooring whips that most align with your specific and unique boating needs according to different factors to consider when purchasing mooring whips.
Components of Mooring Whips
Before you commit to a specific product, be sure to familiarize yourself wit all of the various components that are a part of any mooring whip system.
This includes the quality of the poles, base mounts, whip lines, optional adjustable tension and any other additional accessories.
Having a more thorough understanding of how a mooring whip system works will better help you evaluate important considerations like quality and durability when selecting your new docking system.
Shock Absorption & Wave Action
While choosing the best kit for your dock, be sure to consider how your chosen systems work to reduce shock and conditions on your boat.
Choosing a system that provides higher-quality flexibility in the poles will produce a more stable, less stressful environment for your boat even in rougher conditions.
Vessel Length & Weight
Mooring Whip systems will be manufactured to support different-sized vessels.
When choosing your whips, be sure to consider the overall length and weight of your boat.
This will help you quickly narrow down the available options to those that will support your boat size.
Choosing the right system for your boat will help to provide the optimal performance at the dock.
Water Conditions & Layout at your Dock
Evaluate the unique setup of your dock and how it is impacted by the prevailing conditions.
To choose the right system for your needs you may have to take into considerations factors like the distance between the dock and the mooring point on the boat, wind directions, ideal changes, etc.
Choosing the right system to apply to your boat will help provide optimal performance in the water.
Whip Length or Size
The size of your whips will be dependent on the overall size and weight of your boat.
Longer whips may be needed to be effective in your unique docking situation.
Ensuring that the whips you choose are tall enough and provide enough reach to your boat can help make sure you have adequate safe distances once your boat is moored.
Always see the manufacturer's related recommendations to help you choose the best size for your unique docking setup.
Strength & Durability
Make sure you choose a product whose whips are ready to withstand the elements. Materials such as fiberglass and composite poles can offer both steelar flexibility and strength.
Whips made from budget materials with poor construction won't stand up to the test of time in the elements so be sure to choose a dependable system that is built to last.
Manufacturing Quality
When choosing your system, be sure to evaluate the quality of the chosen materials to make sure it can stand up to the elements.
As any boater knows, the conditions on a dock can be brutal, especially for anything metal!
Look out for corrosion-resistant components that are built to withstand constant exposure to outdoor, often saltwater, environments.
Mounting Options
Before purchasing, consider the mounting options included with your system.
Will they work on your dock?
Will they survive the elements?
Can they secure to your docking setup with ease?
Considering these questions before committing to a system can help you avoid headaches down the line.
Adjustable Tension
Do your whips include adjustable tension setups?
Look out for options that provide you with the ability to quickly change the tension on the whips to help you fine-tune and perfect the best setup for docking your boat.
Accessories
What accessories are you looking for with your Mooring Whips?
Make sure that your chosen system provides you with all the bells and whistles that you need to make your docking environment fit with your unique watercraft.
Some of these accessories could include things like:
Whip Cleats
Protective Covers
UV Screens
Line Snubbers
Whip Warranty
Understand how your warranty works with respect to your system.
What happens if they don't fit your dock?
Or your boat?
Choosing a product that allows for refunds or returns could be advisable if you are unsure of the exact sizing of your docking setup.
Be sure to choose a setup that is manufactured by a trusted brand with positive reviews and recommendations so that you can trust using them on your dock.
Final Thoughts on Mooring Whips
As we wrap up this article on mooring whips, hopefully you have gained some valuable insights that will help you in your journey to choosing the best mooring setup for your unique docking needs. 
Mooring Whips provide boaters with a number of advantages that can help to increase and enhance an overall boating experience. 
By choosing mooring whips that are uniquely suited to your vessel's demands, you can enjoy worry-free docking knowing that your boat is properly positioned and protected at the dock, seawall or pier. 
The flexibility and durability of mooring whip setups make them a popular choice for anyone looking for an alternative to replace traditional docking setups that can increase overall wear and tear. 
When choosing your next mooring system, be sure to factor in considerations like your boat's weight and size, your docking environment and size, whip strength, and adjustable tension solutions.
Let us know how your new docking system worked out for you in the comments section below!
Wishing you calm seas ahead!
—
Did you like this article? Did it help your search to find the perfect type of boat? Leave us a comment below and join the conversation!
Or have a look at some of our other marine guides including Gifts for Boat Owners, or informative posts like our Boat Grill Review, Anchor Chain Solutions, choosing the Best Fishing Hats, Selecting the Best Marine Stereo, or our guide to Haulover Inlet!
Custom Yacht Shirts & Gear
Last up on our list is our own solution for boaters here at Custom Yacht Shirts.
For the boater who is proud of their vessel, custom boat artwork & gear is the perfect solution to show off their pride and joy anywhere.
At Custom Yacht Shirts, we use a photo of your boat to create high-quality vector boat drawings that are perfect for use on a variety of customized gear.
We feature t-shirts, long sleeves, hoodies, tank tops, pop sockets, phone cases, and much more that make the perfect custom gift for any boat owner.
Best of all, once the art preparation process is complete, all of your custom boat gear is available for on-demand ordering on private Amazon.com product pages.
Order 1-1000 of your custom products easily and simply with your existing Amazon account featuring free returns and free shipping with a Prime account.
The perfect gifts for boaters!
What are you waiting for???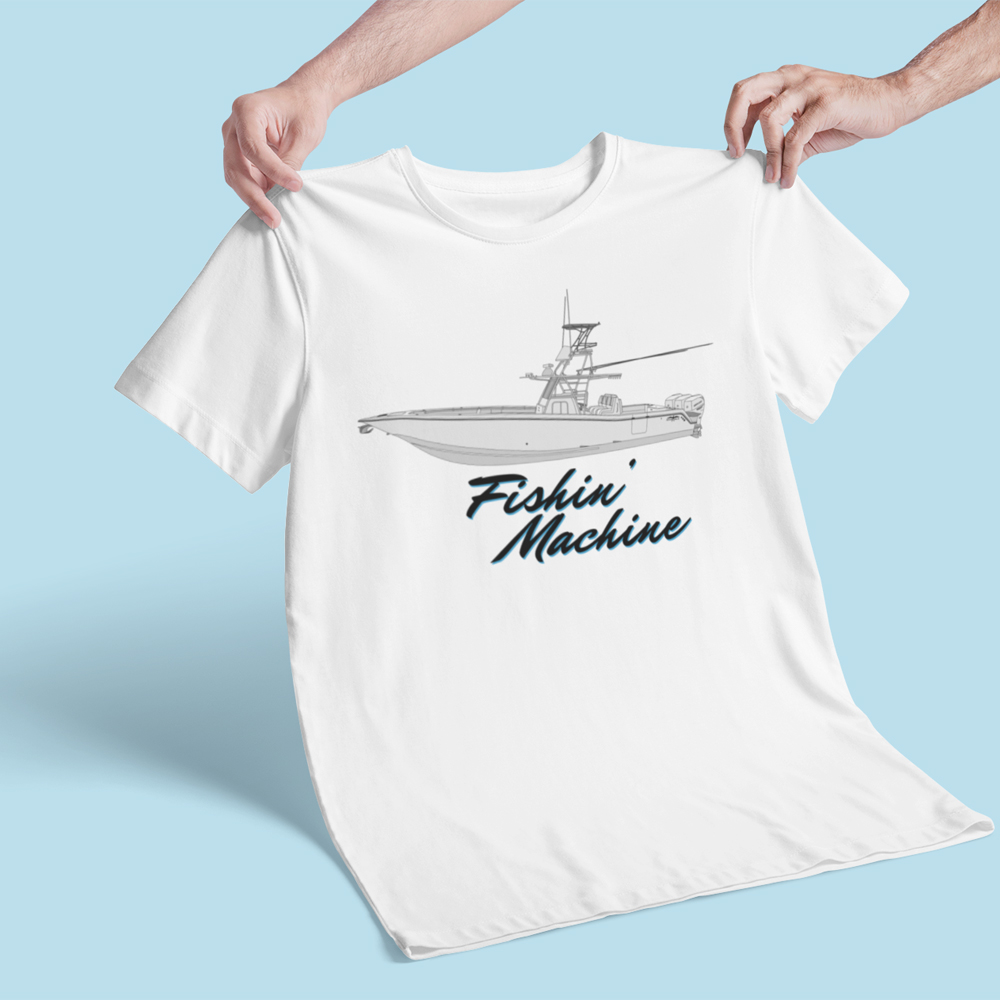 Boat First Aid Kit Reviews: Find Your Perfect Onboard Safety Companion When a purchase is made through our links, we may earn a commission from Amazon, West Marine and other...

Start your Custom Yacht Shirt order today!
Complete your order on our website to get your custom yacht gear started. Have our team convert a photograph of your yacht and stern art into digital art for use in your custom printing.

Receive a Private Amazon.com link for your yacht's gear.
We'll email you a link to purchase your custom yacht gear on-demand with secure checkout and fulfillment provided by Amazon.com.

Get your yacht gear delivered to your dock with free shipping on-demand!
Order your custom apparel again and again with no minimum orders or additional setup fees.